NHL: Chris Terry bags shoot-out winner for Carolina Hurricanes against Anaheim
Carolina's Chris Terry scored the winner in the shoot-out to lift the Hurricanes to a 3-2 win over Anaheim.
Last Updated: 16/11/13 10:51am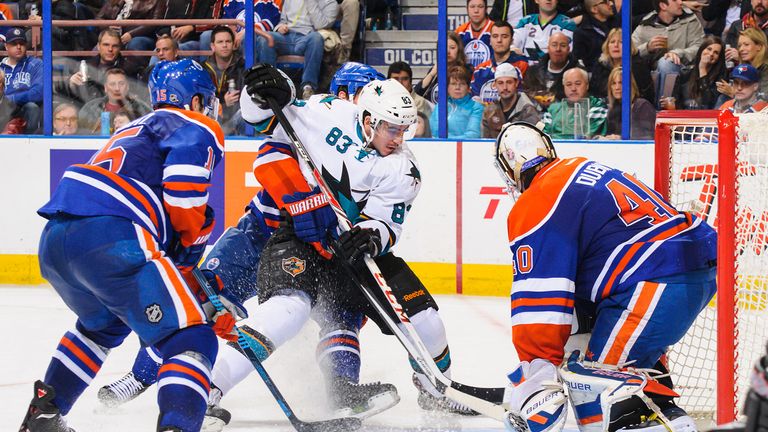 Among other games, Washington also had a shoot-out win to complete a comeback from a two-goal deficit against Detroit, Ottawa ended a long succession of home defeats by Boston, and Los Angeles shut out New Jersey.
Eric Staal and Drayson Bowman scored in regulation for Carolina, which got nine points out of ten in a five-game homestand.
Corey Perry had a goal and an assist for the Ducks, and Dustin Penner also scored for Anaheim, which was 8-0-1 before going into the current three-game skid.
Washington's Nicklas Backstrom scored the only goal of the shootout to complete a 4-3 win over Detroit. Brooks Laich, and Alex Ovechkin added goals, and Michale Latta scored a memorable first NHL goal for Washington to level the scores at 3-3.
Johan Franzen had two goals and an assist, and Danny DeKeyser had a goal and an assist for Detroit, which lost its seventh straight at home and its 11th consecutive overtime decision there.
Ottawa's Jason Spezza, Jared Cowen and Bobby Ryan scored third-period goals as the Senators beat Boston 4-2. The win ended a run of 11-straight wins in Ottawa for the Bruins.
Kings blank Devils
Los Angeles' Dwight King and Anze Kopitar scored third-period goals, and Ben Scrivens made 26 saves to lift the Kings over New Jersey 2-0. King's deflection came at 13:08 into the final period and Kopitar scored an empty-net goal with 2.9 seconds left.
Pittsburgh's James Neal and Brandon Sutter each had a goal and an assist to lift the Penguins to a 4-1 win over Nashville, ending a three-game losing streak.
Neal, a former 40-goal scorer, netted his first of the season late in the first period after Nashville had taken the lead via Gabriel Bourque. It was the first time in 10 games this season the Predators had lost in regulation after scoring the opening goal.
San Jose's Patrick Marleau had a goal and an assist, and Joe Thornton helped set up three goals as the Sharks beat Edmonton 3-1 to stretch their winning streak to three games and extend the Oilers' skid to six.
Minnesota's Charlie Coyle restored the Wild's lead with 8:22 remaining after Florida scored twice in the third period to tie the game, and they hung on for a 3-2 win and their sixth victory in seven games.
Winnipeg's Dustin Byfuglien had two power-play goals and Bryan Little scored the winner in the shootout to give the Jets a 3-2 victory against Philadelphia.
Montreal's David Desharnais scored the only goal in the shootout and Peter Budaj stopped all three shots he faced in the tiebreaker to lead the Canadiens past Columbus 3-2.
Buffalo's Steve Ott had a goal and an assist as the Sabres beat Toronto 3-1 in coach Ted Nolan's first game in 16 years behind the Buffalo bench.