NHL: Boston Bruins defeat Carolina Hurricanes in overtime
David Krejci's overtime goal earned the in-form Boston Bruins a 3-2 home victory over the Carolina Hurricanes.
Last Updated: 24/11/13 11:46am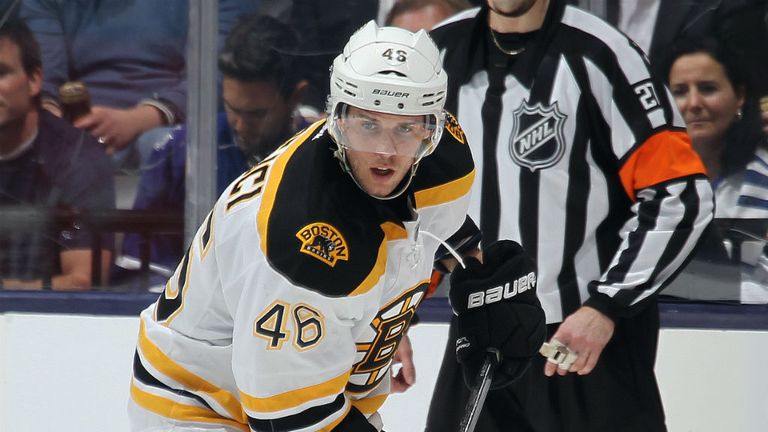 Reilly Smith and Zdeno Chara also netted for the Eastern Conference leaders as they defeated the Hurricanes for the second time in a week and improved to 7-1-2 in their last 10 games.
Bruins back-up goalie Chad Johnson, playing just his fourth game of the season, made 22 saves as he took over from the rested Tuukka Rask.
Patrick Dwyer scored a short-handed goal and Andrej Sekera netted on the power play for the Hurricanes, who were suffering a fourth successive defeat, while Cam Ward stopped 35 shots.
Dustin Penner scored two goals as the Anaheim Ducks inflicted a first home defeat of the season on the Phoenix Coyotes with a 4-2 success.
Sami Vatanen netted a power-play goal and Corey Perry also scored for the Ducks, who are now the only team not to lose at home in regulation this season.
After shutting out Tampa Bay on Friday, Jonas Hiller earned his second straight victory and improved to 9-3-2 this season - he has stopped 73 of 75 shots in his last two games.
Cam Talbot made 17 saves to record his second consecutive shutout as the New York Rangers beat the Nashville Predators 2-0.
Ryan McDonagh and Derek Stepan scored for the Rangers, who have won the first two games of a five-game road trip.
Charlie Coyle scored in the fourth round of a shootout to give the Minnesota Wild a 3-2 victory over the Winnipeg Jets.
Joffrey Lupul was another man to score a shootout winner and James Reimer made 49 saves to lift the Toronto Maple Leafs to a 2-1 win over Washington Capitals.
Matt Read scored two goals and Steve Mason made 36 saves as the Philadelphia Flyers saw off the New York Islanders 5-2.
Max Pacioretty scored two goals as the Montreal Canadiens stretched their winning streak to three games with a 3-2 defeat of the Pittsburgh Penguins.