NHL: Patrick Sharp in form as Chicago Blackhawks brush aside the Avalanche
Chicago's Patrick Sharp celebrated his birthday by netting his third career hat-trick in Friday's win over Colorado.
Last Updated: 28/12/13 2:22pm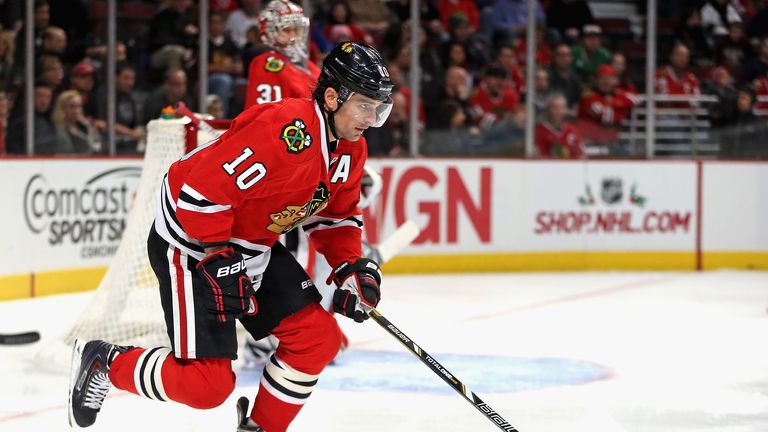 Sharp also set up one of captain Jonathan Toews' two goals, with Michal Handzus and Kris Versteeg the other men on target for the hosts.
Tuukka Rask's fourth shutout of the season - he made 33 saves - and two goals from Reilly Smith lifted Boston to a 5-0 rout of the Ottawa Senators.
Jarome Iginla, David Krejci and Brad Marchand also scored for the Bruins, who stretched their winning streak at TD Garden to eight games.
Joffrey Lupul scored the solitary goal in the shootout to hand Toronto a 4-3 win over the Buffalo Sabres at Air Canada Centre. Phil Kessel had a goal and an assist in regulation for the Maple Leafs.
Tie-breaking goal
Eric Fehr grabbed the tie-breaking goal with 5:09 remaining in regulation to hand the Washington Capitals a 3-2 triumph over the New York Rangers.
James Neal scored 1:03 into overtime and Marc-Andre Fleury made 31 saves as the Eastern Conference-leading Pittsburgh Penguins prevailed 4-3 against the Carolina Hurricanes.
Dallas toppled the Nashville Predators 4-1, Erik Cole scoring twice and Kari Lehtonen stopping 33 shots for the Stars at American Airlines Center.
Cam Atkinson grabbed the only goal in the shootout to lift the Columbus Blue Jackets to a third straight win - 2-1 against the New Jersey Devils - while Logan Couture and Patrick Marleau also scored in the shootout as the San Jose Sharks ended a five-game losing run on the road with a 4-3 win against the Phoenix Coyotes.
Finally, Ryan Smyth's two goals and Devan Dubnyk's 27 saves helped the Edmonton Oilers sink the Calgary Flames 2-0, and Blake Wheeler scored twice in the Winnipeg Jets' 6-4 success against Minnesota - a fourth consecutive loss for the Wild.