NHL: Carl Soderberg on target as Boston Bruins beat San Jose Sharks
Carl Soderberg scored the only goal of the game as the Boston Bruins beat the San Jose Sharks in the NHL on Saturday.
Last Updated: 12/01/14 7:57am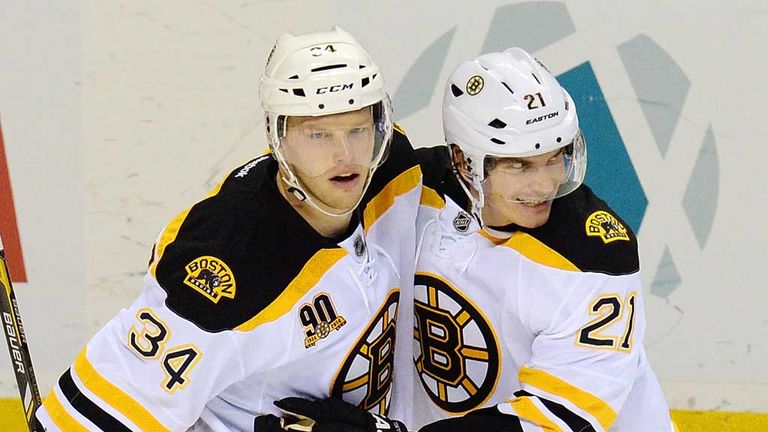 Soderberg knocked a loose puck past Antti Niemi for his sixth goal of the season as the Bruins bounced back from two defeats earlier this week on their three-game California swing.
Niemi made 21 saves for the Sharks, who had their six-game home winning streak ended and were shut out at home for the first time since last February.
Andrei Markov scored twice as the Montreal Canadiens snatched a 2-1 overtime victory over the Chicago Blackhawks.
Defenseman Markov sealed the win with his second goal of the night when he netted from Max Pacioretty's deflected shot.
Marian Hossa scored Chicago's goal, while Canadiens goalie Carey Price made 19 saves and Corey Crawford stopped 36 shots for the Blackhawks.
Ryan Malone was also on target twice as he helped the Tampa Bay Lightning end Philadelphia's 10-game home winning streak with a 6-3 victory.
Alex Killorn, Valtteri Filppula, Martin St. Louis and Teddy Purcell also scored for Tampa Bay (27-14-4).
Jakub Voracek scored twice and Wayne Simmonds added a power-play goal for the Flyers (23-18-4), who had not lost at the Wells Fargo Center since November 5.
The Columbus Blue Jackets scored four goals in the second period as they cruised to a 6-3 victory over the Winnipeg Jets.
Columbus centers Boone Jenner and Mark Letestu both scored twice as the Blue Jackets earned their third straight triumph to take their record to 21-20-4.
Forwards Nick Foligno and Cam Atkinson also scored for the Blue Jackets while Eric O'Dell scored his first NHL goal for Winnipeg (19-23-5).
Defenseman Marek Zidlicky scored with one second remaining in overtime to give the New Jersey Devils a 2-1 victory against the Florida Panthers.
Goaltender Cory Schneider made 29 saves for the Devils while Thomas stopped 34 shots for the Panthers.
Nashville lost for the fourth successive time in a tiebreaker with a 2-1 shootout defeat to the Ottawa Senators.
Mika Zibanejad and Jason Spezza beat goaltender Marek Mazanec in the shootout for Ottawa (20-18-8), while Craig Smith and David Legwand missed out for the Predators.
Nashville (19-20-7) were losing for the fifth time in six games, while the Senators were notching their fifth win in six matches.