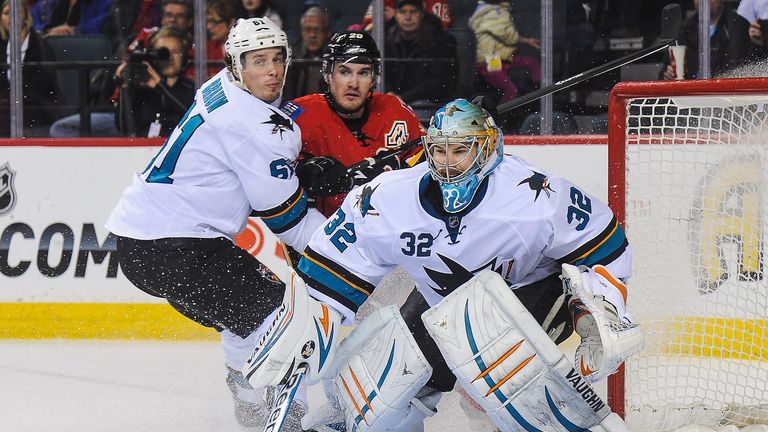 The San Jose Sharks qualified for the Stanley Cup play-offs despite suffering a 2-1 shootout defeat against the Calgary Flames.
Mike Cammalleri succeeded where everyone else failed in the shootout by netting, with Sharks trio Patrick Marleau, Joe Pavelski and James Sheppard all denied by Karri Ramo.
Nevertheless, it was a well-earned point for the Pacific Division leaders - who took the lead in regulation time through Sheppard only for Joe Colborne to send the match to overtime - as they earned their play-off spot, but saw a four-match winning run come to an end.
The Boston Bruins finally suffered defeat after Alex Galchenyuk's scored the only shootout goal in the Montreal Canadiens' 2-1 win.
The Bruins, who have already qualified for the play-offs, came into the match on the back of a 12-match winning streak but that came under threat from Alexei Emelin's third goal of the season.
But while Boston drew level in the third period, courtesy of Dougie Hamilton's slap shot deflecting off Patrice Bergeron, the Canadiens would have the last laugh when Galchenyuk struck the decisive penalty to hand the Bruins their first defeat since March 1.
Squeaked
Jason Spezza scored in regulation time before firing home in the shootout as the Ottawa Senators edged out the Tampa Bay Lightning 4-3.
Spezza got on the scoresheet in the second period after Ottawa's opener from Erik Karlsson was cancelled out by Nikita Kucherov and although Kyle Turris put the Senators further ahead, Tampa Bay hit back through Victor Hedman and Steven Stamkos before drawing a blank in the shootout.
Ryan McDonagh's overtime goal sealed victory for the New York Rangers, who squeaked past the Phoenix Coyotes 4-3.
McDonagh bundled in the rebound after shot from Dan Girardi - who equalised in normal time - had been saved to guide the Rangers to their fourth straight win.
That helped New York move up to fifth in the Eastern Conference after the Philadelphia Flyers were undone by Dwight King's third-period strike in their 3-2 defeat to the Los Angeles Kings.
The Flyers had hit back from two goals down, with Matt Read and Jakub Voracek cancelling out efforts from Jeff Carter and Justin Williams, but the Kings would not be denied.
Ray Whitney opened the scoring and Tyler Seguin scored his 32nd goal of the season as the Dallas Stars claimed a 2-1 win over the Winnipeg Jets, who claimed a consolation through Bryan Little.