NHL: Boston Bruins beat the Blackhawks 3-0 in NHL action
The Boston Bruins beat the defending champions Chicago Blackhawks 3-0 for their 13th win in the last 14 games.
Last Updated: 28/03/14 8:37am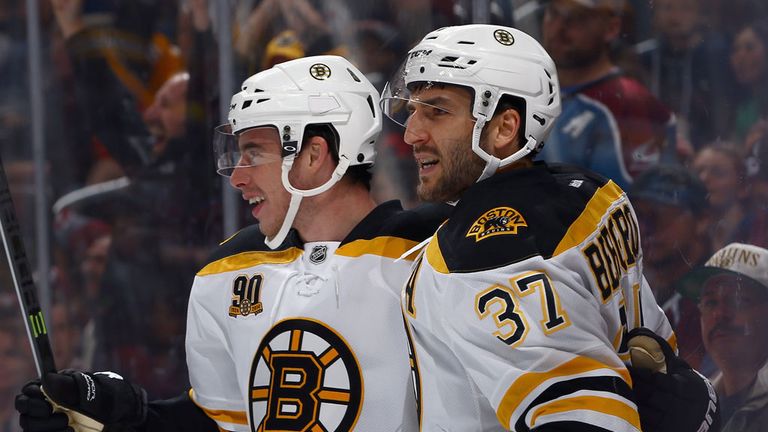 It was their first meeting in Boston since the deciding game of the Stanley Cup finals in June last year.
Boston goalie Tuukka Rask stopped 28 shots for his league-leading seventh shut-out of the season.
Bergeron scored his 24th goal of the season in the first period and then scored again in the third, just 13 seconds after Soderberg's 14th of the season.
Chicago, playing without injured forwards Patrick Kane and Bryan Bickell, could have clinched a play-off spot with a point but remain in second place in the Central Division.
Elsewhere, defenseman Drew Doughty scored the game winning goal early in the third period to help the Los Angeles Kings to a 3-2 win over the Pittsburgh Penguins.
Center Jeff Carter and defenseman Alec Martinez also scored for the Kings, who have eight games remaining in the season and hold an eight-point lead over the Phoenix Coyotes for the third and final playoff spot from the Pacific Division.
Left wingers Chris Kunitz and Taylor Pyatt scored for Pittsburgh who hold a comfortable lead in the Metropolitan Division despite winning just two games in their last eight.
Center Tomas Plekanec scored twice and left winger Thomas Vanek had a goal and two assists to lead the Montreal Canadiens to a 5-4 win over the Detroit Red Wings.
Center David Desharnais added a goal and an assist and left winger Max Pacioretty also scored for Montreal.
Detroit's left winger Tomas Tatar scored twice, center Riley Sheahan a goal and an assist while right winger Johan Franzen also scored.
Defenseman Sami Salo scored for the Tampa Bay Lightning before goalie Ben Bishop made a glove save on Johan Sundstrom to give the Lightning a hard-fought 3-2 win over the New York Islanders in a marathon shoot-out.
The shoot-out went 13 rounds where the Islanders made shots in the bottom of the third, seventh and 11th rounds to keep the game alive before Salo made a nifty flick past Islanders' goalie Evgeni Nabokov and Bishop closed out the win with the save.
Left-winger Mikkel Boedker scored in the first round of the shootout to help lift the Phoenix Coyotes to a 3-2 victory against the New Jersey Devils.
Center Kyle Chipchura and defenseman Chris Summers scored in regulation for the Coyotes.
Coyotes goaltender Thomas Greiss stopped 26 shots and all three he faced in the shootout.
Center Adam Henrique and left winger Ryane Clowe scored in regulation for the Devils while goaltender Martin Brodeur made 25 saves.