NHL: Boston Bruins clinch the Presidents' Trophy; Anaheim Ducks top seeds in West
Boston defeated Buffalo 4-1 to clinch the Presidents' Trophy, giving them home advantage throughout the play-offs.
Last Updated: 13/04/14 2:27pm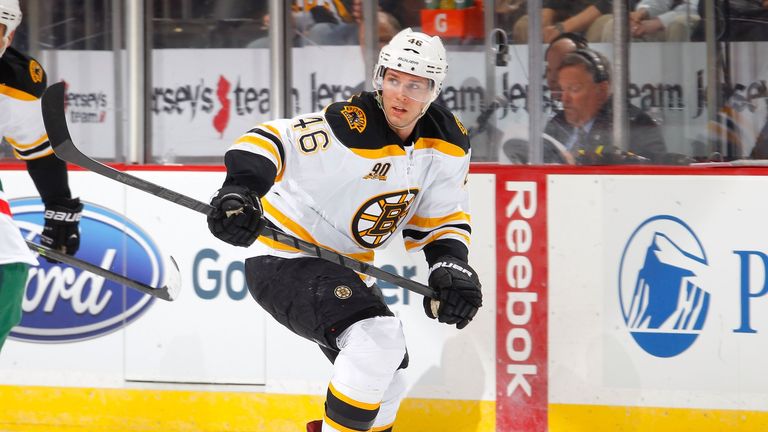 David Krejci scored twice and netminder Tuukka Rask made 24 saves for the Bruins who finished with the best record in the NHL for the first time since the 1989-90 season.
Boston will face Detroit in the opening round of the playoffs after the Columbus Blue Jackets beat the Florida Panthers 3-2 to clinch the top wild-card spot in the Eastern Conference.
Ryan Johansen scored the winning goal on the powerplay to make Columbus, who will be appearing in the post season for just the second time in their history, the seventh seeds.
The Blue Jackets know their first round opponents will now be Pittsburgh; they were suffered a 4-3 overtime loss at the hands of the Philadelphia Flyers.
Mark Streit scored with 2:50 remaining in overtime as the Flyers ended up in third place in the Metropolitan Division.
Rangers beaten
Philadelphia's opponents in the opening round of the play-offs will be the New York Rangers. They themselves were beaten on Saturday, going down 1-0 to the Montreal Canadiens as Brian Gionta scored the game-winning goal on a penalty shot in overtime.
In the Western Conference, the Anaheim Ducks finished as the top seeds thanks to a 4-3 shoot-out triumph over the Los Angeles Kings.
The Nashville Predators beat the Chicago Blackhawks 7-5 in a see-saw game that featured four goals in the final three minutes, the last of them coming from winger Patric Hornqvist with 58.2 seconds left.
Jason Spezza scored the only goal as the Ottawa Senators beat the Toronto Maple Leafs 1-0, while the San Jose Sharks edged out the Phoenix Coyotes by a 3-2 scoreline.
The Edmonton Oilers gave forward Ryan Smith the perfect retirement gift with a 5-2 win over the Vancouver Canucks. Smith hangs up his skates having registered 386 goals and 456 assists in his career.