England's new era appears set to begin with a Test series defeat to Sri Lanka, thanks to Angelo Mathews and Dhammika Prasad's career-best performances at Headingley.
Skipper Mathews' 160 saw Sri Lanka up to 457 in their second innings and England - chasing 350 for victory - were reduced to 57-5 by the close of day four, including 4-15 for Prasad.
England captain Alastair Cook has now gone 24 innings without a century after under-edging a pull at third-change seamer Prasad, who instantly doubled up to have Gary Ballance lbw first ball to an inswinger as England's hopes of pulling off their record Test run chase quickly disintegrated.
Prasad's six-over spell accounted for Cook (16), Ballance (0), Sam Robson (24) and Ian Bell (8) and he was only denied two more by the DRS.
Liam Plunkett and Joe Root were both given out caught behind by umpire Billy Bowden but replays clearly showed neither had made any contact.
Plunkett's reprieve was brief; the nightwatchman chipped a catch into the covers from spinner Rangana Herath in the final over to complete a 12-ball duck and bring a suitable end to England's miserable day.
The home side will return on day five needing another 293 to win, while Sri Lanka are five wickets away from their first Test series victory on English soil.
Plunkett double strike
Earlier, Mathews shared stands of 92 with Mahela Jayawardene (79) and then 149 alongside Herath for the eighth wicket after Sri Lanka resumed their second innings on 214-4, leading by 106.
Mathews drove especially well off pace and seemed a step ahead of England throughout, with 25 fours and a six from 249 balls, as the hosts' frustration multiplied in a second session when their only suceess came with Herath's run-out from the final ball before tea.
England had little to cheer either as Sri Lanka bagged 97 runs for three wickets up to lunch - although Plunkett did put himself on a hat-trick at one point.
Plunkett (4-112) made short work of Dinesh Chandimal and Prasad, to take his match haul to nine wickets.
But James Anderson (3-91) was short and often wide rather than more conventionally attacking off stump with the new ball, and Jayawardene was dropped at gully by Bell off Stuart Broad.
That missed chance cost nothing, because Anderson profited from pitching the ball up in his next over - Jayawardene edging a drive behind, without addition, having hit eight fours and held England up for 168 balls.
There was to be no such resistance from the next two batsmen as Plunkett went short to better effect.
Chandimal pulled him straight to deep square-leg, and then Prasad's upper-cut at the next ball was very well-caught by a tumbling Joe Root at third man.
Mathews had failed to cross on the first occasion, but managed to do so second time and - having made his annoyance at Prasad's dismissal abundantly clear, by dropping his bat to the floor in disgust - he had little difficulty dealing with the hat-trick ball.
He upped the ante in Plunkett's next over too, walking at England's fastest bowler and smashing him for six over midwicket.
It was Herath who brought up the 200 lead by pulling Broad for four just before lunch - a preface to much more pain to follow for England.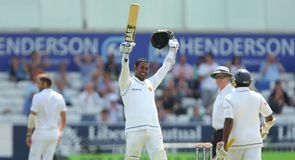 They did not help themselves, persisting with a plan to bowl at Herath to the extent that Mathews was presented with the single he needed to complete his fourth Test century.
Matt Prior was unable to hold a diving chance, when Herath mis-swept Moeen Ali via his pad on 25.
Adventure
The left-hander - who added adventure to his initial defence, to hit nine fours as England kept trying to crowd him - proved a perfect foil to his captain, until Mathews called for a single to mid on off Moeen and Root's direct hit easily beat the tailender's retreat.
Mathews' innings ended in anti-climax, chipping a full toss from Anderson to midwicket.
But still England's suffering was not done. Shaminda Eranga survived on nought when his edge behind off Anderson was not detected by Bowden, and the hosts had no redress with both reviews already used.
Eranga went on to club four more boundaries England could ill afford in a last-wicket stand of 20 which ended when Anderson yorked number 11 Nuwan Pradeep, for a first-ball duck.
Cook and his opening partner, first-innings centurion Sam Robson, had waited much longer than they surely expected to bat again.
Both were gone to Prasad before the close, Robson spearing an edge to second slip, before the same bowler produced a beauty to bowl Bell through the gate.