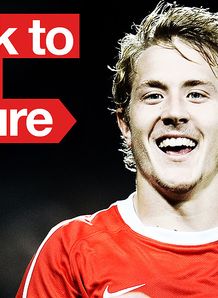 Related links
Players
Also see
Fabio Capello doesn't come across as the type of man who spends his free time, and he has plenty of it, sitting on a riverbank waiting for the fish to bite but what he might share with anglers over the next few months is a tale of the one that got away.
The ghosts of South Africa have only partially been exorcised by much improved recent showings in Euro 2012 qualifiers, but the spectre of Germany's rampant young side running amok through England's leaden and cumbersome charges is a reoccurring motif resurrected by those that champion change in our footballing mindset.
The question on the lips of many is 'where are England's Ozils, Khediras and Mullers going to come from?' amid widespread criticism of youth development in this country.
In a month's time Lewis Holtby could well be added to that list.
It is an unfamiliar name that sits at the summit of the Bundesliga these days.
Mainz arrived in Munich last weekend on the back of five wins from as many games and left with another three points as Bayern became the latest scalp for a side who were only promoted last year.
It is an unlikely tale and one that is made even unlikelier by the fact their star man, Germany Under 21 captain Holtby, is eligible for England.
The name's a bit of a giveaway when you think about it. Lewis Holtby sounds like the type of chap who'd get caught up in the banking scandal or pen a society column for the Telegraph. Holtby's father, Chris, a handy footballer himself who played at a good amateur level until he was 41, is Yorkshire to the core.
Mixed heritage
Holtby senior hails from military stock and having been born in RAF Hospital Cosford in 1961 he was brought up in Britain, before following his father's career path in signing up at 16.
It was while stationed in West Germany in 1981 that he met Lewis' mother Heidi. After two tours of the Falkland Islands the Holtbys returned to England for four years before moving back to Germany in 1988, where Chris now works in Duisburg having left the RAF.
Holtby's rise to become the playmaker at Germany's table toppers has been meteoric. At 17 he broke into Alemannia Aachen's first XI and lit up the Bundesliga's second tier with a series of sparkling performances. It was not long before scouts began to fill the stands and in the summer of last year Schalke came calling with a bid in the region of £3million.
Chances have proven few and far between at one of Germany's biggest clubs though and after a bright loan stint at Bochum last year, he jumped at the chance of continuing his football education at Mainz this term.
He has not disappointed.
While Holtby appears to have sneaked under the radar in these shores he has long-since been considered a future senior international in Germany.
Having represented Germany at every youth level since Under 16 it is expected a senior call-up will come after the forthcoming round of Euro 2012 qualifiers next month. A friendly against Sweden on November 17 is a more likely date for inclusion.
Capello calling?
"Players such as Lewis Holtby of Mainz have edged very close to the Germany squad. But I think it is better for them to play in the U21s this month," said Germany coach Joachim Low, in an admission that may prick up the ears of Capello.
According to Fifa, Holtby is still eligible for England: "He had both nationalities at the time of his first competitive appearance for a German youth team, and he hasn't played for the seniors."
In his own words, Holtby is 'a similar player to Joe Cole', but given he's scored twice already this season and tops the assist charts he might be doing himself a disservice.
Capable of playing on either flank or floating behind a central striker, Holtby is a flair player as alien in style to the archetypal stock produced in this country as you're likely to see.
In short, he's just what we need. Earlier this month he conceded that he had 'both countries in his heart' and that as an 11-year-old in 2001, when England beat Germany 5-1 in Munich, he was 'really English, I had my shirt on, everything'.
And that's where the promising news ends.
While not ruling out pulling on the Three Lions should Low overlook him long-term, Holtby concedes his heart lies with the country who has housed and honed his talent since birth: "I must have honour and respect for Germany. I love the country of England, but Germany have given me the honour of the captaincy at Under 21 level and I have to give them back that respect."
In an interview in Friday's Independent Holtby senior admitted as an Englishman he has mixed loyalties, but that his son had definitely come to the right decision.
"As a professional footballer, playing for Germany is the way to go for him. I have never put pressure on him to play for England as he is German, this is where he learned his trade. As English as I may be, he should play for Germany.
"Hand on heart I would be as proud of him playing for Germany as playing for England. My feeling is 100 per cent that he should play for Germany but with the option of playing for England if Germany don't want him."
While Holtby's family are putting no pressure on him to represent England, there's nothing to stop Capello asking the question. Germany's success in recent years has been built on embracing ethnic diversity in their squad.
A number of their ranks are Polish-Germans of Silesian background, including Miroslav Klose and Lukas Podolski, while Low has also selected players of Bosnian-Serb, Brazilian, Ghanaian, Nigerian, Polish, Tunisian and Turkish descent.
If it's good enough for Germany, it's certainly good enough for us.
After all, all's fair in love and...football.
Should Capello get on the blower quick-smart, or is Holtby right to commit his future to Germany? Is Holtby the real deal and have any of you seen him in action? Have your say by filling in the feedback form below...