West Brom release Dan Ashworth early for FA director of elite development role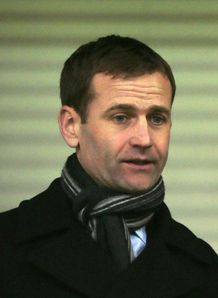 It was a really tough decision for me to leave but the FA presented me with a wonderful opportunity which I could not turn down.
Dan Ashworth
Quotes of the week
Related links
Teams
Dan Ashworth has been given permission to start his new role as the Football Association's director of elite development on Monday.
The 41-year-old had been due to work a 12-month notice period at West Brom but agreement has been reached for him to be available to the Baggies on a one-day-a-week consultancy basis until the summer.
Ashworth's replacement as sporting and technical director at The Hawthorns, Richard Garlick, was appointed to the post in January.
West Brom chairman Jeremy Peace was keen to praise Ashworth for his hard work during his time with the club.
"Dan has worked tirelessly for this football club for the past nine years and leaves with our best wishes," said Peace.
"He has remained fully committed to his club responsibilities since it was announced last September he would be leaving, for which I would like to thank him.
"The handover process with Richard has gone extremely well, which has enabled us to agree to an early departure date with the FA for Dan.
"We now look forward to Richard building on the solid foundations laid by Dan."
Ashworth, who will be based at the National Football Centre at St George's Park, admits he has mixed emotions in leaving West Brom.
"I have had nine fantastic years here and I just want to say a big thank you to everyone connected with the football club - the staff, players and supporters," he said.
"As with any football-related job, there have been some lows but we have managed to bounce back from them all and there have undoubtedly been far more highs.
"With the January transfer window now closed, the team having already amassed 40 points and Richard very much hands on in his new role, we all agreed this would be an appropriate time for me to move on.
"But I will continue to help the club in any way possible in my consultancy capacity.
"It was a really tough decision for me to leave but the FA presented me with a wonderful opportunity which I could not turn down.
"I've worked closely with Richard for the past two and a half years and he has all the attributes to be a fantastic sporting and technical director.
"I have every confidence he will make a real success of the role."
Related News

The Football Association says its Respect Programme has led to a reduction in misconduct at all levels of the game.

The Football Association has admitted cuts to football facility maintenance at grassroots level are a cause for concern, following a Sky Sports News investigation.

Football Association Greg Dyke remains confident 'a version' of his controversial B teams plan remains viable to the Football League.