Ashworth takes up FA role
Ashworth to stay on at Hawthorns until end of the season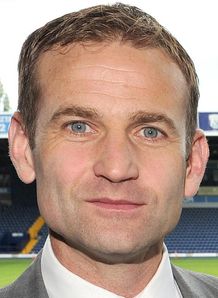 Although you never wish to lose such excellent colleagues, I think the fact both Roy and Dan have been chosen by The FA reflects well on West Bromwich Albion and the manner in which we have structured the football club
Jeremy Peace on Dan Ashworth
Quotes of the week
Related links
Teams
Also see
West Brom's sporting and technical director Dan Ashworth has been appointed as the Football Association's new director of elite development.
A move for Ashworth has been mooted for some time after Gareth Southgate opted against taking up the position.
Ashworth will remain in his current role with West Brom until the end of the season before starting his new post with the FA next summer.
The 41-year-old linked up with West Brom in December 2007 and has played a leading role in establishing Albion as a Premier League club.
In his role at the Hawthorns, Ashworth is largely responsible for player recruitment, the Academy and sports science.
Ashworth's move to the FA will see him reunited with former Albion head coach Roy Hodgson who left the club to become England boss last May.
Best wishes
West Brom chairman, Jeremy Peace, paid tribute to Ashworth for the job he has done at the Hawthorns.
"Dan has worked tirelessly for this club over the past eight years," Peace told the club's official website.
"He has certainly taken on a challenging role within the FA and will leave with our best wishes.
"The sporting & technical director post is a position we firmly believed was vital to the success of this football club and Dan has helped to shape this role.
"He has overseen the appointment of three head coaches and the continuation of the club's traditional playing philosophy.
"His contribution has been a key factor in our two most recent promotion successes and the securing of an unprecedented third successive season in the Barclays Premier League.
"We have had discussions with Dan in an effort to persuade him to stay but the opportunity to work within the national set-up is an ambition he has held for a long time."
Peace added: "Dan has reassured me he will continue to give his West Bromwich Albion duties his undivided attention.
"Dan still has an important role to play this season and he and his staff have already begun planning for the January transfer window.
"Dan has laid a solid foundation for the sporting & technical director position and will now play his part in identifying the right person to continue his good work.
"That search is now underway but we will take our time to ensure we appoint the right candidate.
"Although you never wish to lose such excellent colleagues, I think the fact both Roy and Dan have been chosen by the FA reflects well on West Bromwich Albion and the manner in which we have structured the football club."
Sky Bet Odds:
Click Here for Your Free Bet
Related Debates

The Football Association's general secretary Alex Horne believes there are solutions to any barriers preventing people participating in 11-a-side local football.

A Sky Sports News survey has revealed that poor facilities and a lack of funding are killing off football at grassroots level.

Premier League chief executive Richard Scudamore has confirmed that there are plans for a 'B' league to come into existence.