England manager Roy Hodgson would welcome winter break in Premier League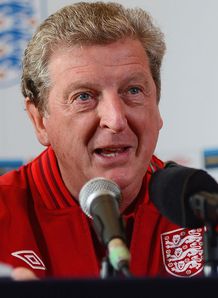 It would be lovely to think that one day we could all get together and say 'England is important'.
Roy Hodgson
Quotes of the week
Related links
Teams
Also see
Roy Hodgson believes the introduction of a winter break would be beneficial to the international endeavours of the England team.
Many of Europe's leading nations see their domestic competition shut down for a spell over the festive season, and Three Lions boss Hodgson is keen for the Premier League to follow suit.
The idea has been mooted for some time by many people in the game but has yet to come to fruition, with an already hectic schedule for the leading clubs often used as an explanation.
Hodgson, speaking in a candid question-and-answer session with Club Wembley members, broadcast on the Football Association's official website, feels it would give the English season a more "logical" schedule.
He admitted: "It would be lovely to think that one day we could all get together and say 'England is important'.
"You hear people trying to say it's only the Premier League that counts, and the Champions League, and people don't care about international football - something like 24 or 25 million watched our (Euro 2012) game against Italy.
"If you want to see the English desire to see a national team do well, you only have to go to the Olympics.
"It's Great Britain but you had 20,000 turning up to watch a handball game - let alone beach volleyball, but that's a different matter."
Vilified
Having taken the job just weeks before this summer's European Championship, Hodgson was granted a relatively cushioned introduction in terms of the pressure of the job.
But this month's draw with Ukraine drew criticism in some quarters and a poor result away to Poland next month would add to that.
Hodgson, though, said wryly: "I know I'll be vilified at some point but I hope when that vilification comes, somewhere down the line I'll get the redemption that a Bobby Robson had.
"You know when you take the job, you're dead.
"All you can hope is that you can enjoy that time on your death bed and that when you're resurrected a few years later, people say 'You know, he wasn't that bad'."
Sky Bet Odds:
Click Here for Your Free Bet
Related Debates

The Football Association's general secretary Alex Horne believes there are solutions to any barriers preventing people participating in 11-a-side local football.

A Sky Sports News survey has revealed that poor facilities and a lack of funding are killing off football at grassroots level.

Premier League chief executive Richard Scudamore has confirmed that there are plans for a 'B' league to come into existence.