What's on the box
Check out our Sky Sports channel guide...
Rollercoaster ride
It's a marathon not a sprint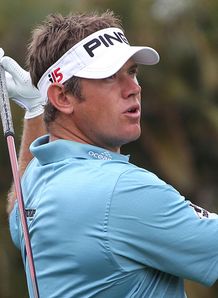 It was a Catch-22. Do you carry on working away and grinding in faults or do you sit back and decide that you need a rest?
Lee Westwood
Quotes of the week
Not long after missing out in a play-off to Miguel Angel Jimenez at the Dubai Desert Classic, Lee Westwood was in a reflective mood. "What's gone is gone," he shrugged. "The way I see it is that if you've done all you can at the time there's really no reason to go over what went wrong."
He has a point. After all, there is nothing much wrong with Westwood's game. Now 36, he is, at the time of writing, ranked fourth in the world. He is one of the few golfers to have landed tournament wins in every continent. The reigning European No1 has also amassed six appearances in the Ryder Cup (and four wins) and is virtually assured of his place in the European team for the match at Celtic Manor in October. If only he could win that first Major...
My earliest recollection of watching golf was seeing Jack Nicklaus winning the Masters in 1986 and deciding there and then that I wanted to play. I was a pretty good all-round athlete. I was good at football, rugby, swimming and long-distance running, but I got very good at golf very quickly and within a few of years of starting I'd been picked to play for England Boys.
I left school with 10 GCSEs but no A-levels. For me it was golf or bust. What would I have done if I hadn't become a golfer? I've no idea. Truthfully, I didn't have any plans. That's why I've opened my golf school. It's about giving young golfers an opportunity that I didn't have. I want kids to come to the school and know that they can try their hand at making it in golf, but know they have something to fall back on if it doesn't work out the way they had dreamed. Not everyone's going to make in the professional game but at the school they can develop their golf game and get a qualification too.
I won my first Tour title at the Scandinavian Masters in 1996. I'd played well for four or five months and nearly won the Italian Open but blew it by double-bogeying the last. But I learnt a lot of lessons from that experience, so whenI had a chance in Gothenburg I knew I had to hang in there. The best thing about it was winning the play-off against Russell Claydon and Paul Broadhurst by holing a 40-footer from the front edge of the green. It was one of those moments where you just go, 'Wow! I've done it.'
When I first went out on Tour all I wanted to do was play golf. That win in Gothenburg was my 17th tournament without a break. Looking back, it's probably not an ideal way to keep mentally fresh. Young players today seem to do things differently. Since Tiger came on the scene only playing in 20 events a year, players tend to think that's the way to go. Maybe it is, maybe it isn't. You just have to do what feels right.
I'd ordered a new car before I won my first event. It was a Lexus Sport and I picked it up on the Monday after winning. Cars aren't that big a deal anymore. I'm not one for getting down low and hurting my back in a Ferrari. I need comfort and a bit of power. Oh, and TV screens in the back for the kids.
I had a complete collapse of form in 2001. It was terrible. I didn't feel like playing or even practising. I'd be on the range for four hours and then end up hitting it worse than when I started. It was a Catch-22. Do you carry on working away and grinding in faults or do you sit back and decide that you need a rest?
Hitting rock bottom gives you a chance to start again. Knowing that it couldn't get any worse meant I went back to basics. For most of my career I'd worked with Pete Cowen. I'd also seen Butch Harmon and Bob Torrance but it was David Leadbetter that helped me get back on track. From holding the club to posture to set-up, it was like a beginner's lesson.
I was apprehensive going into the 2002 Ryder Cup because I was playing awfully. But I had a great partner in Sergio Garcia. There wasn't so much pressure on me when I was playing four balls with him and I putted really well that week. Holing a few 30 or 40 footers can mask a few faults that are evident elsewhere.
All Ryder Cups are special in their own way. In 2006, it was down to me, as the player who knew him best, to partner Darren Clarke. He'd been through a tragic time. It was always going to be an emotional period for him. That first tee was horrible. Me, Darren, Phil Mickelson, Chris DiMarco, the caddies, the announcer Ivor Robson - we were all in tears. Then Darren steps up, hits a driver down the middle, knocks the approach to 15ft and holes it for birdie. Amazing.
I received a Doctorate of Science from Nottingham Trent University in 2007. I quite enjoyed putting the gown and the mortar board on but the most nerve-wracking bit was having to make a speech about what I had done to get mine when everybody else there had spent years with their heads buried in books to get theirs. What could I say? I'm just waiting for the day when someone says, "Is there a doctor in the house?"
Hindsight is a wonderful thing, but not in golf. Last year when I missed out at the Open at Turnberry I was pretty down for an hour or so but then I was fine. I'm the type of player that can brush things off pretty quickly. I'm pretty pragmatic. It's the only way to be. All you can do is try your hardest at the time. If it doesn't work out, then move on.
Nobody has a divine right to win a major. Hopefully, one's round the corner. All I can do is keep fine-tuning my game and putting all the pieces in place because I know that if my game comes together in the right week it's good enough to beat anyone. I just hope that week happens to coincide with a major.
Rory McIlroy has got everything. He's got an old head on young shoulders because he's been playing almost semi-professionally since he was 15 or 16. He just needs to convert his opportunities into victories a bit more to win over the sceptics. It's one thing having potential but that can only take you so far and he'll have to win a few more times to relieve the pressure. But he's in a good place. If he's got any questions or issues he can always ask me or Darren, or even Ernie Els when he's in America.
My team, Nottingham Forest, have come a long way in the last few years. Billy Davies is the ideal manager to get us promotion to the Barclays Premier League. He's one of those no-nonsense, pull your socks up types that you need. He doesn't want to be one of the boys - he wants to be the boss.
I've got shares in a few racehorses. It's just a distraction for me really, but in a good way. Sometimes you just want to leave the clubs alone, you know? Do I ever ride the horses? No, I don't think I'd make the weight.
Sky Bet Odds:
Click Here for Your Free Bet