What's on the box
Check out our Sky Sports channel guide...
James on the spot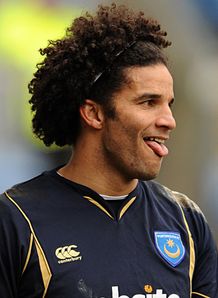 He's not afraid to say it straight, and it's never personal. And if he sees something good, he'll say it there and then, doesn't matter who you are. That commands a lot of respect from players because there's no ambiguity.
David James on Fabio Cappello
Quotes of the week
Related links
Teams
You Ask The Questions, David James
Life is seldom dull for David James but this season has been something else, what with the seemingly endless financial problems at Portsmouth. He's also in contention to be in goal for England at the World Cup. And fresh from modelling the new England goalkeeper's kit, he's ready to take on his next challenge - answering your questions...
How does the pressure of a World Cup differ to the week-in-week-out of the Premier League football?
Simeon Goodman, Stoke
DAVID REPLIES: The tournament is bizarre. It is world stage by definition, but the build-up is the interesting point, because it's almost two years long. Even now the World Cup isn't for another couple of months but everyone's talking about it. For example, Wayne Rooney scores a couple of goals against AC Milan, the talk will be about his al story about a young man who does his best to bring his family back together. It was a very different experience. There was a lot less getting beat up! I'm very excited about it. To see the passion of the fans flying over, that's something form and how that's good for us for the World Cup. There's a massive build-up. But compared to a league season it's a very short exposure as there's only three to four weeks to be successful. With the Premier League, there's the ebb and flow of the season and the thrills and spills of a long league campaign. I think Graham Taylor or Jimmy Hill once said you needed different styles of players for different levels of international football, i.e. for friendlies or for World Cup qualifiers. It's not necessarily that you need different types of players but you do need different mindsets.
Also the close proximity you have with your international teammates is unique. For six weeks, you're with guys that you don't share the changing room with for most of the season. It's a bit like Big Brother! There is a kind of gelling system that has to be in place and I'm sure how players get along is something the manager looks at.
How does Fabio Capello's style of management differ to other the England managers you've worked under?
George Scott, Hull
DAVID REPLIES:He's straight to the point, and doesn't take any messing. He knows what he wants and he's not afraid to say it and I think that ultimately earns the respect of the squad. He's not afraid to say it straight, and it's never personal. And if he sees something good, he'll say it there and then, doesn't matter who you are. That commands a lot of respect from players because there's no ambiguity .
Why can England win the World Cup?
Emma Formby, Lewes
DAVID REPLIES:We have a terrific manager, terrific coaching staff and obviously we've got some world-class players. I think the manner in which we qualified proves that we've got to be one of the favourites. If we get a bit of fortune on the way, which every team needs in order to win a tournament, then I think we can do it, definitely. The whole set-up is much better equipped to be successful. We have a manager who has a lot more of the right control over the team.
Who do you rate as the dark horse of the tournament?
Tony Mullins, Southport
DAVID REPLIES: Well, England! Apart from our 1966 success, there have been no other wins, not even another final. So you could argue that on the world stage we could be the dark horse.
Subsequent to the problems at Portsmouth and elsewhere too, is it time for clubs to consider a salary cap?
Stuart Davies, Farnborough
DAVID REPLIES: The game works if people are sensible, and unfortunately the teams that aren't sensible are the ones who are suffering. It's more about the running of the club rather than capping. I'm not saying that footballers don't earn a lot of money, but the idea is that it's money that's affordable to the clubs. If the clubs can't afford it, they shouldn't be paying it.
You're keen on painting - if Portsmouth were an artist, who would they be?

Steve Morgan, Portsmouth
DAVID REPLIES: Although I'm not a massive fan of Picasso, it has to be said there's definitely synergy with Picasso and Portsmouth. Sometimes you'll look at a Picasso and there's something about it that isn't quite right but it is very interesting.
What was it like being involved in that 7-4 game against Reading in 2007?
Tim Nicholls, Reading
DAVID REPLIES:I actually remember looking at the scoreboard when it was 6-3 and thinking, 'This isn't real, what's going on here?' I remember at 7-3 they still managed to score a deflected goal. It was a mad game because so many things happened. I'm sure they had a penalty at 3-2 which I managed to save. It was the beginning of a funny run. Having only scored seven in that game, we went eight games without scoring at home! The game itself was magical and horrible and the closest thing you can get to the definition of ambivalence that I've ever experienced in football.
Who has the hardest-hitting shot in the Premier League?
Stephen Davidson, Upminster
DAVID REPLIES: It used to be Jimmy Floyd Hasselbaink. He scored a 30-yard free kick against me with a two step run-up. It was the most ridiculous shot I've ever let in and he was good. Paul Scholes is so good, he just puts it where he wants to. Wayne Rooney is another.
Are top players 'too divorced from the rest of society' like Joey Barton says?
Steph Turner, London
DAVID REPLIES:Interesting question. If you can define what society is then I'll tell you how divorced we are. When I pop down to Sainsbury's I see some people who arguably are equally as divorced from reality! Football is also entertainment, it's not just a sport. The entertainment culture is so prevalent it's very difficult to maintain a low-key, normal existence. Some players get carried away. Equally, they are men who are given the opportunity to be famous and earn money at a young age. As with a lot of things in life, it seems that the minority get the headlines and that tarnishes the industry.
Max Clifford said that he had advised two Premier League players not to come out as gay because the game wasn't ready for it. Is he right?
Adrian Langford, Corby
DAVID REPLIES:You're dealing with a cross-section of male society. One in 10 men are gay apparently, and that would suggest one in 10 footballers have to be gay. I've been in football a long time and I can assure you there are some guys who might possibly fit that bill. It's not a problem for me, and I don't think it's a problem for football or society either, beyond the normal realms. If one of the guys was to come out, then I'm sure there would be some sceptics. There would also be a lot of people who would accept it and not say anything, and that's possibly the best way, rather than go from one extreme to the other and behold it as some sort of achievement. If you're gay, what's the problem? We've got gay staff at Portsmouth and they carry on with their day's work and no one really cares.Do you want to stay in the game in some capacity after you retire?
Jane Marwell, Kings Lynn
DAVID REPLIES:Yes. At the beginning of March I started my Level Two Assessment coaching badge. I would like to get all of the badges and then manage. I don't think I'm cut out to be a coach as such, but I like the idea of managing. As a manager, you know your flaws and can delegate and instruct other people to help the team work better.
What is the greatest save you've ever seen?
Bruce Nightingale, Stroud
DAVID REPLIES: Gregory Coupet, in the Champions League game in 2007 for Lyon against Barcelona. It was a back pass from around 35 yards out which he had to run back for and headed it onto the bar. He landed in the back of the net and still got up to save the second header. Go on YouTube and see it. It's an unbelievable save.
John Burridge used to get his wife to throw pieces of fruit at him to test his reactions. Have you ever done anything similar?
Marcus Chalk, Islington
DAVID REPLIES: No. He was loveably nuts. When I was an apprentice at Watford, he used to do handstands in the back of the goal before a game. He actually holds the Premier League record for being the oldest player. He came on as a sub for Man City at the age of 43.
You started running your car on rapeseed oil. How is that coming along?

Gary Salter, London
DAVID REPLIES:The point I was making was that I was driving 50,000 miles a year and the carbon cycle of rapeseed was essentially zero. It was attempt to lower my carbon footprint. The problem was that instead of buying a new car I got my existing one converted. The conversion was alright, but the fuel tanks had problems and in the end the engine seized up because I forgot to change the oil on it, which was my fault completely.
How many times have you visited your Foundation in Malawi?
Jonny Marston, Bristol
DAVID REPLIES: I've been out there twice. The reason being is that I couldn't see the point in constantly flying out to Malawi just to oversee things, because of the carbon footprint. I'm not a farmer so I wasn't going to do hands-on work, but my friend Nick makes sure everything is running properly. The work is going fantastic and we're hoping to have a self-sufficient, fully operational site.
You read a lot of stuff about the science behind making a kit, but is it correct?
Terri Makin, Fleet
DAVID REPLIES:In the early years at Portsmouth, some of the kits were interesting, to say the least. Tops were too big or too small, it was like a Sunday League team. It doesn't ultimately win or lose a game but a simple thing like having a kit that fits and you feeling the part really does help. I'm an avid glove collector and I've got one of the only two that exist of the new Umbro pair. I know you might expect me to say it, but I've been looking for the right glove for years and I've finally got it.
Tell me a story you've read about yourself which isn't true...
Sid Bower, Manchester
DAVID REPLIES: Apparently I got injured picking up a remote control. That is absolutely not true.
Sky Bet Odds:
Click Here for Your Free Bet