What's on the box
Check out our Sky Sports channel guide...
You Beauty!
Warne talks exclusively about his life after cricket and The Ashes...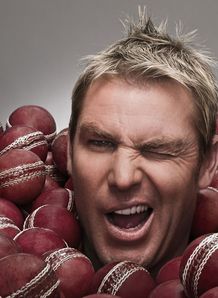 I wouldn't rule it out. I'll never say never to [coaching] England.
Shane Warne
Quotes of the week
Shane Warne has rarely looked better. Deeply tanned, the hair and teeth worked over, his face slimmer now than when he burst onto the Test scene in 1993 with his 'ball of the century' against Mike Gatting, never has his nickname of 'Hollywood' seemed more apt.
Warne is at home in the heat and frenzy of India. As captain and coach of the Rajasthan Royals IPL franchise, he's revered. On the streets outside, he requires security at all times, such is the country's apparently limitless passion for cricket and its stars.
He loves it all, of course. He's a man who has always come alive with the buzz, wherever it's happening.
Warne has long seemed a mass of contradictions, yet now, at 40, and as his giant career edges towards its close, the whole person is emerging. The player who still 'gets goose bumps' whenever he walks through the long room at Lord's has emerged as a shaping force behind Twenty20, the format that is driving the game towards new and lucrative horizons.
The sharp and natural intelligence that manifested itself in the guile of his bowling has slowly edged into other areas of his life. He's a businessman, a networker, a broadcaster, an empire builder. "Yeah, it's a pretty full book," he admits. "But I like that."
Triumph
Twenty20 cricket has allowed the world to see the last of Warne as a player. It's an arena where his tactical brilliance, his skill at reading the game and his ability to inspire his team have come to the fore. In the competition's first year, Rajasthan were viewed as the whipping boys, the least expensive franchise with the least starry roster of players.
They won, a triumph Warne holds close to his heart. He called it the highlight of his career, a statement that caused incredulity among those who remembered his part in seven Ashes series wins, the 708 Test wickets, the 1999 World Cup, and Wisden voting him one of the five greatest 'Cricketers Of The Century'.
"A few people thought I was exaggerating, but I do stand by it," he says. "To build the confidence of the young Indian players after losing the first game, bearing in mind we hadn't spent the most money or bought a lot of superstars. Nobody fancied us. We were the first winners of an amazing tournament and I was captain and coach. It was very satisfying.
"I thought Twenty20 was a gimmick to start with, who didn't?" he goes on. "But the more we all played, the more you could see the innovation and tactics. It is a simple idea with so much potential and we have only just started tapping into it. All of cricket will benefit. Change takes time, words like 'franchise' take some getting used to, but in the next couple of years everyone will be talking the lingo."
"We are at a crucial time right now," he says. "It is vital that the right decisions are made over the next 12 or 18 months. I think between 10 and 12 Tests a year and maybe 20 ODIs or Twenty20s is enough, and every country should be the same.
There is a danger of overkill - two Twenty20 World Cups in a year is crazy. It should be one in two. And Test cricket should always be the ultimate. There should definitely be a window for IPL, so the best players in the world are available," he urges. "People have to lose their egos and accept it. If it clashes with internationals then players have to make choices and it will lead to trouble. That's the reality."
Warnie for England?
Rajasthan has become the first IPL franchise to begin franchising itself. Warne travelled to Lord's back in February with Manoj Badale, the team owner, to announce a partnership with Hampshire, Cape Cobras of South Africa, Trinidad & Tobago and - once finalised - the Australian state of Victoria. All will play Twenty20 cricket under the Royals banner, and in the same kit. The Royals chief executive is Sean Morris, a former head of the Professional Cricketers' Association and an ex-Hampshire man, like Warne.
It's hard not to see Warne as the connector, the facilitator who is, with his knowledge and contacts, reshaping the future of the game.
He has 19 business partnerships and endorsement commitments, including professional poker, which he plays part of the year. He has helped to raise around $3.5million for his charitable foundation, and during the winter became a figurehead for Victoria in easing racial tension between India and Australia after a series. He sits on a rules and regulations committee for Cricket Australia and travels the country as a mentor to captains. "I enjoy the variety of what I do," he says. "I like being able to fulfil different roles for different people - ambassador programmes, education, being a spokesman or a sponsor."
In all, it's difficult to imagine the game without him in some capacity. He has been called 'the best captain Australia never had' ["I don't think so. I was proud and happy just to have played in the number one team in the world"]. All of his knowledge would surely mark him out as an international coach of the highest pedigree.
Warne has always taken a keen interest in English cricket. He first came over to play for a club side in Bristol in 1989 and spent another year in the Lancashire League in 1991. His impact on Hampshire cannot be over-estimated. But what if the ECB ever offered him the chance to coach the England team?
"I wouldn't coach any international side at the moment," he says. "I gave up playing because I didn't want to spend as much time on the road, and with the kids it wouldn't be the right time. When they're older, five years, ten years, who knows? I wouldn't rule it out. I'll never say never to England."
'If I offend anyone, so be it'
Warne's priority now is his children: Brooke, Jackson and Summer. "I had a great career but the downside is the time you sacrifice away from your kids," he says. "I'm at home far more and I can see my kids grow up."
The family will accompany him to England this summer, where he'll fill another role at which he's proven a natural: commentator. For the next eight months, Warne will be with the Sky Sports commentary team. Warne behind a microphone is worth hearing. He's quick and funny and his insight comes hot from the field of play. He will follow Australia's series against Pakistan in England, the first time a neutral Test has been played here for nearly a century, and then offer an Aussie slant on England's five-test series with Pakistan before heading back home to cover the The Ashes.
The banter with Ian Botham promises to be a highlight. "I used to love watching 'Beefy' play," Warne says. "Whenever we were on tour and it rained they seemed to stick 1981 on the telly. Sometimes he seems to have his rose-tinted specs on, but he's great to work with because if you ask him a question, he'll tell you what he thinks."
Although Australia will include a number of his former colleagues - and one very close friend in Michael Clarke - Warne has promised not to shy away from what he sees as the truth. "I give an opinion and if it offends anyone, so be it," he says. "It's nothing personal."
Warne can use the media for his own ends. He is, after all, the master of psychology: champion sledger on the field, planter of doubt off it. The way he highlighted Ravi Bopara before the 2009 Ashes has been described as a case in point. Warne, though, bristles at a charge of skulduggery.
"Not at all," comes the retort. "I wasn't looking to undermine him. Bopara is very talented. What I did was challenge his performances on the big occasions, because I think he has been a bit weak mentally. The evidence backs it up."
It's obvious that the Ashes still fires him up. He laughs at being reminded he is now on the same side as an old adversary, Nasser Hussain. "He could rub you up the wrong way when he played," Warne says. "That was one of his strengths in a way, his fight. Actually, I've been impressed with how much he knows about the game. He's made me feel welcome."
The Pakistan v Australia matches are a source of excitement. Warne believes that 18-year-old left-arm seamer Mohammad Aamir and 20-year-old batsman Umar Akmal both show rare promise. Then, from Australia's viewpoint, he recalls from experience in 2006/07 the importance of the months ahead of a home Ashes series.
"England will come at Australia harder this time," Warne says. "I can see it going to the final Test." The challenge has fallen again to Ricky Ponting to recover the urn lost under his watch. Warne believes his own one-time captain has been struggling by his own high standards with the bat ["Not as consistent and dominating as he has been"] and suggests that criticism of his leadership in 2009 was inevitable.
"To be an Aussie captain and lose two Ashes series... that's not a great stat and I'm sure Ricky doesn't enjoy it," he says. "Ultimately the captain has to take responsibility when you lose. It's no one else's fault, you can't blame other people and to be fair I don't think Ricky did that. A captain has to be able to take praise and flak."
'Pietersen is a bit like Ponting'
As for players to watch, he cannot go beyond those he describes as "the usual suspects" - the stylish Michael Clarke for Australia and Kevin Pietersen for England. "Pietersen is a bit like Ponting," he says. "He hasn't dominated too many times over the past year. He works incredibly hard on his game. He is a proud man, very motivated. I think he'll have a big summer.
"The one I am really looking forward to seeing again is Graeme Swann. I'll be watching his plans and his fields, seeing how he works with Strauss and how much he does on his own - all those things one spin bowler always looks for in another. Swann has that ability to mix his pace and an amazing knack of getting wickets in his first over. His big skill is to really spin his quicker ball. That is very difficult as generally the slower one is the one you turn. It is a great weapon, but he's shrewd as well - he doesn't just bowl his biggest off-break every ball."
Aside from the Ashes, Warne will sharpen his psychological chops at the poker table, where he represents online poker website 888.com. "There aren't any bunnies," he laughs. "I haven't found my Daryll Cullinan yet [Cullinan was the South African batsman who froze in terror every time Warne bowled at him]. I wanted to make the final table of a big tournament in my first two years, and I did it. But I've got as much chance of winning the next World
Shooting Shane - How our pictures came together...
An incredible 1,500 specially-made cricket balls, two purpose-built sets, a 25-strong production team, a small crane, a busy hotel, an even busier chief exec and one cricketing superstar.
That was the formula for our cover shoot with Shane Warne. For the shot of Shane lying amongst the balls (a take on the famous poster for the film American Beauty), a 10'x6' wooden frame was built, painted red and lined with a mattress.
The second set, for our cover shot, fitted like a bib around Shane's neck. Producing balls without the maker's name embossed on them took five days and they were delivered from the factory in Meerut with a day to spare.
Such was security, Shane was unable to leave the hotel: cue a call to Rajasthan chief exec Sean Morris, who graciously gave us access to the players' area known as 'The Den', where the pictures were shot. Easy!
Sky Bet Odds:
Click Here for Your Free Bet