What's on the box
Check out our Sky Sports channel guide...
He cannot be serious!
McEnroe changed tennis and ended up acting with Jack Nicholson!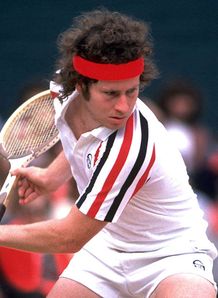 For 16 years, between the late '70s and the early '90s, John McEnroe didn't so much light up the sport of tennis as set it on fire. Many fans loved to hate him, while the tennis establishment quaked in their blazers.
Thanks to numerous fines for bad behaviour, and his notorious catchphras - "You cannot be serious!" - which earned him the nickname of 'Superbrat', he will forever be celebrated in sporting folklore as the ultimate rebel.
Legend has it that Mick Jagger once delayed a Rolling Stones concert in order to meet McEnroe, and Jack Nicholson famously said to him, ''Johnny Mac, don't ever change.''
But aside from his temper you couldn't ignore his sublime tennis. He reached 11 Grand Slam singles finals in all, winning seven of them, including three Wimbledons and four US Opens in his hometown of New York.
The last of those successes came in 1984, when McEnroe won 82 of his 85 singles matches.
He comfortably beat Ivan Lendl in straight sets the US Open Final after both players had endured punishing semi-finals. "I felt terrible, but Lendl looked worse and that gave me a psychological edge," he recalls.
So, what is life like now for the brat who became an icon...
You still play on the seniors' tour. It often seems the crowd just want you to lose your temper.
I can go out on court and play some great shots and I'll get a smattering of applause. Then I go yell at the umpire and they're like 'Yeeeaaahhh!' They love it. It's sad. Inevitably you do become a caricature of yourself. That's not necessarily what I want to be doing my whole life.
But wasn't this bad-boy behaviour always what defined you?
"I definitely fed off that in a way. I did feel our sport needed to be changed. I'm not going to say I was a punk, because that would not be true. A lot of those punk kids and punk bands came from tough backgrounds. I came from an upper-middle class background and lived in Queens, which is a nice part of New York City. The thing is, tennis is so upper class and so yuppie, that people inevitably put me into that punk category."
Were you acting up for the crowd?
I was just being myself. I didn't need to change anything. Was I aware of it when I was out there on the court? Yeah. But did I feel like I deliberately did stuff in order to act or ham it up? It just sort of came naturally to me then. I'm not the toughest guy to get a rise out of.
Do you ever get in trouble with the players whose matches you now commentate on?
I was covering a match some years ago, and afterwards one of the player's brothers came up to me and basically threatened me. It was 'Let's take it outside' type of talk. I don't recall the player's name, but his brother was his coach and he felt I was belittling the effort that he had put in. I think some guys have really got angry. But when I do commentary I then make sure that I'm available. I'm often in the locker room so that they don't have to go far to find me. I don't feel like I'm going to say things that I wouldn't say to their face, or that I don't believe. I'm not out there to try to make the player look bad.
You've done some acting on TV and in films such as Anger Management and Curb Your Enthusiasm. Are you serious about that or is it just a bit of fun?
Somewhere in the middle. The truth is that actors are people who when they were kids they needed to be in another role. I didn't have that. I wanted to be a professional athlete. But for me, it was a dream to be in a film with Jack Nicholson [Anger Management]. To get to face each other off and get angry. He's so good at that also.
You also play guitar in the John Smyth Band. Do you actually have time for anything else in your life?
I have six kids for starters. That consumes a lot of time. Anyone who's a parent knows that as kids get older, the problems can seem to be even bigger. It is a handful, but it's great.
Do the kids have your rebellious attitude?
I wonder why my kids wear their pants halfway down so that you can see their underwear. I have two sons who are good-looking kids and it looks like their pants are falling down. I'm like 'Why in the world do you wear your pants like that?" I think, God maybe that's what my parents were saying to me: 'Why do you like the Stones instead of Frank Sinatra?'
Finally, we have to ask - how do you rate Andy Murray's chances for the US Open?
There was always a huge pressure on me to win the US Open, so I can understand what he's gone through in trying to win Wimbledon. The US Open may actually be the best place for him to win that first major.
Sky Bet Odds:
Click Here for Your Free Bet