What's on the box
Check out our Sky Sports channel guide...
Impressive strides
Pro golfer, fashion designer, Twitter king and petrol-head...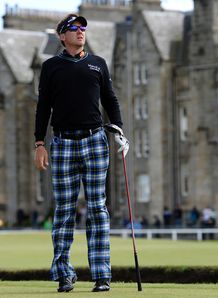 Ian Poulter has come a very long way since he used to sell Mars bars to weekend hackers in the club shop at Chesfield Downs Golf Club.
After joining the European Tour in 2000, he's racked up nine tournament victories and nearly $20 million in prize money.
In February he produced his biggest win to date, the WGC Accenture World Matchplay in Tucson, Arizona, where he beat his friend Paul Casey to the first prize of $1.4m.
The highest points scorer in the 2008 Ryder Cup at Valhalla, Poulter is now a regular in the word's top 10. "Life," he says, matter-of-factly, "is all good..."
Golfers get a lot of stick for their fashion sense, or lack of it. Why?Andrea Smithy, Hitchen
Historically, golf and fashion have never seen eye to eye. Personally, I think it's too easy for people to just throw a pair of khaki trousers on with a polo shirt. It takes some thought and some effort to look good but I think it's worth it. My signature trouser is the boot cut which I've been wearing for a while now, especially the tartan one. They're like an anti-Parnevik trouser: he does like a drainpipe, does Jesper. I've always been interested in fashion and having the opportunity to start my own label [IJP Design] has been amazing. We're now distributed in 22 countries and things are progressing nicely. We're looking to get a ladies line out too, so watch this space.
You started your golf career as an assistant club professional. What made you chuck it in to play on the Tour?David Carstairs, Deal
When I was a young club pro, the guy who was in charge of the complex where I worked used to charge me for playing a round. Even when I won my first tournament as a professional when I was 19, I took the trophy into the clubhouse and put it on show for all the members to see but he came in and ordered me to remove it. That was the final straw and I left there soon after.
You were leading the Masters at Augusta after two rounds. What happened?Dale Haynes, Ayr
Leading the Masters after two days was great but I was really disappointed to end up finishing tenth. That really shouldn't have happened. I drove it very poorly on the Saturday, which took me back a few shots and out of position. I played better on Sunday but just couldn't manage to hole the putts. You then have to chase it and be aggressive. You can do that at Augusta but it's a classic risk and reward golf course. All it takes is one or two bad shots and you can come unstuck.
After being picked by Nick Faldo for the European Ryder Cup team in 2008, you had an amazing match. How satisfying was that for you?Robert Reese, Cardiff
To get picked by Nick Faldo in the first place was huge, but then to back it up by being the only player to tee off in all five sessions and emerge as the highest points scorer was just fantastic. It's given me a lot of confidence and I like to think it really kick-started my rise up the world rankings. Obviously, I'd have rather won the Ryder Cup in 2008 but I guess you could say it was good for the future of the Ryder Cup for America to win as they'd had two big defeats in 2004 and 2006. I don't see that as being a problem - as long as we take it back this year!
There is some debate as to whether you or Colin Montgomerie actually holed the winning putt at the 2004 Ryder Cup at Oakland Hills. Was it really you?Carly Lewin, Farnborough
Well, yes and no. I'd holed a putt to secure a half point against Chris Riley but my game wasn't actually finished so there are two ways of looking at it. But you know, it doesn't really matter who holes the winning putt. It's a team event. It's not about individuals.
How do you think Monty will fare as Ryder Cup captain at Celtic Manor in October?Jenny Gill, Worcester
Monty will be great as a Ryder Cup captain. His record in the event speaks for itself and he's a great speaker and a great motivator too. You shouldn't need any extra motivation to play in the Ryder Cup - everybody should be up for it - but having a strong captain is still vital.
There is a theory that the USA Ryder Cup side are a better team without Tiger Woods and the circus following him. What do you think?Dave James, Bournemouth
I've heard people say that the US were a better team in 2008 without Tiger but how can you really be a better team without the world's best player in your side? It makes no sense. What really happened at Valhalla was that their rookies all stepped up to the plate and they all delivered points. That's why they won, not because Tiger wasn't there.
When you've had a bad day at the office do you ever go home and pick apart what went wrong?Kevin Fletcher, Newcastle-Under-Lyme
Never. I don't even watch the highlights of the events I've played in. The last thing I want to do after playing five hours of golf is sit down and watch some more. I want to do something else. I am not a golf nerd!
You famously wore an Arsenal shirt when you played at a tournament once. Is that something you would do again?Steve Oliver, London
When I wore my Arsenal away shirt to play in Abu Dhabi in 2006, I was just trying to push the envelope a bit. You have to try, don't you? Mind you, they changed the rules straight after that and banned players from wearing football shirts, so it didn't do much good.
It has been five years without a trophy at the Emirates. Is it time for Arsene Wenger to step aside?Barney Campbell, London
I'm a frustrated Arsenal fan like many others I guess. I don't think Arsene Wenger should go but things need to change. I do believe in the youngsters at the club and we have got some incredible talent but personally, I think he needs a couple of old heads in the team. We need a solid central midfielder, another central defender and another good striker. We need more of a backbone and to not rely so much on some of the young kids we've got.
You love your cars. What's the best car you've ever driven?Paul Elvers, Durham
I admit I'm a bit of a petrol-head. I drove a Swedish supercar, a Koenigsegg, recently. A friend of mine let me have a go - it was very impressive.
Which songs are guaranteed to get you on the dancefloor?Suzy Boulting, Dorset
It depends on what sort of function it is. If I'm out partying with the lads it'll probably be some house music, whereas if I'm out with my wife it has to be something slower. I like to think I can throw some shapes and cut a rug but I'm a horrible dancer really, I've got two left feet. I do have a massively eclectic taste in music though. I like garage music and I Iike a bit of everything from Coldplay to U2 to Michael Jackson.
What is the best shot you've ever seen and who played it?Darren Cathee, London
Tiger's 3-iron out of the bunker at the PGA Championship at Hazeltine in 2002. It was about 230 yards, with an awkward stance, over trees, over water, to about six feet. It dropped out of the sky and sat next to the pin. It was an absolutely insane shot.
What is the worst shot you've hit in your professional career?Claire Ellis, Cumbria
I've hit too many bad shots to be able to single one out. I've had about four shanks at Augusta alone. Mind you, there's nothing wrong with a shank, it's very close to a good shot!
Sky Bet Odds:
Click Here for Your Free Bet