What's on the box
Check out our Sky Sports channel guide...
Harry's Game
Spurs boss gives his take on all things football - past, present and future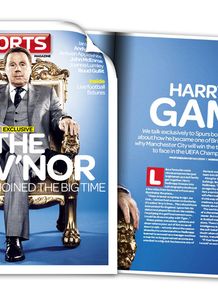 Like a favourite uncle whose presence has just brightened up a dull family get-together, Harry Redknapp breezes into a photography studio just a few miles from his home in Poole and illuminates the place...
"I hear Arsenal are going to sign Joe Cole... I almost had a runner in the Derby. It's called 'Arry's Orse... Theo should have been picked for England. I gave him his debut and played him down the middle... I'm playing in a golf tournament soon... I could be drawn to play with Tiger..."
Sharp patter, anecdotes, opinions and observations pour out of him as we sit down to talk - not only about the season ahead but to understand how Redknapp learned to succeed as a manager and how a man for so long perceived as someone unsuited to a big club has become one of the best coaches in Britain, leading his team into the UEFA Champions League.
Along for the ride with Harry are his two bulldogs, Buster and Lulu.
"Buster," says Redknapp, "is lucky to be alive after being savaged by a Staffordshire bull terrier." He's a survivor, a bit like his owner. Harry will often walk the dogs on a local beach. It's his way of relaxing away from the madness, a place where he can think more deeply about the game and his place in it.
The world used to see Redknapp as a bit of a character, a happy-go-lucky wheeler dealer. But no-one survives for 27 years in football management on those qualities alone. There's toughness and a shrewd intelligence to him, plus a touch of ego and the self-belief necessary to banish self-doubt when others may question your tactics, transfers, substitutions and sanity.
"If I had been at Manchester United, I would've won a championship," he says. "Likewise at Chelsea. Maybe Arsenal as well. Look at Arsene Wenger. Top manager but he walked in there with a fantastic back four. What would you have given to have Tony Adams as a captain? And Seaman in goal. That was a great team.
"It's all about circumstances and about good players. The top four have been in the top four every year because they have the best players. You couldn't break in. This year we have because we've got a good squad. Villa were close, Man City too. Tottenham have got a chance to push on and I enjoy it there. I love it."
Warming to his theme, he continues: "I had 10 years of management at Bournemouth and I ended up taking them into the Championship, the only time in their 100-year history. So I always knew I could do it, I've never doubted my ability. I went to West Ham and we were never going to win the league but we never got relegated. We got to fifth one year.
"We might have won something if we had kept hold of Rio Ferdinand, Frank Lampard, Joe Cole, Michael Carrick, Glen Johnson and Jermain Defoe. But there are only a few teams every year that can win the league, so what do you win? What has David Moyes won? He's a top manager but he can only win a cup. He can't win the league with Everton, that won't happen. So, that's your problem."
Prior to last season, it may have been assumed that he had reached the ceiling by winning the FA Cup with Portsmouth.
"We had a spell where only one team outside the top four had won the cup in the last 12 years. And it was Portsmouth. You just couldn't win more trophies unless you were with one of those top four clubs. I've moved to a club now where I have the chance to hopefully achieve something more."
Which brings us to the present. His first aim for this season will be to secure a place in the group stage of the UEFA Champions League.
"You've got to be positive and think whoever we get we can beat over the two legs, and if we get in the group stages I think we can make a fair impact. I'm not saying we're going to win the Champions League but we're not a bad team and if we can get into a decent group there's no reason why we can't progress out of the group. We wouldn't be no-hopers."
Mourinho is like Clough
If they qualify, Spurs will be guaranteed to face at least one European giant from the continent in the group stage. So, given the choice, who would Harry fancy?
Harry smiles. "I'd like to go to Real Madrid. Yeah, that would be fantastic!" said with all the relish and enthusiasm of a fan, rather than the boss. The attraction, above and beyond taking on a team full of superstars at the Bernabeu, is obvious: to pit his wits against Real's new manager, Jose Mourinho.
"Jose has done a fantastic job. He's been amazing at Inter Milan and look at the trophies he has won there. And he won the Champions League with Porto. He's a bit like Brian Clough. I could see comparisons between Mourinho and Clough having watched The Damned United for the first time the other day. There are definitely similarities there. They both know how to get the best out of their players. They're very similar and very confident.
"I got on well with him when he was at Chelsea. I've spoken to him quite a few times since then. He's an interesting character and I think he was great for English football. Whether you like him or not he was always coming out with something interesting. Everybody wanted to beat him. Chelsea fans loved him and all other fans hated him because he was so good at his job and a bit arrogant. It was good when he was around."
Mourinho is just one of more than 1,000 managerial dismissals in the Premier and Football League to have happened during Redknapp's 27 years in the job, with Rafa Benitez becoming the latest casualty soon after we talk.
Inevitably Redknapp was linked with the job, although it's a sign of the times that in many ways Spurs currently appears the more attractive of the two positions.
But he has no doubt as to who should eventually be in charge at Anfield: "Jamie Carragher will be manager of Liverpool one day," he says. "If I want to know anything about a player who's been at Liverpool, I'll speak to Jamie Carragher or Steven Gerrard. It's their club, they live for the club. It will be a sad day when those two go because I don't know how you'd replace them." Having such contacts within the game has clearly helped him stay on top of his job for so long. But, like Wenger, it comes down to the power of circumstance, too.
'We got £2.50 an afternoon'
He was in the youth team at West Ham around the same time as a crop of young coaches and senior players who would go on to become famous in the late '60s and '70s.
Malcolm Allison was assistant manager at Manchester City during a period in which they won the FA Cup, League Cup and Cup Winners' Cup; Dave Sexton won the FA Cup and Cup Winners' Cup with Chelsea plus two Under 21s Championships with England; John Bond guided both City and Norwich to two cup finals; Noel Cantwell took Coventry City into Europe.
And then there was West Ham's manager during that period, Ron Greenwood, who would later go on to be England manager.
"When I was a kid we used to go for dinner in Cassettari's," he recalls with visible fondness. "It's still there now about 50 yards from the ground. We'd go there in the afternoons and Malcolm Allison would hold court and you'd have John Bond, Noel Cantwell, all those kinds of people, sitting there, moving salt and pepper pots around, drinking tea and talking football until five in the afternoon. Us younger lads would sit on a different table listening to them and it was fascinating. Amazing.
"Ron Greenwood was an incredible coach, an amazing football man. Ron was Arsenal's assistant manager, then he came to West Ham. He was the best coach I'd ever seen without a doubt. I've not seen anybody as good as Greenwood. All those great coaches came through that West Ham system."
Just as important was the fact that when Redknapp became a first team player at West Ham he would coach pupils at local schools after training.
"We used to get £2.50 an afternoon. All the players used to go and coach kids for two to three hours. It was a great experience. My school would play Trevor Brooking's school and we'd all have a laugh and the next day we'd give out a bit of a ribbing to each other. They were great times, and it got us all involved in coaching. We all did our coaching badges. I did mine when I was 21. It was a great grounding for all of us."
Clearly Redknapp would love his players to enjoy a similar sort of education by coaching schoolkids. Easier said than done, though.
"It's different because they're not going to go and do three hours work for £2.50 anymore! I spoke to Gordon Brown when he was PM and he visited Tottenham and I said that I would love to do that, get players into schools two or three times a week. It would be good for them. It would keep them in touch with the real world and where they've come from. The kids would love it too. I still think it's something that can be done. There is no reason why footballers should be away from the normal person, the man on the street. I know they earn ridiculous money and live in bigger houses..."
Redknapp sometimes seems bewildered about the mentality of the modern player, especially when we discuss former Spurs player Kevin Prince Boateng and his now famous spending spree which involved buying three luxury cars in one day and owning 2,000 baseball caps.
"It is insane. You wonder if some players grew up idolising people like we did. When I was at school I saw Man United's last game at Arsenal before Munich. They beat Arsenal 5-4 on the Saturday. I was there with my dad in the North Bank and I saw Duncan Edwards and all those boys play. And then obviously they flew out to play in Yugoslavia, stopped in Munich and then crashed.
"I saw Duncan Edwards signing an autograph for a little boy and I remember thinking 'How lucky is he to get his autograph?'"
Then there was the story about the Portuguese star Paolo Futre who stormed out before his debut for West Ham against Arsenal because he couldn't wear the number 10 shirt. Redknapp tried to explain it was too late to switch the shirt numbers, only for Futre to state, "Eusebio 10, Maradona 10, Pele 10, Futre 10. No 10, no play!" Soon after, Futre got into his car and drove away from Highbury.
'David had gone off the rails'
But more often than not, Redknapp has displayed an impressive ability to both communicate to, and man-manage his professional footballers. At West Ham he took the gamble of signing Paolo Di Canio from Sheffield Wednesday after Di Canio had served an 11-match ban for pushing over referee Paul Alcock. Di Canio became a West Ham legend.
When David Bentley joined Spurs, he was in the England squad and seen as the natural successor to David Beckham on the right. But after failing to make any impact under Juande Ramos his career was going rapidly downhill. "David had really gone off the rails," says Harry.
"He'd thrown the towel in and he was hard work every day in training. But I didn't hold a grudge against him. When Aaron Lennon got injured I put David back in. People said to me,
"You can't play him, he doesn't deserve to play." I just explained that his head had been down and he didn't see any light at the end of the tunnel. It was his chance and let's see if he could take it. And he did. He came back and was great for us. People handle it differently. Some people, they're out of the team and their life is falling to pieces. Others are strong and will fight their way back into the team."
Bentley made his contribution along with a squad that was often stretched to its limits.
He instilled a more positive mentality among his players. Despite being outplayed at both Arsenal and Chelsea earlier in the season, Spurs achieved back-to-back wins against those sides in April. Then came the 1-0 victory at Manchester City that secured fourth spot.
'I'll work as hard as anybody'
Continuing to keep City at bay will be one of his biggest tasks for the season ahead. "They'll win the Premier League in the next four or five years. It's like Chelsea all over again. They're so wealthy, the man that owns them can buy any player he wants. It's not a problem to them. They can pay the wages that they want to. Really, they're impossible to compete with. In the end they'll win. They'll get the best players and if you've got the best players then eventually you are going to have the best team.
"Sure it's about getting the right team but the manager's not a fool, I'm sure he can get a team to gel together. With an open chequebook available, I think Man City will definitely win the league in the next few years if the owner chooses to stay with it."
He may also have to cope with a shift in expectations at a club where finishing in the top six used to be the target. But it's not exactly a bad problem to have.
"There were three seasons while I was at West Ham that we finished above Tottenham. When I was at Portsmouth I finished above Tottenham as well I think. They were bottom of the league when I went there. They certainly weren't achieving much. So when you talk about expectancy, I wasn't taking over from Sir Alex Ferguson who has won numerous titles at Man United.
"But now the expectancy will be different because of this year - I'll probably be expected to get third or second!"
After 45 years in the game as a player and coach, his love of football is as strong as ever.
Whatever expectations Spurs have of Harry Redknapp, they won't remain unmet through lack of enthusiasm or desire. "You can only do your best in life. If it's good enough then great, if not, then at least you've worked hard. I'll work as hard as anybody. I must be mad really, I drive up and down from London to Poole every day. I'm there every day, I watch all the reserve games, youth games, anything I can see. I love the game, that's why I do it."
Sky Bet Odds:
Click Here for Your Free Bet