What's on the box
Check out our Sky Sports channel guide...
Mission possible
When David met Swanny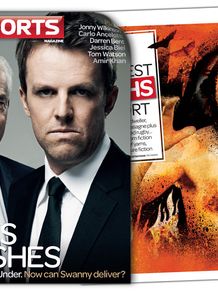 They're very good man-managers. No matter how good you are at captaining or coaching, if you can't manage every guy in that changing room, you're on a hiding to nothing.
Graeme Swann
Quotes of the week
When England last won the Ashes in Australia David Gower was in the side and Graeme Swann was seven years old. Sky Sports magazine got them together to talk about the toughest tour of all...
Two of England's Ashes heroes - men of different generations - stand side by side in a photographer's studio in north London. One has the other in a headlock.
David Gower releases Graeme Swann and, in his best presenter's voice, says: "Following the news that James Anderson suffered a broken rib while boxing at the England players' boot camp, spinner Graeme Swann today had his neck broken by David Gower."
It's a few days before England head to Australia to defend the famous urn, won the summer before last at the Oval when Swann had Michael Hussey caught by Alastair Cook, a wicket that prompted a 10-minute celebration that he now "can't remember at all." If England succeed, it will be the first time they have left Australia with the Ashes since 1986-7, when Gower was a part of the side that won 2-1 against heavy odds. "I was seven or eight at the time," says Swann.
"But I had the video." He is now 31, a measure of the era of Aussie dominance, and the man tipped by many, Gower included, as the key to England's challenge.
Swann first made an England squad as a 21-year-old and toured South Africa under Duncan Fletcher, appearing in a solitary ODI. "I was nowhere near good enough to play for England," he says. When he debuted in Tests, against India in Chennai at the end of 2008, he dismissed Gautam Gambhir and Rahul Dravid in his first over.
Twenty two months and another 113 wickets later, he's the number two bowler in world cricket, a giddy late ascent to the top. David Gower's entry to Test cricket was pretty remarkable too. He pulled his first ball for four, made a languid 50 and then another 8,000-odd runs across the next 14 years against a generation of fearsome bowlers. Gower estimates that he's spent 'four or five years' of his life in Australia, first as a player and then as a commentator for Sky Sports. If anyone is in a position to offer some insight into the biggest tour of the lot, it's him.
Pictures taken, headlock released, spirits high, Gower and Swann sat down to talk. On the table between them, to kick-off their conversation, sits a vintage copy of Anyone For Cricket? a diary of the 1978-9 Ashes co-authored by Gower, who appears on the jacket with his shirt raffishly undone.
David Gower: Ah! Not that! It's the worst book on any subject in the world... It was a different era.
Graeme Swann: A more pornographic era, with the lower shirts. I suffer from a bit of an ungainly hairy chest. I'm not going to do that.
DG: The thing about Australia, then and now, is that there will be 40 or 50,000 people watching you, and of that, only a handful are on your side. The crowds are very partisan, very vocal. Polite is not a word they understand. Lots goes on, you can do virtually anything you like down there. Just in terms of being in Sydney or Melbourne, they are full of good restaurants, full of good wines. There are as many pubs as you can shake a stick at. It's a great place to be and you've got to enjoy that as best you can. But then you go on the field at 11 o'clock in the morning and you've got to back it up.
Graeme will enjoy that. I've got no qualms about him at all. Because some people respond well to that atmosphere, it stirs the blood even more. A hint of a faint heart and you'll get abuse on and off the field.
GS: Some of the places we play in the world, we are hotel-bound. You've got your PlayStation, your DVDs, your books... well, I don't know that many people take books. What I do is, I take David Gower's Anyone For Cricket?. I read that till four in the morning. But with some places in the world it's vital to have a decent team room, take the mickey out of each other and somehow find a way through it. Australia isn't one of those places. Which is where you have to be professional of course, but you have to enjoy the tour too. Otherwise it just becomes a run of the mill job. I'm lucky in that I'm not on the boundary, I'm fielding in the slips. I was talking to Phil Tufnell the other day, and he said you were praying to God you didn't get put down at fine leg. Being 80 yards away from it, you're going to hear it but it's more intimate if you're down on the fence.
DG: Until you drop one...
GS: Yes! But I watch football on TV and I can't believe the abuse footballers get even when they go and take a corner. That's not light-hearted banter, that's pure hatred and it's two yards away. So if they can ignore it and get on with the game, then I don't see any reason why I can't. The Australian players genuinely didn't say anything to me in the last Ashes series. On the field, the sledging seems to have left the game. Unless there's a boiling point within a match, there's nothing said on a cricket field these days. There are players who attract that sort of thing, but I don't seem to be one of them. I almost feel a bit left out.DG: What you want is enough nerves to get you sharp but not so many nerves that you can't move. The trick is not to spend the two months beforehand going, 'Oh it's so important to get the first day right.' I hear stories, Strauss would tell you I guess, that the bus going to the first day in Brisbane in 2006 was very quiet. So it's up to you to make a lot of noise.
GS: I'll start singing... We talked a couple of years ago about our record at the start of a series being diabolical. We said, 'This is unacceptable, it's got to change.' It's made us more aware we've got to hit the ground running. But there's going to be no stopping the nerves on the first morning. The trick is to convince yourself that it's nowhere near as big a deal as everyone's making out. Yeah, it's a big game but it's no bigger than the Ashes was in Cardiff.
DG: That experience helps, definitely. But I'm not alone in the commentary box in thinking that Graeme is a key man in this Ashes Series, without wishing to heap pressure on him...
GS: It's nice to be honest, because a few years ago no one would have put me in that position. I think that's to do with being 31 rather than 21. When you're 20 and some guy's just whacked you for three sixes, you want to run off the field and hide under a bench for a while and wait for the horrible man to go away. You get more pragmatic as you get older. The worst that can happen is I get crashed everywhere and don't bowl for the rest of the session. It's like being a batsman. If you're an18-year-old hot-headed lad and you get out first ball, it's the end of the world. A 28-year-old, you realise you've got another innings in a couple of days. It's not less important, it's just easier to deal with. If we get big enough totals then I believe I can play a role, because a spinner needs runs on the board. If we do that, I can be the lynchpin within the bowlers. If we can post 400 to 450 it will play into my hands, fingers crossed.
DG: We had people like Kenny Barrington on tour with us, who was the assistant manager - basically the coach. Kenny was great. Super bloke. You'd have enjoyed him Graeme, some of the things he said. A lovely man with the weight of the success of the side on his shoulders. He had a heart attack in Barbados a couple of tours later - a horrible time. Now you have a whole structure with Andy Flower at the top. What's your relationship with him like?
GS: It's very good actually. I think it helped that a lot of the current team played against Andy and everyone respected him. He was the number one batsman in the world for a time, and he was such a hard individual on the field. Most people had been on the end of his sledging. If you remind him about it now, he gets a kind of half-grin on his face and goes, 'I never did anything like that.' He was the best player of spin I'd ever bowled to at the time, probably still is now. There's nothing he can say about cricket that I don't immediately listen to. He has been there and done it, and that helps. He is hard, he drives people very hard but he's a bit old school. He's a team man. He embraces the professional era but he agrees with that club mentality that you're playing with your mates and you really should back each other 100 per cent in everything. He's brilliant.
DG: We get a couple of different views in the media - the one that's tight-lipped, controlling his every syllable if it's a day he's not so happy, to one who gives a bit more when they've done well. I have a very good impression of him. He is the right man for the job, and he and Strauss seem to get on.
GS: They're very good man-managers. No matter how good you are at captaining or coaching, if you can't manage every guy in that changing room, you're on a hiding to nothing. They are both, I think, exceptional man-managers. You don't see a gripe coming from the changing room about the captain or the coach. It's testament to the fact that both of them are highly respected. Winning things helps, too.
DG: They have a few things to cope with. Kevin Pietersen, for example, will be key. He's had 18 months when things haven't gone his way, and it's come as a bit of a shock. He's not the first - we've all had times where we've thought, 'I don't know how to play this game.' It is a tough time, because whatever you've built your game on has stopped working.
GS: The main thing with Kev is, when he was playing well he felt invincible, and you could tell that when he batted. There was no situation he couldn't completely dominate. To find out you are human after all and you're the same as everyone else can be tricky. But you can tell when you bowl at him in the nets, his eye and the way he hits the ball, he's still the best player probably in world cricket. It can be a small thing that gets you going, just hitting one off your legs early and you think, 'Ah, there you go...' It'll be one small thing and Kev will feel like a superhero again, and then
he'll just pile on the runs.
DG: If you get three of your top six getting a score, two getting a few and one failing, that's fine.
GS: The one player I think is going to make a massive impression is Eoin Morgan. I don't know if he'll start, but it's amazing how a bloke so young and inexperienced makes me feel so calm and collected. He's got an aura about him. I think he's going to do something spectacular, and he's going to be the next big star of world cricket.
DG: It's going to be close, whoever plays. Going into Melbourne and Sydney, the fourth and fifth Tests - I think the Ashes will be decided there.
GS: Yes, I think that's what we want. Obviously it would be nice to go into Melbourne three-nil up. That would make walking out on the first morning there pretty easy. But I think the Ashes will ride on those last two games.
Sky Bet Odds:
Click Here for Your Free Bet