What's on the box
Check out our Sky Sports channel guide...
Giggs condemns Rooney actions
Old Trafford legend gives his verdict on Rooney transfer saga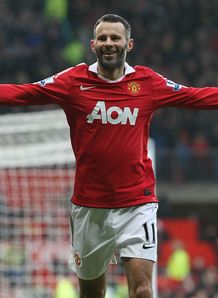 SKY SPORTS ON SKY
There's more live football on Sky Sports than ever before, including the Barclays Premier League, UEFA Champions League, Clydesdale Bank Premier League, England away Euro 2012 qualifiers and La Liga. With four live Sky Sports channels, as well as Sky Sports News, you'll never miss a moment on Sky. Click
here
for more.
Related links
Teams
Players
Also see
Manchester United longest-serving player Ryan Giggs has labelled the timing of Wayne Rooney's transfer request as 'stupid'.
Rooney rocked Old Trafford earlier in the season when he handed in a transfer request and questioned the club's ambition.
Indeed, what seemed to really rile United fans was that their star striker was being linked with rivals Manchester City and that his request was submitted before an important Champions League game.
The issue was resolved when Rooney signed a new deal making him the club's highest-paid player but his actions at the time where viewed dimly by Giggs.
Champions League
"It was before a Champions League game, the timing was stupid, but deep down I thought he would stay and it would be sorted out," he told Sky Sports Magazine.
"The fans, and probably me to an extent and a lot of the players, what really got our backs up was as soon as City were mentioned.
"For me, as a United fan, as soon as you hear City being talked about, you think, well, that can't happen.
"I was surprised, just like everyone else, but I didn't feel let down. He had more than enough people in the dressing room who are closer to him talking to him, so I left it. I didn't really get involved."
Voted
Giggs has recently been voted the greatest ever United player by Inside United readers in a career that has spanned 20 years and garnered 23 major medals and 859 appearances.
At 37, the former Welsh international is the most decorated player in the British game, but his self-effacing manner still allows him to take this latest accolade in his stride.
"You've got to have done it on the pitch, and have that affinity with the fans whereby they know that you have always given your all," he added.
"Humbleness is very important - you have to remember you're lucky to be playing for, or to have played for, such a great club."
Comments (22)
Shireesh Pai (Manchester United fan) says...
"Humbleness is very important - you have to remember you're lucky to be playing for, or to have played for, such a great club." The Best club has to have The Best Player and it shows.
Posted 17:45 1st February 2011
Klewis Nizzo (Manchester United fan) says...
Well said Giggsy!!!
Posted 17:12 1st February 2011
Terry Keeling (Manchester United fan) says...
I am a long-time MUFC season ticket holder, and in this instance I disagree with Ryan Giggs. Although Giggs is much admired by every United fan, I feel that Rooney expressed every Man Utd fans worse fears during his transfer saga-that the manager keeps coming up with the same old excuses for not buying big/top quality players in the transfer market. He (Ferguson) keeps claiming "There's no value in the market" ... this is seen by most Man Utd fans as a poor excuse for not having any real funds available! Rooney was right to question this belief before he committed himself to the club for another 5 years. I fear that United's luck will eventually run out this year (as it did last year) & Ferguson will again blow the chance to win that illusive 19th title. United have lost Ronaldo, Tevez & Hargreaves in the last 2 years & only replaced these (world-class) players with a couple of 'up & coming' youngsters (eg. Hernandez). A team that consistently relies on players like O'Shea & Gibson to stand in, is not going to win the league. Uniteds standard of quality players is as low as I can remember it during the last 20 years!
Posted 16:55 1st February 2011
Michael O'neill (Celtic fan) says...
I think Ryan Giggs is one of the best players I've ever seen, There's no better role model for your kids to look up to as a footballer and a pro , What a shame he never won world player of the year " He's a Legend
Posted 15:43 1st February 2011
Hamza Jamil (Manchester United fan) says...
If only Wayne had your attitude Ryan, then he may be lucky enough to achieve half of what you have.
Posted 15:13 1st February 2011
Orstin Ebede (Manchester United fan) says...
He's a great player. You have to look at the number of years he's been doing it at the highest level. From attacking through the flank to playing a deeper role in the middle. And that memorable goal against Arsenal in FA cup of 1999. He is simply an unbelivable and incredible human.
Posted 13:39 1st February 2011
Darren Dennis (Manchester United fan) says...
Giggs shows again what a team player he is and shows real class in the way he handles his football / private life. its been a pleasure watching you play for 20yrs hopefully you still have the same hunger for the game at 40.
Posted 13:18 1st February 2011
Dave O'leary (Liverpool fan) says...
You've gotta love Ryan Giggs. Not only a great player, but the ultimate professional. Contrast this with the attitude and comments of Torres and the utter disrespect he has shown towards Liverpool and the fans that idolised him. He and the many others like him ought to take a good look at the likes of Giggs and think "This is how I ought to behave." Ryan, if only you were Scouse!
Posted 12:56 1st February 2011
Adam Searle (Liverpool fan) says...
Coming from a Liverpool fan, and I know many Liverpool fans feel the same, Giggs is a true professional admired by fans from all clubs across the world, the fact Liverpool fans say that says everything. A half intelligent man would use Giggs as inspiration. Nothing of the sort can be said for Rooney, holding the club to ransom for a improved contract, I am suprised Ferguson caved, no man is bigger than the club and look how he has repaid, poor performances, more cash. You should have accepted his request looked for a new club for him and called his bluff.
Posted 12:54 1st February 2011
Adam Smith (Newcastle United fan) says...
Ryan Giggs is now a great role model that I think all football players should look at and try to emulate. He is quality and his record speaks for itself. Far too many players think they are special too early now and leave no real legacy. Giggs will remain in my mind for a very long time and I'd imagine that all Utd fans will talk of him till they the end of their lives.
Posted 12:50 1st February 2011
Danny Weston (Manchester United fan) says...
Do like it when a footballer talks sense and tells it like it is. Rooney, Tevez, Carroll and Torres have all kissed their badge this season and yet all have put in a transfer request too. About time we as football fans stopped idolising the here today, gone tomorrow footballer and kept it for the likes of Giggs, Scholes, Neville, Gerrard, Carragher, Terry and all those unsung players thats have only ever played at one club and who are happy to be at the team they love, getting an unbelievable wage but seeing players come in on massive wages, with all sorts of bonuses and image rights!!!!!
Posted 12:45 1st February 2011
Graham Jones (Manchester United fan) says...
Ryan Giggs, the perfect example of loyalty and pride and an impeccable role model. Carroll, Torres and Bent take heed.its interesting Ryan Giggs talks about humbleness and gratuity amongst these outrageous big money transfers. For the future of the game I hope Man U and Arsenal remain front runners to the end.
Posted 12:30 1st February 2011
Elliot Rodgers (Manchester United fan) says...
Legend
Posted 12:28 1st February 2011
Rick Smith (Manchester United fan) says...
Football players and their wages are getting stupid. Clubs won't have legends like Giggs and Scholes any more as its all about money. They need a reality check!!! I will sign a life contract on £500 a week Fergie!
Posted 11:54 1st February 2011
Edwin Petersen (Manchester United fan) says...
What a player and a role model. An absolutely magnificent winger. There will never be anyone quite like Ryan Giggs. I think that when he calls it quites, United will have a gap to fill which very few players could ever even attempt to do. He declined the advances of some big Italian cluns earlier in his career and stayed loyal. And to think, he could so easily have playedfor that other club in Machester.
Posted 11:48 1st February 2011
James Smith (Manchester United fan) says...
Ever the gentleman. One of a kind.
Posted 11:39 1st February 2011
Aj Parker (Manchester United fan) says...
Giggs deserves the recognition of being voted the greatest player in Manchester United history, I voted Giggs. We have had a galaxy of superstars, players such as Schmeichel, Cantona, Law, Charlton, Edwards, Best, Keane, Van Nistelrooy, Yorke, G.Neville, McClaire, Cole, Bruce, Pallister, Hughes, Robson, Ronaldo, Beckham, Scholes, Stam, Ince, Stepney, Gregg, Foulkes, Whiteside, Blackmore etc...etc...etc...the list just goes on and on and on, from the likes of the Busby Babes to Fergie's Fledglings, we have truly been blessed and Ryan Giggs fully deserves to be voted the greatest, thank you Giggs and please continue for a few more years. Its been my honour to watch Giggs.
Posted 11:39 1st February 2011
Darren Lee (Manchester United fan) says...
What Rooney and the transfer window over the last 24 hours has shown is that loyalty to club and supporters is well and truly a thing of the past. For every Giggs or Carragher there will be a Torres or Adebayor who will have a club link that can be easily swayed by a bigger pay cheque. And yes I know the clubs treat players in the same capacity, but in an era where people worry to keep there jobs and minimum/low wage jobs to survive, seeing someone go from £30K to £80K a week is grotesque and a far cry from what the game should be about. They'll probably get a few quid extra for kissing the badge as well
Posted 11:37 1st February 2011
Ian Thered (Manchester United fan) says...
Ryan Giggs talks so much sense and is such an honest & humble individual and player. I hope that you stick around at the Theatre of dreams for a long time, cos the players, fans and staff idolise you and look up to you.
Posted 11:22 1st February 2011
Sammy Dzanie (Manchester United fan) says...
In as much as I agree with Giggs, I think Roony was fighting for his course. However i think the timing was wrong and the mentioned of city makes me panic as well. I am very happy he stayed finally and hope that he find his scoring boots soon again. I still believe in him and I think he is a great player. Even if he does not score, his contribution is the game is very encourageing. He always gives his 100% to our matches and I am very proud of him. I know very soon he will start scoring again. I salute Giggs for his contribution to the United course and wish him well to get to greater heights. He is a faithful united servant and indeed we are all pround of him and will always be by him. What really get United going and getting results even as we are not playing well to me is the unity and oneness in our team and that is very wonderful. Its really a club worth following and supporting and I am very proud of the team and the management. United forever.
Posted 11:18 1st February 2011