What's on the box
Check out our Sky Sports channel guide...
Major steps forward
Channelling aggression is crucial, Lee tells Sky Sports magazine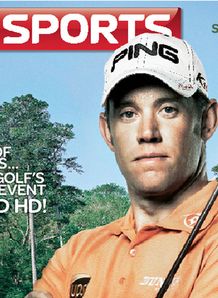 Augusta is like all great golf courses in that you can't afford any weaknesses in your swing. It's one of those places where a shorter hitter can contend with a bomber of a golf ball.
Lee Westwood
Quotes of the week
Lee Westwood's first memory of the Masters is being a sports mad schoolboy watching the climax of the 1986 tournament on television.
He was still a few weeks short of his 13th birthday and had yet to take up golf but the sights and sounds of Jack Nicklaus rolling back the years at the ripe old age of 46 were enough to capture the imagination - even if he was not allowed to stay up to see the Golden Bear slip on the winner's green jacket for a record sixth time.
"I only got to watch the first part of the back nine," recalls Westwood of that Sunday night 25 years ago. "I had to go to school next day."
Remarkably, just 11 years after watching the tournament from his parent's front room in Worksop, Westwood found himself playing in his first Masters at Augusta National, and partnering Nicklaus in the final round.
"That was pretty special," says the 37-year-old. "He didn't get off to a good start and I remember him apologising to me for not playing that well. I said, 'Don't worry Jack, you do whatever you want.' I did pretty well and finished high enough to get an invite back the next year, but it was such a privilege and a pleasure to play with Jack Nicklaus at Augusta."
Treacherous
Westwood has competed on ten occasions since making his debut in 1997, the year that Tiger Woods announced himself to the world by winning his first major in record-breaking fashion, but still remembers his first trip up Magnolia Lane, the driveway leading to the clubhouse, as a magical experience.
"Normally you can go the other way to the player's car park but I went up and down Magnolia Lane every day that week, just to get an appreciation of it."
Once inside the gates, his first impressions of the Augusta National club were similarly jaw-dropping. "I remember thinking just how green and classy the whole place was," he says. The course was a major revelation too, with the biggest shock being the speed of the greens.
"Once you've got your head round the undulations, and Augusta is an unbelievably undulating golf course, then you need to focus on the greens. If you get in the wrong position it can be nigh-on impossible to get down in two," he explains.
Asked about the most terrifying putts on the course, Westwood offers up a number of contenders.
"If you get above the flag on the par-3 16th when the hole is cut down at the front, that's a pretty treacherous spot. Also, if you get above the hole on 9 you're in real trouble. On the 14th last year, my ball finished on the slope. I only nudged it and it ended up running 20 feet by. I couldn't hit it soft enough. There are areas on certain greens where you can put it in what look like innocuous spots but all of a sudden your first putt has gone 10 or 15-foot past without you event thinking it was that fast."
Favourites
Twelve months ago Westwood finished runner-up to Phil Mickelson with a 72-hole score that was good enough to have won 15 of the previous 20 tournaments. In November, the stalwart of the last seven European Ryder Cup teams became the first golfer in more than six years to displace Woods at the top of the world rankings. Not surprisingly, Westwood will start this year as one of the favourites.
Last year's near miss was not the first time he has been in contention coming into Augusta's fabled back nine on the final day. In 1999, he led the field at the turn on Sunday, the first time he had been in such a position on the last round of a major championship.
He fell away after dropping three shots through Amen Corner - the perilous run consisting of the par-4 11th, the par-3 12th over water and the par-5 13th with Rae's Creek guarding the green. It was, however, an important stage in the learning process.
"It was still very early in my career," reflects Westwood. "I'd only had five years of playing on tour and it was only my third Masters. It was nice to get in that position. Seeing your name on the big leaderboard going into Amen Corner is something you dream of.
"The leaderboards are unique at Augusta, they've been in the same places for years. They're another part of the continuity and history of the event, so it was great to see my name at the top of it on Sunday. What did I take from the experience? That the next time round I'd know what to expect and be a lot more comfortable in that situation."
Memories
In recent years, Westwood has been in that situation more and more and his name has become a fixture near the top of leaderboards at major championships. But if the 2010 Masters proved to be another near miss for a player still seeking a first major title to set alongside a stellar Ryder Cup record and tournament wins on five continents, it is one that he is determined to take the positives from.
"I've got a lot of good memories from last year's tournament," Westwood insists. "Phil had a couple of special runs, especially in the middle of the third round, but I had a five-shot lead at one stage and not many people get it five clear at Augusta. I was obviously playing well and doing everything right but you can't help it if sometimes somebody else performs that little bit better."
Since the tournament's inception in 1934, there has only been one debutant winner of the Masters - Fuzzy Zoeller in 1979.
Augusta National is not only one of the world's most beautiful courses, it's one that requires detailed knowledge of its nuances, not to mention extraordinary reserves of skill, guts and patience. Westwood shot three sub-70 rounds in 2010, equalling his total from 10 previous outings, and believes only now is he coming to terms with what's required to succeed on Augusta's manicured lawns.
"Last year, I went to Augusta before the tournament with Billy Foster, my caddie," he explains.
"We spent time mapping the right way round the course, working out where to hit it to certain flags and where not to hit it. It was about finding out the right way to play every hole and finding a safe place on every green. The secret for me is not to be too aggressive on certain holes."
Longest
As one of the longest, straightest drivers of the ball in golf, Augusta's four par-5s are obvious places for Westwood to pick up birdies. "The par-5s are where most people make their score around Augusta," he agrees, "but I think you can birdie all of the holes. That said, there's trouble everywhere as well. It's not the kind of course you can play too aggressively on."
But the course, which has undergone a number of changes in the last decade with a number of holes being tightened and lengthened, does not suit only big hitters. American Zach Johnson, champion in 2007, is far from being the longest from the tee but he had clear a strategy for Augusta and walked off with a green jacket. Westwood believes Johnson's victory demonstrates it's more than simply power that's required.
"Augusta is like all great golf courses in that you can't afford any weaknesses in your swing. It's one of those places where a shorter hitter can contend with a bomber of a golf ball," he argues.
"Obviously, if you're hitting it long and straight it is going to help you on any golf course but Augusta is a great equalizer because it tests so many facets of your game. You've got to have an all-round game that week to succeed."
After a long run of European success in the event during the Nineties, no player from this side of the Atlantic has won at Augusta since Spain's Jose Maria Olazabal claimed his second title in 1999 - and no Englishman has worn a green jacket since Nick Faldo in 1996. But with Graeme McDowell (US Open) and Martin Kaymer (USPGA) having won major titles in the US last year, and Westwood toppling Woods from his perch as the top-ranked player in the game, the time is surely right for the drought to come to an end.
"I think we've got a lot of world class players now and they know it," nods Westwood. "Once you've proved yourself a couple of times you gain that confidence and carry on with it." Many believe that a man with more than 20 worldwide wins under his belt is long overdue a first major title, especially having gone close in all four Grand Slam events in recent years. For hids part, Westwood remains as level-headed as ever about his prospects.
He insists he's not even bothered about the long-running curse of the Par-3 tournament, staged on the Wednesday before the event. No winner of the traditional curtain raiser has ever gone on to win the main event in the same year. "I'd love to win it," smiles Westwood, "and I will definitely be playing in it because my son is coming over to caddie for me in it." And however good the Masters is to watch on television, caddying for Dad surely takes some beating.
Don't miss Lee - plus Jack Nicklaus, Sir Viv Richards and Robert Pires - in the latest Sky Sports magazine, out now!
Sky Bet Odds:
Click Here for Your Free Bet
Post to your View!
Be the first to post a comment on this story