What's on the box
Check out our Sky Sports channel guide...
Jack and the lads
Sky Sports stars come out in force to catch up with 'the Golden Bear'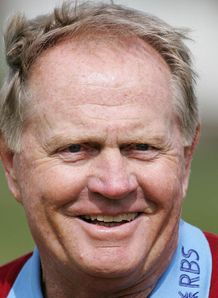 Jack Nicklaus' universal appeal is legendary.
So when the six-time Masters champion sat down with Sky Sports magazine ahead of this year's tournament at Augusta, he was inundated with questions.
Some of our leading pundits and presenters were at the front of the queue and Jack was only too happy to share his reflections, memories and hopes with them - from some of his major battles out on the fairways to his thoughts on ball and course design and the integrity of the game.
As Sky Sports prepares to cover the The Masters like never before, there was only one place to start - a sensational moment-in-time some 15 years ago...
JAMIE REDKNAPP: Where and when was the greatest round you've ever played?
JACK: The most memorable round from most people's standpoint would be the final round of the 1986 Masters. Here I was 46 years old, and most people didn't expect me to win - including myself. But on Sunday, I managed to shoot 30 on the back nine and surprise a lot of people. I include myself in that group. I can't imagine I could play any 10 holes [Jack played the final 10 holes in 7 under] any better than that last stretch that Sunday.
For some, it might be the final round of the 1967 US Open at Baltusrol, when I shot a 65 on Sunday to break Ben Hogan's scoring record. Then there are those who like to point to the next time I won at Baltusrol, when I opened with 63 and closed with 68 to break the scoring record again. And then there is the 64 in the third round of the 1965 Masters. That was probably the easiest round I ever played. No matter what I did, I was hitting 9-irons and wedges into greens and making tap-in putts all day long. It just happened. I was fortunate to shoot some strong final rounds in majors.
Jamie: Is there one single shot that you consider to be your greatest ever? Can you talk through what happened?
JACK: I don't think I can name one shot, because there were a number that were important at the time and remain important to me today. But there are three memorable shots that I hit with a 1-iron, and those are ones I enjoyed the most because that is arguably the hardest club to play. There was the 1-iron on the 18 on the final hole at Baltusrol in 1967; the par-3 17th hole at Pebble Beach in the 1972 US Open, and No. 15 at Augusta in 1975.
In 1967 at Baltusrol, I was paired with Arnold Palmer in the final round, I held a four-shot lead over my long-time friend and rival when we reached the par-5 18th. Although I had a chance at Ben Hogan's scoring record, I was simply thinking of a victory. But a poor tee shot, followed by an even worse layup, left me with 238 yards to the pin. It's late in the afternoon, the wind is in my face, there's an approaching thunderstorm, and it's starting to get cold.
The shot was 238 yards, but played more like 260. To this day, I don't know if I have ever hit a better 1-iron-at least not one as long. I rolled the ball to 22 feet, made the putt and in doing so made U.S. Open scoring history. I've been back there since, and I have dropped a few balls in that exact spot in an attempt to duplicate the shot. Not a chance. Not with a 1-iron. Not with a 3-wood. Not even driver.
In the '72 US Open, I came to the 17th with a three-shot lead, but despite the cushion, the potential was there for a big number. With the pin left and the wind in my face, if I went for it and hooked it, I could end up in the largest water hazard in the world-the Pacific Ocean. If I bailed out right, I might need a miracle shot just for a chance at par. So with a three-stroke lead, I reached for the 1-iron. When I took the club back, I felt the clubface closing and the backswing working a little too much inside the target line. That meant a hook. But my tempo was so good that week-in fact, I doubt it was ever any better-I was able to adjust on the downswing and square up the clubface. The ball flight was low and through the wind, and dead at the flag. I never saw it hit, but with the crowd's reaction, I thought it might be close. The ball finished a few inches from the cup, and someone actually told me it hit the stick and almost fell in.
And in the '75 Masters, I was battling Tom Weiskopf and Johnny Miller on Sunday in one of the most enjoyable down-the-stretch duels I can remember. I had bogeyed 14 to put me in a tie with Tom and Johnny was three shots back. I hit a good drive on the par-5 15th and was left with 242 yards. I absolutely nailed the 1-iron and at one time thought I might have a chance at double eagle. It ended up finishing 20 feet from the hole and it allowed me to get a two-putt birdie. I went on to win by a single shot over Tom and Johnny.
Sir Ian Botham: What other sporting passions do you have?
JACK: I probably play far more tennis now than I play golf, and I love to fly-fish as much as possible. I used to do a bit of hunting with my kids, but I rarely do that, any more. As far as being a spectator, I love football and basketball, and you can find me in the stands at almost any of my grandkids' sporting events.
Beefy: With such great advancements in modern technology, what should be done about the golf ball?
JACK: I have been on my soapbox for many years about the need to roll back the golf ball. Every thing is OK, except that the game does not relate to the average golfer any more. That is the problem. It used to be a game when a handicap made a difference. It doesn't today. The difference in games played by most handicapped golfers and the best players in the world is so vastly different, and it is because of distance. It is what it is, and they are not going to be able to change that.
Beefy: Who was the best golfer you ever played against?
JACK: Probably me, because that is the only one I had to fight. There are a lot of good golfers and a lot of very good golfers. But the only real golfer I had to beat was myself, because that is the only one I could control.
NASSER HUSSAIN: What's the best golf course you have designed?
JACK: I could never answer that. I have designed over 280 around the world and our firm, Nicklaus Design, has created another 80 or so to give us 360 courses in 34 countries. And they are all special to me in a different way. I say with all sincerity that I look at my golf course designs as extensions of my family. That's why when people ask me to name my favorite golf course, I can't. It's like someone asking you to name your favorite child.
Nass: What do you think about golf coverage in 3D, in particular The Masters?
JACK: I have never watched a sporting event in 3D. I would imagine that watching the Masters in 3D would certainly enhance the ability to visualize the unique movement and undulations at Augusta National, but unfortunately I can't speak from experience.
Nass: What can other sports learn from golf in terms of its integrity?
JACK: Every sport can learn a lot from golf. We are a sport that was founded, built and made great because of its inherent integrity, and how it continues to embrace honesty and tradition. I can't think of another sport where competitors are expected to call penalties on themselves. I have always found it interesting how a tournament might have 120 to 140 or more players, and they are expected to call penalties on themselves. Yet a professional basketball game being played by 10 people-five on each team-has three referees on the court at one time.
MICHAEL LYNAGH: What was your routine on the morning of a final round at The Masters if you were in contention? Did it change in any way over the years?
JACK: My routine didn't change from Thursday to Sunday. I didn't have a specific routine. Typically, your Thursday and Friday rounds are a bit earlier, and if you are in contention, your rounds on Saturday and Sunday were later in the afternoon. But it did not change my routine much, if at all. I just sort of delayed it a bit to use up time. I always did my exercises after breakfast to get myself loose before I went to the golf course. I always tried to eat 2½ to 3 hours before I played and then eat something light, a little snack, during the round. Then, basically 45 to 50 minutes before I played, I went to the range to warm up.
ALAN MCINALLY: What was going through your mind the last time you played both The Masters and The British Open?
JACK: Unfortunately I missed the cut in both of them, so the competitor in me makes it difficult to forget that. But what I hope I never forget is the warm reception I received from the galleries at both Augusta and St. Andrews. The people could not have been nicer. Both venues have meant a great deal to me over the years, and the fans at both Augusta and St. Andrews have always seemed to embrace me as one of their own. In addition, at those two majors, I had family by my side-with Jack caddying at the Masters and Steve at St. Andrews-and family just outside the ropes. So to be able to share this with them only served to underline the moment.
STEVO: Is money slowly but surely eroding sportsmanship in golf?
JACK: I think that the cash factor has become a much more important element in sports than it probably should be. The game of golf has many wonderful players, and great players tend to play the game for the game, the competition, the love of the game and that competition. Unfortunately I see it in all sports-frankly more so in other sports than golf-people play too much for what they can put in their pocket and not enough from the heart.
Stevo: Television coverage of golf events is so intense now. Has it eliminated anyone who could cheat (knowingly or unknowingly)?
JACK: The game of golf has always been based on integrity and calling penalties on yourself. I can't think of, in all the years I have played golf, more than one or two instances where someone has cheated in the game of golf, and that was so insignificant it would have no bearing on the outcome. I don't think that 99.99 percent of players would ever cheat intentionally, any way. The penalties being called on the players from television viewers are unknown to the players. I don't like that. I am sure I have had times over the years where the ball has moved on me and I missed it. I think intent is far more important than what actually happens or happened. What is going to affect someone if the ball rolls a quarter of an inch? It doesn't really affect anyone. It just happens to be a rule and I have called it on myself when I have had that happen. But I am sure there are times when it's happened and I have missed it. There have been times when I have walked up to a putt and nudged the ball, it has moved and then the ball settled back into the same spot, which is 'oscillating' and is not a penalty. But each time that has happened, I have told my fellow competitors that happened. I have had it happened where it moved and I have called a penalty on myself. For the most part, players don't need someone on television telling them how to play the game.
DEWI MORRIS: Is there anything you would do to improve the Masters as a golf tournament?
JACK: That is one of those questions that I could only get myself in trouble answering, so I will simply say that it is perfect. But in all sincerity, I think the Masters has done a wonderful job staying ahead of the curve and responding to change, especially in technology.
Jack Nicklaus is a global ambassador for RBS. For the full interview see the latest Sky Sports magazine - out now.
Sky Bet Odds:
Click Here for Your Free Bet
Post to your View!
Be the first to post a comment on this story