What's on the box
Check out our Sky Sports channel guide...
You grill Graeme!
McDowell reflects on glorious year and the challenges to come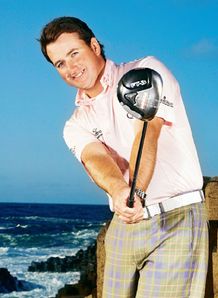 He's US Open champion and a Ryder Cup hero for Europe.
But how did the ice-cool Graeme McDowell cope with the pressure of answering your questions?
Find out here and catch the June/July edition of the Sky Sports magazine for more major features...
At the US Open, how did you cope with the pressure of being in the lead going into the closing holes of a Major? Charles O'Toole, Killarney
GRAEME REPLIES: I've always backed myself to close out victory when I'm leading any tournament. Going back to my amateur days, I've always been confident that if I get in a good position I have what it takes. I'd won the Wales Open a few weeks earlier and that made me feel really confident about my game. I knew if I had a chance to contend that I was going to be ready. I wish I could bottle up the way I felt that week because it was a great state of mind. Having said that, I never expected to win a Major. There are so many amazing golfers out there, you can never expect it. Lifting the trophy was beyond my wildest expectations.
Did that experience help you at the Ryder Cup? Emily Watson, Market Harborough
GRAEME REPLIES: It definitely put me in good stead, but the pressure at the Ryder Cup was on another level. For some reason, I felt eerily calm at Pebble Beach. I'd had my nervousness the day before, when I lost the lead but managed to battle to a level-par round, so on the Sunday I felt like I had nothing to lose. Obviously coming down the stretch it intensified. I got the feeling I was walking in the footsteps of giants of the game like Tiger, Jack Nicklaus and Tom Watson. That gave me goosebumps. But the Ryder Cup amplifies your emotions 100 times over. Carrying everyone's hopes on my shoulders was the most pressure I've ever felt on a golf course. I remember how stressed Monty looked, and you can't fail to notice the 30,000 people on the bank and the presence of my teammates looking to me to bring it home. It's a good job I didn't think of the 70million people watching on TV - that could have tipped me over the edge!
Does it take you long to recover from the intensity of playing a big tournament? Sam Cross, via email
GRAEME REPLIES: It takes me a while to properly recover. It's not so much the physical stress, it's trying to get off the emotional rollercoaster. You may think you're recovered, but your head is all over the place. For example, after the US Open I took everything in my stride and it wasn't until three weeks later that it hit me. I was walking down the fourth fairway at the Open at St Andrews and I started to well up. I was emotionally drained and the enormity of it all got to me.
You changed your clubs for this season. Are you one of those players who's superstitious about their clubs, and have the new ones made a difference? Barry Wilson, Oxford
GRAEME REPLIES: I'm not superstitious about my clubs. I know that deep down it is my talent that has brought me this success. Having said that, the right equipment is important and I'm not naive enough to have switched to inferior tools.
I used Cleveland wedges as an amateur, so I know how good they are, and I was really excited to get cracking with the Srixon ball, which is so well reputed. I'm very confident with my new clubs. All I've done is gone from one great company to another.
You studied mechanical engineering at uni and have a keen interest in golf technology. How much input did you have in the making of your new clubs? Tony Chamberlain, via email
GRAEME REPLIES: It's an exciting time to be involved with Srixon. They are going to allow me to be a big part of their research and development work going forward. A lot of players don't pay that much attention to these areas, whereas it has always fascinated me, and I look forward to offering my input. So far, I am over the moon with the new clubs. Even at this early stage, I feel that we are going places.
You said you took inspiration from players like Y.E. Yang when it came to winning your first Major. Did Yang help to break Tiger's aura of invincibility? Jon Mooney, Dublin
GRAEME REPLIES: For a time, Tiger appeared to be superhuman. But when you see guys beat him - guys who you play with every day and compete with every week - you realise that he is just a golfer, who breathes and bleeds like rest of us. It sounds weird, but their feats showed me that Tiger plays the same golf ball and has to get it in the same hole. It gave me the belief that it was possible - that it doesn't take a superhuman effort to win a Major.
What effect has Dr Bob Rotella had on your game? Ben Hampshire, Sevenoaks
GRAEME REPLIES: I've always been a big fan of sports psychology, and I'd read Bob's books before I'd even met him. He changed the way I think about certain situations on the course and the results have been there to see.
You had a stellar amateur career in the US and over here, but it took you a while to break through to the very top level as a pro. Why was that? Danny Fairclough, Lincoln
GRAEME REPLIES: I won a Tour event shortly after turning pro [the 2002 Scandinavian Masters], but after that I spent a few years finding my feet. I was still contending at some events and got myself into the top 50 at one stage, but looking back I guess I wasn't fulfilling my potential. I'd lived in Manchester and then Cardiff and didn't have a settled base. When you're desperate for some reward for the hard work, this game gives you no love back. When
you try and force something to happen, it never does. Around the end of 2007 I felt like I needed a boost of enthusiasm, so I took some time out to consider my options. I decided to change management company to Horizon Sports and move my UK base back home to Portrush in Northern Ireland. It kick-started me in a new direction. The second you start relaxing and believing in yourself, it's amazing what you'll find around the corner.
This year's US Open is at Congressional. Do you think your game is well-suited to that course? George MacCallum, Chelmsford
GRAEME REPLIES: It's a great course, very different to Pebble Beach, but equally tough. I'm not one to talk up my chances, but I do believe I have the long game to suit any golf course.
It all comes down to whether my short game is firing on all cylinders. I wouldn't have said my game necessarily suited Pebble and yet I won there last year. I'll go there as defending champion, which will come with its own responsibilities and pressure.
You said winning the US Open was "a life-changing experience." In what ways has your life changed? Matt Ayres, via email
GRAEME REPLIES: Firstly, the fact that winning a Major was one of my life goals has brought a huge sense of achievement. One of the most overwhelming things is that the road sign that welcomes people to my hometown now says: 'Welcome to Portrush, home of US Open champion Graeme McDowell...' Then there's the attention I've received on and off the course. Up until last year I'd managed to go about my business of being a successful golfer, but without the public interest. Now, people know who I am on both sides of the pond.
Did you find all that attention a bit strange? Steve James, Nottingham
GRAEME REPLIES: Yeah, very strange. But it's not too bad being regarded as Northern Ireland's most eligible bachelor! I've had people trying to find out who I'm seeing, but I'm good
at keeping things on the down low. Besides, the truth is I have nothing to hide. I manage the odd dinner date and so on, and I'm most certainly not lonely. Anyway, unlike David Beckham or Wayne Rooney, once I take my baseball cap off no-one recognises me!
It was said you partied pretty hard after your US Open victory. What were the highlights? Stephen Fleming, Twyford
GRAEME REPLIES: It's all a bit of a blur! It was incredible to have my dad there with me. It was Father's Day and when he ran onto the 18th green after I'd holed the winning putt I couldn't have been happier. It'll take something pretty special in the future to beat that moment. I obviously had a big celebration that night. Fortunately, they had plenty of Guinness on tap at the Brophy's Tavern in Carmel, and we partied back at the hotel into the wee small hours. But by 4:30am my manager was clearing the hotel room and sending me to bed! The following day I went to film a cameo role on [the HBO show] Entourage, which is one of the coolest things I've ever done. Then I was due on Jay Leno that night. It was a mad 24 hours.
Have you seen your cameo appearance on Entourage and, if so, what did you think? Nick Valins, Chester
GRAEME REPLIES: Yeah, I've seen it, and I reckon I just about pulled it off! Although I'm never going to be as cool as Vinnie Chase.
Other than Rory McIlroy, who are the young stars that are exciting you in terms of their potential? Andrew Geekie, Tain
GRAEME REPLIES: Rickie Fowler is a tremendously talented young man. I like Jhonattan Vegas, who has been promoted to the PGA Tour in the States. On the European Tour, I played a few rounds with the Italian teenager Matteo Mannasero last season. He certainly has a big future.
A lot of players consider you the best dressed on the Tour. Who do you think is the most stylish? Ian Bevan, Swansea
GRAEME REPLIES: Camilo Villegas always looks cool. He does wear pretty daring outfits, but everything seems to look good on him.
Who's the best 'celebrity' golfer you've seen? Aidan Walsh, Tipperary
GRAEME REPLIES: Michael Jordan hits the ball really sweetly. I think he plays off scratch, which isn't bad for someone who's already conquered one sport [basketball] and played professionally at another [baseball].
Isn't 'G-Mac' a bit of a naff nickname? It sounds like a mid '90s rapper. Jo Moores, via email
GRAEME REPLIES: I like it! Although my rapping isn't up to much! It's been my nickname for years, but it came to the fore in the '08 Ryder Cup. The Americans love an abbreviated name and the most popular chant European fans were singing was: 'You've got the Big Mac, we've got the G-Mac!' I was digging my song, for sure, and it seems to have stuck.
Given the choice, which position would you like to play in the next Ryder Cup singles? Dougie Yates, Stirling
GRAEME REPLIES: I've always said I have no preference. My first Ryder Cup ended in disappointment in 2008 - I won my singles, but the whole match was over as a contest before I'd even reached the 16th tee. I remember hearing the cheers and realising that my efforts were all for a dead rubber - I felt like someone had taken the batteries out of me. So at Celtic Manor I wanted my point to count, and thankfully that was indeed the case! In future, I'd like to be in a position for my point to make a difference again.
You attended the University of Alabama. Does that mean you're partial to a bit of Lynyrd Skynyrd? Philip Parker, via email
GRAEME REPLIES: I'm not their biggest fan, but Sweet Home Alabama is a great tune. It reminds me of my college days.
What's the weirdest fan request you've ever had? Alec Cowan, Perth
GRAEME REPLIES: One fan asked if I could attend her husband's 50th birthday party and jump out of a large cake as a surprise. I think I said I'd love to, but the problem is, I don't like cake!
Sky Bet Odds:
Click Here for Your Free Bet