Jessica Ennis-Hill to be awarded 2011 world championship gold due to winner doping
By Michael Kelleher
Last Updated: 30/11/16 8:06pm
Jessica Ennis-Hill is set to be awarded another world championship gold medal after Russia's Tatyana Chernova was stripped of her 2011 heptathlon title for doping.
The Court of Arbitration for Sport (CAS) announced on Tuesday Chernova is to be stripped of the medal she won the 2011 world championships in Daegu, South Korea, where Ennis-Hill finished second.
That means Ennis-Hill will receive a third world championship gold medal to add to those she won in Berlin in 2009 and last year in Beijing.
This image was forever imprinted in my mind! However much it drove me on for what I was about to achieve at my first Olympics in London, in my heart I just knew it was wrong. So happy to finally be receiving my gold medal. Triple World Champion WOW
Jessica Ennis-Hill on Instagram
Chernova had previously been given a two-year ban backdated to 2013 after testing positive for a banned steroid when a sample from the 2009 world championships was reanalysed, but CAS has ruled all of Chernova's results between August 15, 2011, and July 22, 2013, are annulled.
She is one of three Russian athletes, along with Ekaterina Sharmina and Kristina Ugarova, banned by CAS on Tuesday from participating in sport due to the results of their doping tests.
CAS said Chernova, Sharmina and Ugarova had all been found guilty of blood doping based on analysis of their biological passports, a system that tracks an athlete's blood profile over time to detect signs of cheating.
"All three athletes have been found to have committed an anti-doping rule violation ... of the International Athletics Federation (IAAF) Competition Rules after analysis of their Athlete Biological Passports (ABP) showed evidence of blood doping," CAS said in a statement.  
Ennis-Hill, who won gold at the 2012 Olympics and silver in 2016, announced her retirement from athletics last month.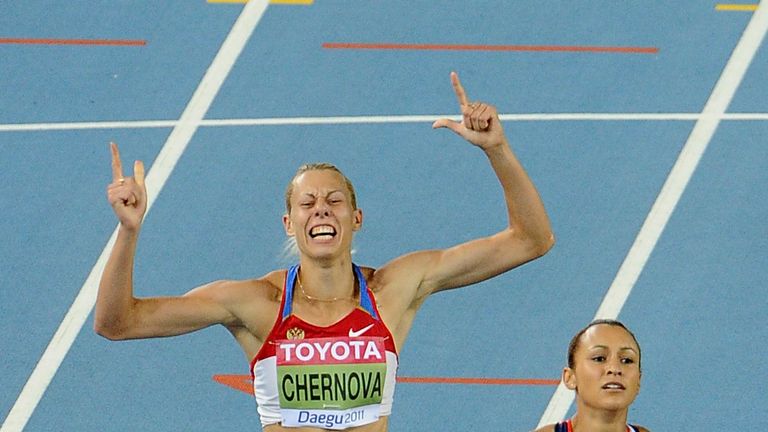 She told Sky Sports News HQ: "It's definitely unique. I was just bathing my son on Tuesday night when I got the call I was going to be receiving a gold medal. It was just a really strange feeling.
"I hoped I would eventually receive it but I didn't know when that was going to be, a matter of months or years as it has been. It's an amazing feeling to look back at my career and what I have achieved and know I have another gold medal as world champion.
"Deep down I knew something wasn't right but I couldn't just point fingers without any evidence. I had always hoped that medal would come to me and I am thankful it has."
Upgrade to Sky Sports now and get 12 months half price. Hurry, offer ends December 4th!