Manchester stage lifts pole vaulter and Sky Scholar Holly Bradshaw at Great City Games
By Mark Ashenden
Last Updated: 30/05/17 8:10am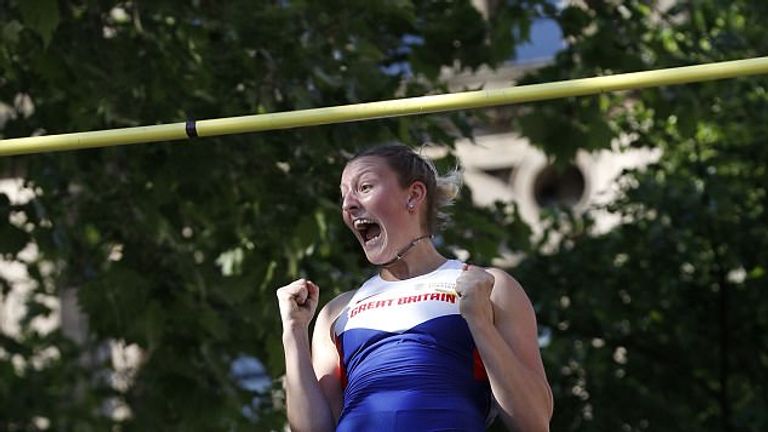 Holly Bradshaw has revealed her emotions after setting a new British women's pole vault record of 4.80m at the Great City Games in Manchester.
The Sky Academy Sports Scholar was in scintillating form in front of a huge crowd in Deansgate and Albert Square on Friday, just four days after the terror attack at the Manchester Arena.
Bradshaw surpassed her own personal best before beating her own national record.
"It was emotional and inspiring," she said. "Manchester is a city close to my heart - it is where my pole vault career started and growing up so close it is a special city to me.
"To be able to compete was a privilege and to break my record was an added bonus. The crowd came out in force and got behind each and every one of us.
"It really made the difference and just showed how strong everyone is when we come together. The atmosphere was electric."
The 25-year-old from Preston cleared 4.50m to set up the win as she went on to beat the mark of 4.71m she set in 2012 before clearing 4.80m on her first attempt.
She added: "It was a strange competition - it was my first competition from 16 steps and only the second time on this approach since September 2016 so I didn't really know what to expect.
"My training has been going really well and I am in the best shape of my life but I am just lacking full approach practice.
"To jump 4.80 - my second highest ever - I was a little surprised but did know the heights were in me. There is still room for improvement and little tweaks which is exciting.
"I loved every minute of the competition - like I do every time I compete. I am excited for what the rest of the season may bring.
"I am aiming to just build momentum and confidence towards the World Championships in August in London which is where I need to be at my best."