NBA: Rudy Gay leads the Memphis Grizzlies to sixth straight win
The Memphis Grizzlies continued the best start in the franchise's history as they overcame the Oklahoma City Thunder.
Last Updated: 15/11/12 6:52am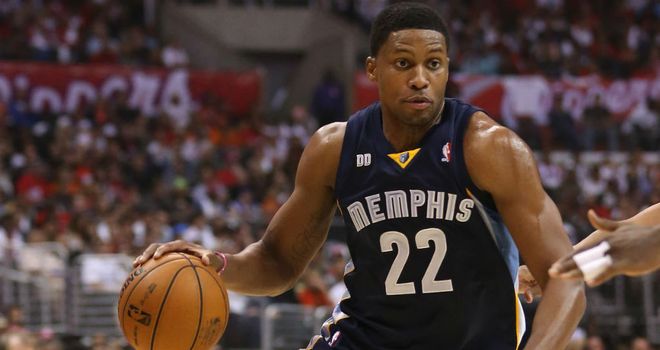 Rudy Gay led the way with 28 points while Zach Randolph weighed in with 20 points and 11 rebounds before his evening was cut short by an ejection along with Oklahoma City's Kendrick Perkins.
Kevin Durant's season-high 34 points were in vain for the Thunder.
The Los Angeles Clippers moved to 6-2 for the season after they overcame the Miami Heat 107-100, with Jamal Crawford scoring 22 points.
The Chicago Bulls needed overtime to see off the Phoenix Suns 112-106 - with 28 points and 14 rebounds from Carlos Boozer providing the platform.
James Harden continues to enjoy life in Houston as he registered at least 30 points for the third time in seven games, scoring exactly 30 in a 100-96 win over the New Orleans Hornets.
The Boston Celtics hung on for a 98-93 win over the Utah Jazz, with Paul Pierce landing 23 points
Kemba Walker hit the game-winning shot with 0.7 seconds left as the Charlotte Bobcats beat the injury-ravaged Minnesota Timberwolves 89-87.
The Detroit Pistons finally registered their first win of the season as they easily beat the Philadelphia 76ers 94-76, while the Washington Wizards remain winless as they went down 107-101 to the Dallas Mavericks in Texas.
Brandon Jennings and Monta Ellis had 16 points each as the Milwaukee Bucks beat the Indiana Pacers 99-85, while the Golden State Warriors edged out the Atlanta Hawks 92-88.