NBA: Oklahoma City Thunder beat the Brooklyn Nets to make it six straight wins
Oklahoma City Thunder made it six straight victories on Tuesday with a 117-111 success over the Brooklyn Nets.
Last Updated: 05/12/12 7:40am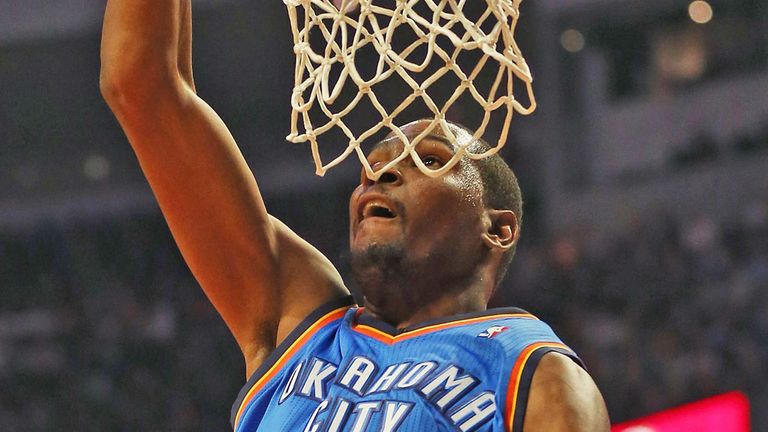 Durant poured in 32 points while Westbrook added 25 points and nine assists to help the Thunder claim their league-leading 15th win of the season.
Deron Williams scored 34 points in a losing cause for the Nets.
The Washington Wizards got just their second win of the season - and they did it in style, beating the reigning NBA champions, the Miami Heat, 105-101.
Jordan Crawford's 22 points led the Wizards, but it was the Heat's LeBron James who was the game's star with a triple-double comprising 26 points, 13 rebounds and 11 assists.
Despite that, Washington claimed their second win in three games after losing their first 12 of the season.
Zach Randolph's immense performance lifted the Memphis Grizzlies to a 108-98 overtime win over the Phoenix Suns.
Randolph scored 38 points and grabbed 22 rebounds, both of which were season highs.
Tony Douglas netted 22 points and Greg Smith 21 as the Houston Rockets edged out the Los Angeles Lakers 107-105.
The Lakers' defeat came despite a big day from Kobe Bryant, who scored 39 points.
Paul George scored 34 points in the Indiana Pacers' 80-76 win over the Chicago Bulls, while the Minnesota Timberwolves secured a 105-88 victory over the Philadelphia 76ers.