NBA: Danny Green scored 23 points as the San Antonio Spurs improved to 17-4
Danny Green's 23 points led the San Antonio Spurs to a 132-102 demolition of the Charlotte Bobcats.
Last Updated: 09/12/12 8:21am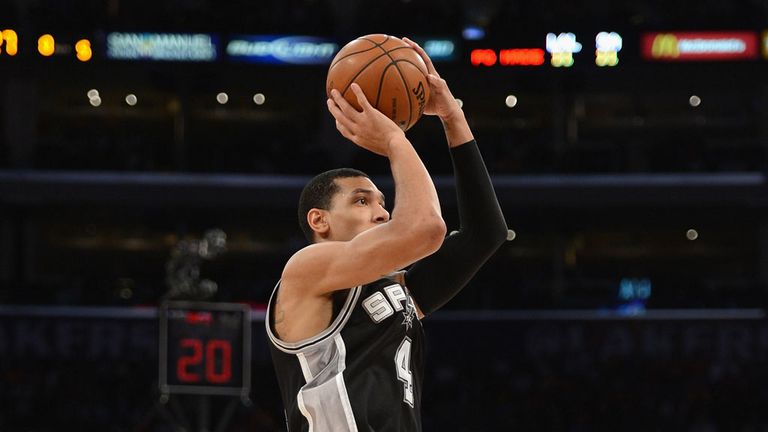 Green sunk seven of the Spurs' franchise-record 19 three-pointers, while Tony Parker added 22 points and nine assists in their fourth straight win.
Kemba Walker scored 23 points for the Bobcats, who suffered a seventh straight defeat.
The win put the Spurs ahead of their Southwest rivals the Memphis Grizzlies, who lost 93-83 to the impressive Atlanta Hawks.
Josh Smith led the Hawks to their ninth win in 10 with 24 points, while Lou Williams added 21.
The Los Angeles Clippers made it five consecutive victories as they saw off the Phoenix Suns 117-99 on the back of 24 points from Blake Griffin.
Michael Beasley scored 21 for the Suns, who slipped to their sixth straight loss.
OJ Mayo's big day spoiled Kevin McHale's return to the Houston bench as the Dallas Mavericks beat the Rockets 116-109.
Mayo scored 40 points and eight rebounds to outdo Houston's James Harden, who had 39 points and nine assists.
McHale returned two weeks after the death of his daughter and a month after his last appearance on the Houston bench.
The Miami Heat leaned on Dwayne Wade and LeBron James in a 106-90 win over the New Orleans Hornets.
Wade scored 26 points, while James added seven assists to his 24-point haul.
Brandon Knight registered a career-best 30 points in the Detroit Pistons' 104-97 win over the Cleveland Cavaliers, while the Boston Celtics beat the Philadelphia 76ers 92-79.
The Chicago Bulls saw off the New York Knicks 93-85, the Golden State Warriors were 101-97 winners over the Washington Wizards and the Sacramento Kings eased past the Portland Trail Blazers 99-80.