NBA: Los Angeles Lakers beat the Philadelphia 76ers 111-98
The Los Angeles Lakers won their first consecutive games in almost a month, beating the Philadelphia 76ers 111-98.
Last Updated: 17/12/12 8:57am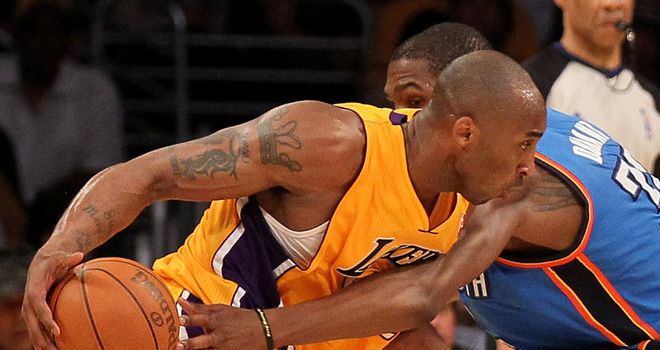 Kobe Bryant scored 34 points and Metta World Peace added 19 with 16 rebounds for the Lakers. It was between November 16 and 20 that they last enjoyed a winning streak of any kind with three victories.
However, even with the win they remain three games below .500.
Meanwhile, although the Lakers feel they have had to wait a long time for consecutive wins, look to the Toronto Raptors who achieved the feat for the first time in eight months, after beating the Houston Rockets 103-96.
Jose Calderon led the way with 18 points, 14 assists and 10 rebounds.
Elsewhere, JaVale McGee came off the bench to score 19 points as the Denver Nuggets secured a comfortable 122-97 triumph over the Sacramento Kings.
Damian Lillard's buzzer-beating three-pointer sent the Portland Trail Blazers to a 95-94 victory over the New Orleans Hornets.
The Hornets had rallied from 16 down to tie the game at 92-92 inside the final minute. However, even though Portland lost LaMarcus Aldridge to a late injury, Lillard's weapon inflicted a sixth-straight loss on New Orleans.