NBA: New Orleans snap 11-match losing streak with victory over the Orlando Magic
The New Orleans Hornets won their first game in 12 attempts as they edged out the Orlando Magic 97-94 on Boxing Day.
Last Updated: 27/12/12 6:16am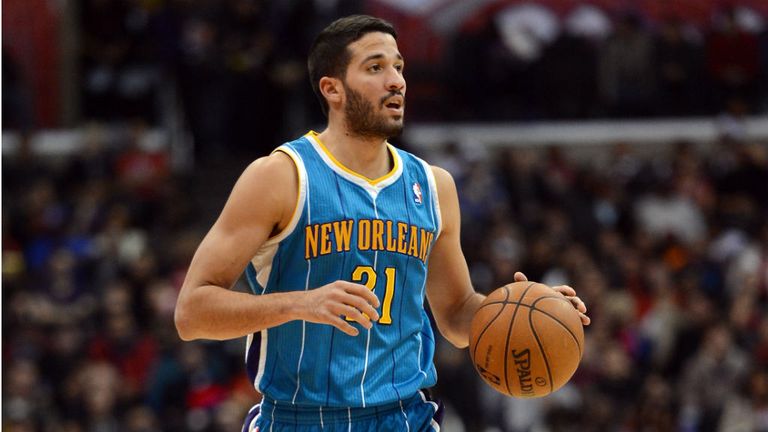 Robin Lopez scored a season-high 29 points and Greivis Vasquez weighed in with a career-best 27 to snap an 11-game losing streak.
The Miami Heat are now unbeaten in six attempts after Dwyane Wade and LeBron James led them to a 105-92 win over the Charlotte Bobcats.
Wade scored 29 points, while James had 27 points and 12 rebounds as the Eastern Conference-leading Heat inflicted a 16th straight defeat on the Bobcats.
The Atlanta Hawks relinquished a 22-point fourth-quarter lead en route to a 126-119 double-overtime loss against Detroit Pistons.
Kobe Bryant scored 40 points but still ended on the losing side as the LA Lakers suffered a 126-114 defeat against Denver. Corey Brewer's 27 points spurred the Nuggets.
Houston claimed their fifth consecutive win with an 87-84 success against the Minnesota Timberwolves, while Kyrie Irving led Cleveland with 26 points as the Cavaliers edged the Washington Wizards 87-84.
Dorell Wright's 28-point helped the Philadelphia 76ers end a six-game road losing streak with a 99-89 success against the Memphis Grizzlies, while the San Antonio Spurs overcame Toronto 100-80 to end the Raptors' five-game winning streak.
JR Smith's buzzer-beating baseline jumper earned the New York Knicks a 99-97 win against the Phoenix Suns and 25 points from Brandon Jennings lifted the Milwaukee Bucks to a 108-93 triumph over the Brooklyn Nets.
The Golden State Warriors registered a 94-83 win against the Utah Jazz and the Portland Trail Blazers saw off the Sacramento Kings 109-91, while the Indiana Pacers' game against the Chicago Bulls was postponed due to snow.