NBA: Golden State Warriors hand Los Angeles Clippers second straight defeat
Stephen Curry impressed as the Golden State Warriors inflicted a second defeat in two days on the Los Angeles Clippers.
Last Updated: 03/01/13 7:40am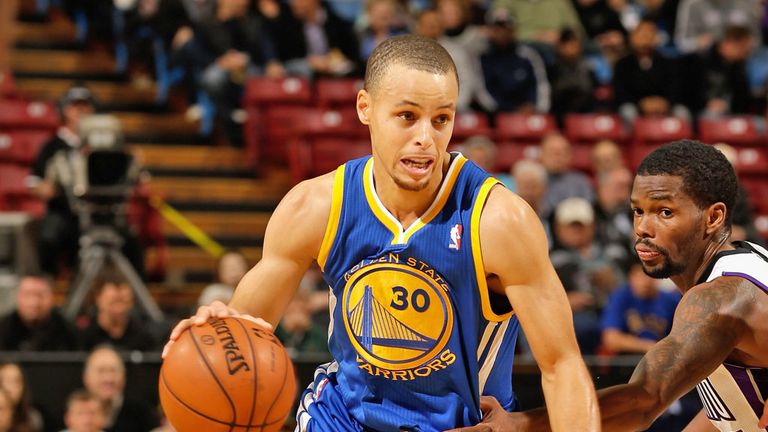 The Clippers, who had won 17 straight before Tuesday's loss to the Denver Nuggets, fell behind in the third minute of the game and did not lead from then on as the Warriors won every quarter for a 115-94 victory.
The Warriors also got a big performance from David Lee, who had 24 points, 13 rebounds and seven assists, while Jamal Crawford led the Clippers from the bench with 24 points.
LeBron James continued his remarkable scoring streak with 32 points as the Miami Heat pulled away in overtime to beat the Dallas Mavericks 119-109.
James took his streak of scoring 20 points or more to 30 games this season and 51 overall, while also adding 12 rebounds and nine assists to finish one dish short or a triple-double.
Dwayne Wade scored 27 points for the Heat, who outscored the Mavericks 16-6 in OT, while OJ Mayo scored 30 for Dallas.
Joe Johnson poured in 33 points to lead the Brooklyn Nets to a 110-93 win over the Oklahoma City Thunder.
Kevin Durant led the Thunder, who had won their last 12 home games, with 27 points, but was ejected late on for the first time in his career after arguing with referee Dan Crawford.
Tim Duncan scored 28 points as the San Antonio Spurs stretched their winning streak to seven with a 117-110 victory over the Milwaukee Bucks.
Duncan also added 13 rebounds and six assists while Tony Parker had 23 points and 11 dishes.
James Harden scored 31 points to lift the Houston Rockets to a 104-92 win over the New Orleans Hornets.
Carlos Boozer's 31 points helped the Chicago Bulls hold off the Orlando Magic for a 96-94 win while Paul George had 29 points and 13 rebounds as the Indiana Pacers overcame the Washington Wizards 89-81.
Terrence Ross poured in 26 points as the Toronto Raptors beat the Portland Trail Blazers 102-79, while Mike Conley's 23 points lifted the Memphis Grizzlies to a 93-83 win over the out-of-form Boston Celtics.
The Phoenix Suns beat the Philadelphia 76ers 95-89 for their first win in seven, the Sacramento Kings edged out the Cleveland Cavaliers 97-94 and the Utah Jazz beat the Minnesota Timberwolves 106-84.