Mario Chalmers hits 10 three-pointers in Miami Heat's rout of Sacramento
Mario Chalmers overshadowed his famous team-mates with a record-equalling effort in Miami's 128-99 rout of Sacramento.
Last Updated: 13/01/13 8:21am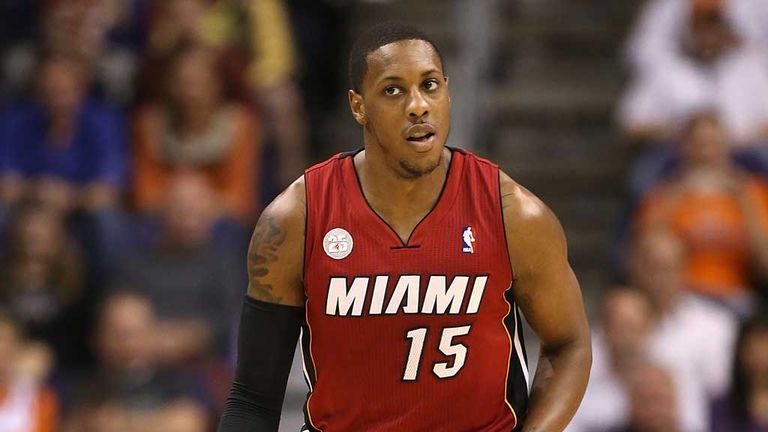 Point-guard Chalmers hit 10 three-point shots in a career-high 34 points to match the franchise mark for deep shooting, set by Brian Shaw in 1993.
Chalmers hit 12-of-16 shots in total in a one-sided match that gave Heat coach Erik Spoelstra the chance to take it easy on his big-three.
LeBron James scored 20 points, Chris Bosh 16 and Dwyane Wade 11, but none was forced to play more than 30 minutes after the Heat stormed into a 22-point lead at half-time.
Sacramento only closed the deficit a little in the last 12 minutes, with Isaiah Thomas impressing on his way to matching Chalmers' 34-point haul.
The Orlando Magic ended a 10-game losing skid with a shock 104-101 over the Los Angeles Clippers, who were looking to maintain their place at the top of the Western Conference.
Arron Afflalo tied his season high with 30 points for the Magic, who took the lead for the first time in the game 42 seconds from the end on a three-pointer from J.J. Redick.
John Wall returned to action with the Washington Wizards, after missing the first part of the season with a knee injury, and inspired them to a 93-83 win over the Atlanta Hawks - Wall scored 14 points in 20 minutes off the bench.
Luis Scola scored 22 points in a 97-81 win for the Phoenix Suns over the Chicago Bulls and Shawn Marion led the Dallas Mavericks past the Memphis Grizzlies 104-83.
The Philadelphia 76ers snapped a five-game losing streak by beating the Houston Rockets 107-00 and there were also wins for the Indiana Pacers (96-88 over Charlotte) and the Utah Jazz, who beat the London-bound Detroit Pistons 90-87.