Mike Woodson thinks NBA showdown at O2 Arena is good for New York Knicks
Mike Woodson insists the clash with the Detroit Pistons in London will not be a distraction for the New York Knicks.
Last Updated: 16/01/13 6:02pm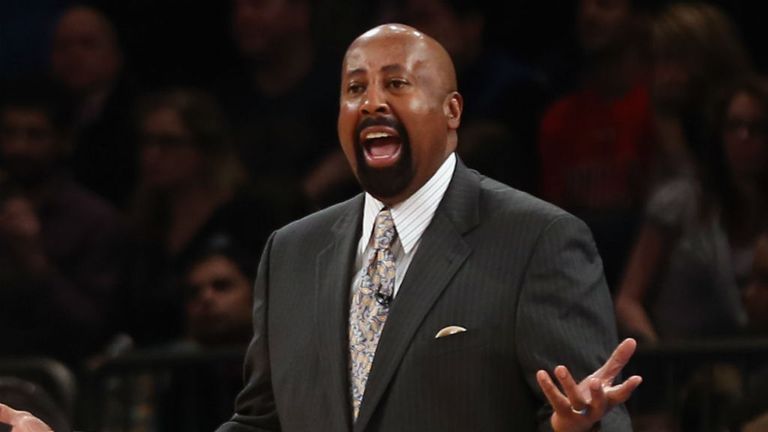 The Knicks arrive in London on course for the play-offs as Atlantic Division leaders, but have no margin for error as the rebranded and revitalised Brooklyn Nets are hot on their heels.
Their record of 24-13 is the second-best in the Eastern Conference but Woodson does not believe that the trip to London will cause them to become side-tracked and fall off the pace.
"If I thought that, then when the commissioner called and gave us this opportunity to come over and play I would never have agreed to that," Woodson said.
"I think as an organisation, to be able to go outside your country and expand your sport, to me it helps everybody. We have to travel a little bit further but this is an important game on our schedule."
Knicks pair Carmelo Anthony and Tyson Chandler will return to the O2 Arena five months after they helped the United States win Olympic gold in the same venue.
Anthony broke the USA's single-game scoring record during the Olympic campaign as he bagged 37 points in a 156-73 rout of Nigeria and kept on firing in the NBA this season, ranking as the second highest scorer behind Kobe Bryant.
Struggling
For a Pistons team struggling in the Central Division at 14-24, containing Anthony is a daunting prospect.
"Carmelo is a great scorer he's a guy that can put together a 40-point game like its nothing," said Detroit coach Lawrence Frank.
"He's a professional scorer, that's what we call him, he can score in a bunch of different ways: he can shoot the three, he can score off the dribble, he can score in the post.
"He's a constant threat but the Knicks are a strong team and we have to be ready for all of them."
While the Knicks are enjoying an upturn in fortunes, the Pistons have been in rebuilding mode since losing the 2008 Eastern Conference Finals to the Boston Celtics.
This season's roster includes a total of five rookies, but Knicks guard Steve Novak is not underestimating the opposition.
Novak said: "They've been up and down, but they've definitely got weapons. Guys like Brandon Knight, Andrew Drummond, they've got a lot of young guys who are playing well.
"Young guys are always sleepers because they can do really great things. But we'll be ready for them."