NBA: San Antonio beat Atlanta Hawks for fourth straight win
Tony Parker scored 23 points as the San Antonio Spurs claimed a fourth straight win by beating the Atlanta Hawks 98-93.
Last Updated: 28/01/13 12:43pm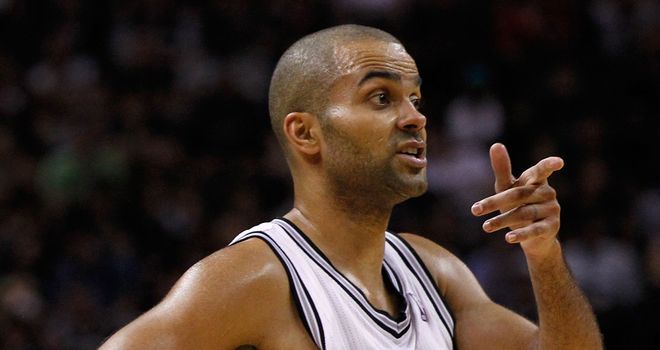 Parker also had 12 assists while Matt Bonner added 17 points and Kawhi Leonard and Tiago Splitter each scored 14 for the Spurs, who gave forward Tim Duncan the night off.
The Hawks announced about 90 minutes before the game that guard Lou Williams faces season-ending surgery for a torn ACL in his right knee. And they lost guard Devin Harris to a sprained left ankle in the third quarter.
In their absence, Josh Smith landed 21 points for the Hawks and Kyle Korver, who started at shooting guard, notched19 points.
The Spurs led by 12 in the first half but Atlanta kept the game close in the final two periods as a basket from Hawks rookie John Jenkins tied the game at 72-all early in the final period.
But Bonner's basket gave San Antonio the lead which they retained for the rest of the game.
Klay Thompson scored a season-high 29 points as the Golden State Warriors beat the New Orleans Hornets 116-112.
The Warriors trailed 110-108 when Jarrett Jack hit two free throws with 52 seconds left to tie the score before converting a tough shot to give Golden State a 112-110 lead, and he finished off the Hornets with three free throws.
In Chicago, Marc Gasol scored 19 points while Zach Randolph notched 13 points and 19 rebounds as the Memphis Grizzlies beat the Chicago Bulls 85-82 in overtime.
Memphis scored the first six points of the extra period before the Bulls cut their lead to 83-80 on Jimmy Butler's layup.They had a chance to tie the game but Nate Robinson missed a three-pointer with 25 seconds left.
Also on Saturday, Marcus Thornton scored 18 points off the bench as the Sacramento Kings held on to beat the Charlotte Bobcats 97-93 for their third win in four games and the L.A. Clippers edged out the Washington Wizards 94-87 to maintain its lead in the Pacific Division.
Meanwhile Utah Jazz beat Cleveland Cavaliers 109-98, the Minnesota Timberwolves beat the slumping Houston Rockets 92-79 and the Milwaukee Bucks held on against the rallying Portland Trailblazers 110-104.