NBA: San Antonio Spurs' Tim Duncan selected for All-Star Game in Houston
Tim Duncan has been selected in his 14th All-Star Game along with Spurs team-mate Tony Parker for next month's game.
Last Updated: 28/01/13 12:41pm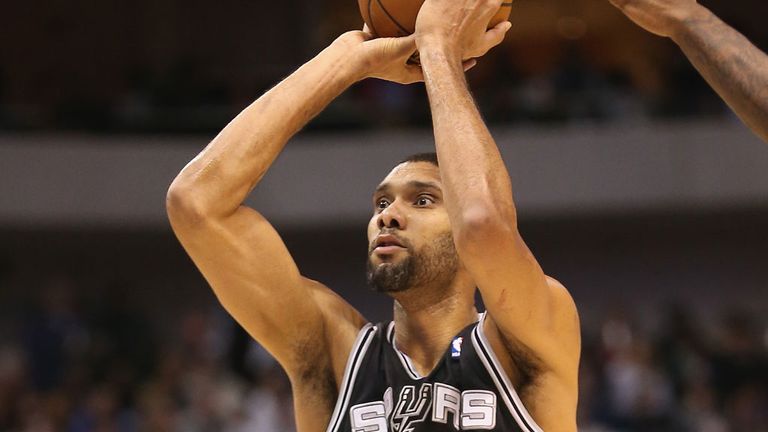 Duncan was not chosen in 2012 for the first time in his career but has bounced back with a terrific season aged 36, averaging 17.5 points, 9.8 rebounds and 2.7 blocked shots, his best statistics since 2009-10.
The co-MVP of the 2000 All-Star Game joined a group that includes Michael Jordan for fifth-most selections.
Kobe Bryant and Kevin Garnett, both voted to start, and Shaquille O'Neal all were picked 15 times. Kareem Abdul-Jabbar is the career leader as a 19-time All-Star.
Joakim Noah and Luol Deng have been picked from the Chicago Bulls, who have stayed in the thick of the Eastern Conference play-off race despite the season-long absence of point guard Derrick Rose.
Noah is one of five first-time All-Stars for the East, along with New York's Tyson Chandler, Indiana's Paul George, Cleveland's Kyrie Irving, and Philadelphia's Jrue Holiday.
Miami's Chris Bosh, picked for his eighth All-Star team, completes the East squad.
West forwards David Lee (Golden State), LaMarcus Aldridge (Portland) and Zach Randolph (Memphis) all were picked for the second time.
Houston's James Harden was chosen for the first time and joins former Oklahoma City team-mate Russell Westbrook, headed to his third straight All-Star game.