NBA: Tony Parker leads the ways as the San Antonio Spurs record ninth straight win
The San Antonio Spurs recorded their ninth straight win as they thumped the Charlotte Bobcats 102-78.
Last Updated: 31/01/13 11:56am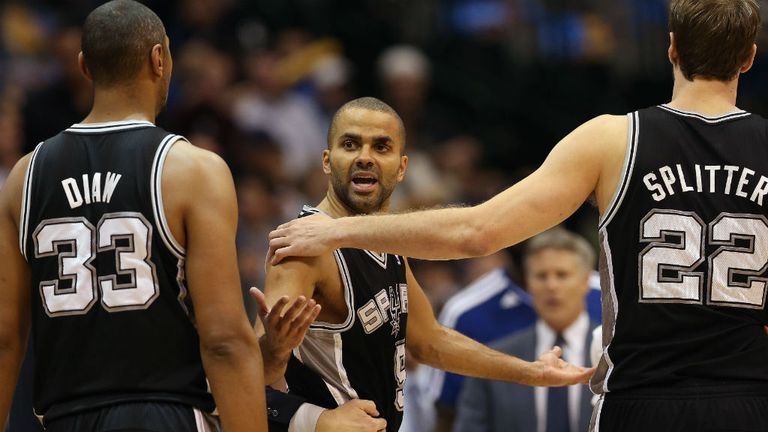 With coach Gregg Popovich back at the helm after illness, the Spurs put on a show to move to 37-11 for the season - with Tony Parker (22 points), Kawhi Leonard (18) and Danny Green (17) impressing.
Carmelo Anthony set a new record for the New York Knicks by scoring at least 20 points for a 30th consecutive game as his side beat the Orlando Magic 113-107.
Anthony, who overhauled Richie Guerin's record from 1962 of 29 games, landed 20 points - with Tyson Chandler weighing in with 21. Orlando's JJ Redick led all scorers with 29.
Blake Griffin led the way with 26 points and 13 rebounds as the Los Angeles Clippers beat the Minnesota Timberwolves 96-90.
LeBron James guided Miami Heat to a 105-85 victory over the Brooklyn Nets with 24 points.
Dwayne Wade also picked up 22 points for the Heat, who pulled away in the second half having been level at 49-49 at the interval.
Paul Millsap landed 25 points to lift the Utah Jazz to a 104-99 win over the New Orleans Hornets and Danilo Gallinari's 27 points saw the Denver Nuggets overcome the Houston Rockets 118-110.
The Indiana Pacers got their first win in four by beating the Detroit Pistons 98-79 while Nate Robinson's 24 points helped the Chicago Bulls to a 104-88 victory over the Milwaukee Bucks.
Al Horford scored 22 points to help the Atlanta Hawks edge out the Toronto Raptors 93-92, the Boston Celtics saw off the Sacramento Kings 99-81, the Phoenix Suns were 92-86 winners over the Los Angeles Lakers and the Philadelphia 76ers beat the Washington Wizards 92-84.