NBA: Rudy Gay scores 20 points on his debut as Raptors see off the Clippers
Rudy Gay made a winning start to his Toronto career as he helped the Raptors beat the Los Angeles Clippers 98-73.
Last Updated: 02/02/13 9:17am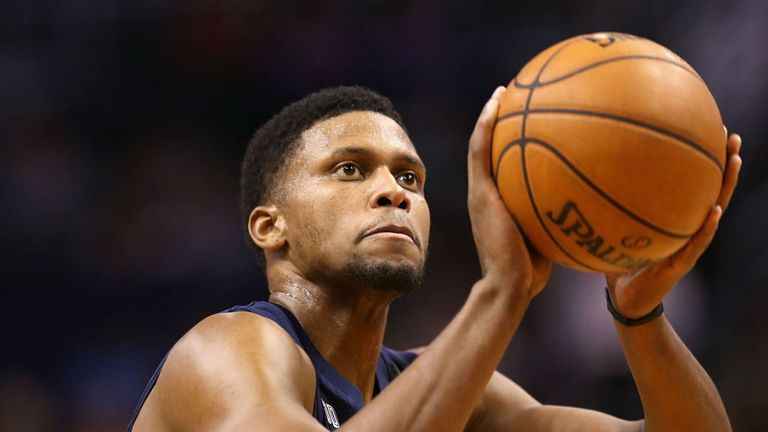 Playing for the first time since joining from Memphis, Gay came off the bench to score 20 points, while starting power forward Amir Johnson had 19 points and 16 rebounds.
Blake Griffin scored 17 points to lead the stuttering Clippers, who have lost five of their last eight to slip to 34-14.
Without Gay, the Memphis Grizzlies were 85-76 winners over the Washington Wizards, with Marc Gasol scoring 13 points and hauling in 15 rebounds for the home side at FedExForum.
Andre Iguodala scored 24 points as the Denver Nuggets stretched their winning streak to six games with a 113-98 victory over the New Orleans Hornets. Ty Lawson added 21 points and 13 assists for the Nuggets.
Kobe Bryant fell two assists short of a triple-double as the Los Angeles Lakers beat the Minnesota Timberwolves 111-100. Bryant had 17 points, 12 rebounds and eight assists, while Pau Gasol added 22 points and 12 rebounds.
David West scored 30 points as the Indiana Pacers beat the Miami Heat 102-89 to claim their 13th straight home win. LeBron James had 28 points in a losing cause for the defending NBA champions.
Thaddeus Young had 23 points and 15 rebounds while Jrue Holiday scored 21 points as the Philadelphia 76ers beat the Sacramento Kings 89-80.
Elsewhere, Carmelo Anthony's 28 points helped the New York Knicks to a 96-86 victory over the Milwaukee Bucks, the Boston Celtics were 97-84 winners over the Orlando Magic and the Dallas Mavericks beat the Phoenix Suns 109-99.
The Brooklyn Nets saw off the Chicago Bulls 93-89, the Detroit Pistons overwhelmed the Cleveland Cavaliers 117-99 and the Utah Jazz were 86-77 victors over the Portland Trail Blazers.