NBA: Center Joakim Noah stars as Chicago Bulls see off Brooklyn Nets
Joakim Noah was the star turn again as the Chicago Bulls beat the Brooklyn Nets 96-85 at the United Center on Saturday.
Last Updated: 03/03/13 11:07am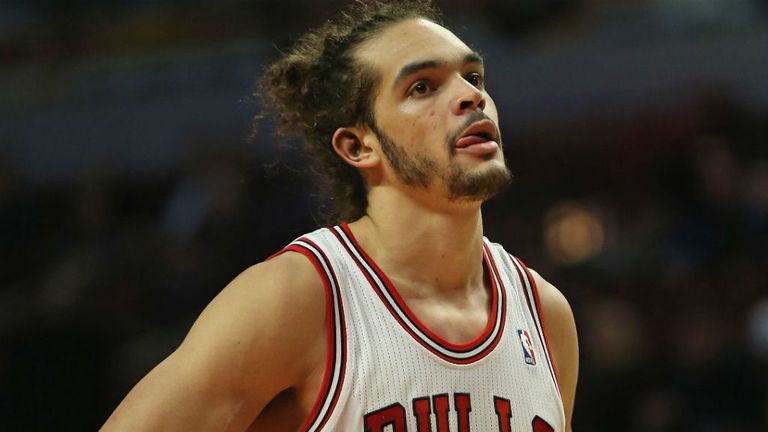 The win moved the Bulls into a tie for fourth place in the Eastern Conference standings.
On Thursday against Philadelphia, Noah had become the first NBA player in 15 years to record at least 20 points, 20 rebounds and 10 blocks in a game.
Against Brooklyn, Noah was at it again producing 21 points, 10 rebounds and hitting 10-of-13 shots from the field.
Carlos Boozer added 20 points for Chicago, while Jimmy Butler contributed 13 points off the bench. The Bulls shot 52.1 percent from the field as a team.
The Nets, who lost at home to Dallas on Friday, have now lost four of their last five games.
Center Brook Lopez did his best to stop the rot, leading Brooklyn with 22 points, while guard Deron Williams added 14 and forward Andray Blatche stepped up with 13.
Elsewhere, Evan Turner was an assist shy of a triple-double as the Philadelphia 76ers beat the Golden State Warriors 104-97 to snap their seven-game losing streak.
Turner had 22 points, 10 rebounds and nine dishes, while Jrue Holiday contributed 27 points as the 76ers stretched the Warriors' own losing run to four.
Ersan Ilyasova scored 29 points as the Milwaukee Bucks pulled away in overtime for a 122-114 win over the Toronto Raptors.
Ilyasova also pulled down 11 rebounds, while Monta Ellis scored 23 points and Brandon Jennings contributed 19 assists.
Finally, Damian Lillard's 24 points helped the Portland Trail Blazers to a 109-96 win over the Minnesota Timberwolves.