NBA: LeBron James scores 36 points as Miami Heat beat New Orleans Hornets
LeBron James scored 36 points as the Miami Heat started a new winning streak with victory over the New Orleans Hornets.
Last Updated: 30/03/13 1:34pm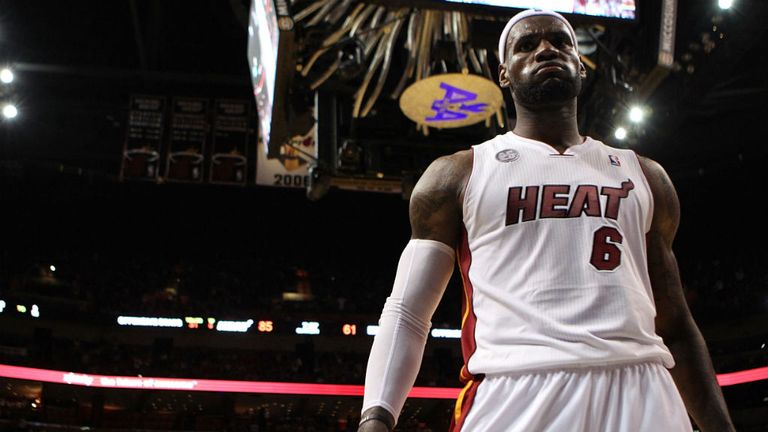 Dwayne Wade also scored 17 points to help the Heat recover from their loss to the Chicago Bulls on Wednesday which ended their 27-game winning run.
James' haul came in part thanks to seven three-pointers, including six in a row in the first half.
Tim Duncan and Tony Parker has 24 points apiece as the San Antonio Spurs edged out the Los Angeles Clippers 104-102.
Duncan, who fired a game-winning three-pointer in the closing seconds, also had 11 rebounds.
Nikola Pekovic had 22 points and 15 rebounds as the Minnesota Timberwolves upset the Oklahoma City Thunder 101-93 - the win came despite 36 points from the Thunder's Kevin Durant.
Paul Pierce registered a triple-double to lead the Boston Celtics to a 118-107 win over the Atlanta Hawks.
Triple-double
Pierce had 20 points, 10 assists and 10 rebounds, while Jason Terry added 24 points.
JR Smith helped himself to 37 points - his third straight game of 30 or more - to guide the New York Knicks to a 111-102 victory over the Charlotte Bobcats.
It was a seventh straight win for the Knicks, who also got 32 points from Carmelo Anthony and won despite 35 points from the Bobcats' Gerald Henderson.
Zach Randolph had 21 points and 12 rebounds while Marc Gasol also scored 21 points in the Memphis Grizzlies' 103-94 victory over the Houston Rockets.
Twenty-eight points from Mo Williams lifted the Utah Jazz to a 105-95 win over the Portland Trail Blazers while Tobias Harris had 30 points and 11 rebounds as the Orlando Magic beat the Washington Wizards 97-92.
The Philadelphia 76ers beat the Cleveland Cavaliers 97-87, the Toronto Raptors overcame the Detroit Pistons 99-82 and the Denver Nuggets were 109-87 winners over the Brooklyn Nets.