NBA: Carmelo Anthony scores 41 points for New York Knicks as they beat Milwaukee Bucks
Carmelo Anthony extended his amazing run of form with another 41 points as the New York Knicks beat Milwaukee 101-83.
Last Updated: 06/04/13 11:32am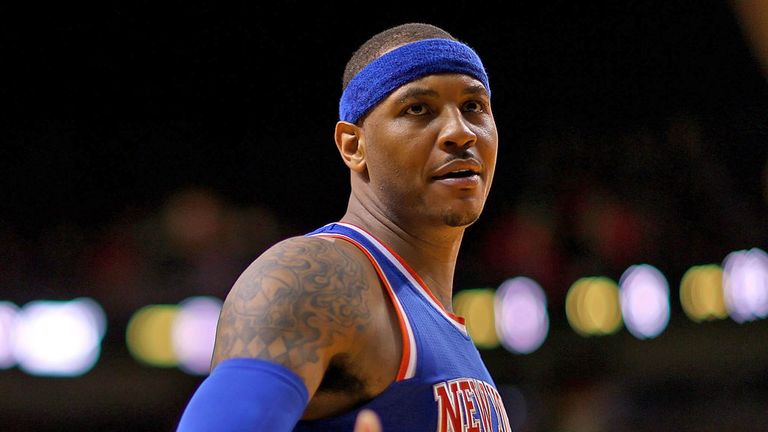 Anthony had 50-point and 40-point hauls from his last two games, and was again in prime form and too hot for the Bucks to handle, while JR Smith weighed in with another 30 points.
Kobe Bryant's 24-point game helped the Los Angeles Lakers - eighth in the West and seeking to press their play-off credentials - to an 86-84 victory over the Memphis Grizzlies.
The Lakers' immediate rivals for eighth, the Utah Jazz, posted a 95-83 home win against the New Orleans Hornets to remain half a game behind.
The Dallas Mavericks need to hit a winning streak to challenge the Lakers and Jazz, and put two straight defeats behind them to claim a 117-108 win against the Sacramento Kings. Isaiah Thomas scored a game-high 29 points in a losing cause.
Tristan Thompson grabbed 29 points for the Cleveland Cavaliers in their 97-91 win against the Boston Celtics, as a 10-game losing run was halted.
The Chicago Bulls edged out the struggling Orlando Magic 87-86 and the Oklahoma City Thunder were crushing 97-75 winners in their road game against fellow high-flyers the Indiana Pacers.
Rudy Gay scored 26 points for the Toronto Raptors who beat the Minnesota Timberwolves 95-93, while the Miami Heat overcame the Charlotte Bobcats 89-79.
The Golden State Warriors were 111-107 winners against the Phoenix Suns, the Philadelphia 76ers beat the Atlanta Hawks 101-90 and the Portland Trail Blazers went down 116-98 at home against the Houston Rockets.