NBA: The Utah Jazz keep their Western Conference play-off hopes alive
The Utah Jazz kept the pressure on the LA Lakers in the race for the play-offs with victory over the Timberwolves.
Last Updated: 16/04/13 1:20pm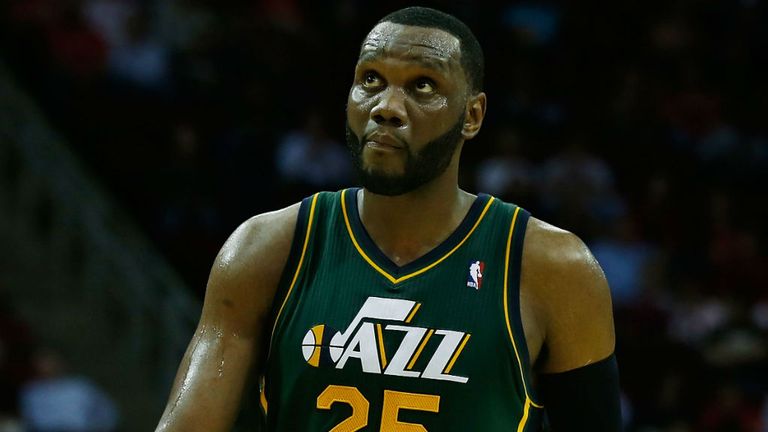 The Jazz, who saw Al Jefferson score 22 points, must now beat the Memphis Grizzlies on Wednesday and hope the Lakers slip up against the Houston Rockets.
The Charlotte Bobcats, who have the worst record in the NBA, recorded a second successive victory with a 106-95 victory over the New York Knicks.
Gerald Henderson led the way with 27 points as Charlotte improved to 20-61 although' Chris Copeland topped the scoring charts with 32 for the Knicks.
Highlight
The Chicago Bulls ended a two-game losing streak with a 102-84 victory over the Orlando Magic. Carlos Boozer led the scoring for the victors with 22 points.
Miami Heat might have rested a number of their big guns but their replacements stepped up to the mark to record a 96-95 success against the Cleveland Cavaliers.
A 33-24 final quarter enabled the Brooklyn Nets to sink the Washington Wizards 106-101, while the Detroit Pistons saw off the Philadelphia 76ers 109-101.
Kevin Durant's 29 points was the highlight of the Oklahoma City Thunder's 104-95 win over the Sacramento Kings.
The Celtics' home game against the Indiana Pacers has been cancelled because of the Boston Marathon bombings.
The match - scheduled to take place tonight - will not be rescheduled as both teams have already made sure of their places in the play-offs.