NBA: The Los Angeles Lakers claim play-off spot but Utah Jazz miss out
The Los Angeles Lakers secured the final play-off spot with an overtime victory over the Houston Rockets.
Last Updated: 18/04/13 7:38am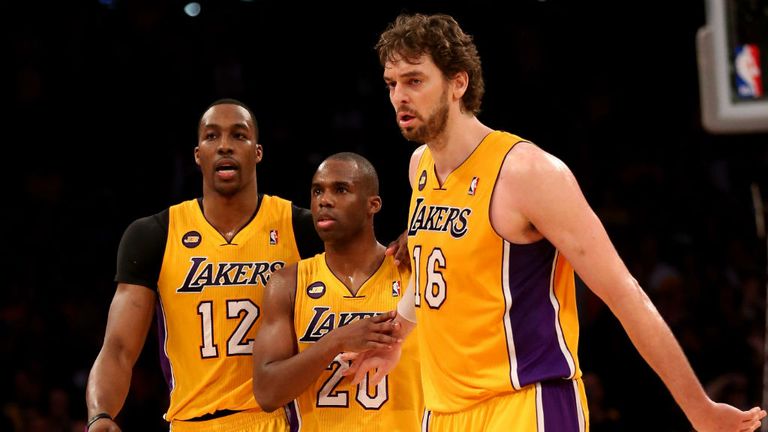 The Lakers had rallied to take the game into overtime before sealing a 99-95 win.
The Utah Jazz had an outside chance of claiming the 16th play-off place but their 86-70 loss to the Memphies Grizzlies ended their hopes.
Gerald Green's career-high 34 points were in vain as the Indiana Pacers were beaten 105-95 by the Philadelphia 76ers.
The night's highest scorer was Sacramento's DeMarcus Cousins - and he too ended on the losing side despite pouring in 36 as the Kings went down 112-108 to the Los Angeles Clippers.
Record
The Toronto Raptors defeated the Boston Celtics 114-90 to finish their season with five straight wins - DeMar DeRozan led the scoring for the victors with 24 points.
Stephen Curry set a single-season record for three-pointers with 272 as his Golden State Warriors side downed the Portland Trail Blazers 99-88.
The Brooklyn Nets held on to beat the Detroit Pistons for a 103-99 success, while the Charlotte Bobcats wrapped up a 105-98 win over the Cleveland Cavaliers.
The Dallas Mavericks won all four quarters of their 99-87 success over the New Orleans Hornets - but the Milwaukee Bucks needed a 27-19 final quarter to complete a 95-89 victory over the Oklahoma City Thunder.
The Minnesota Timberwolves were too good for the San Antonio Spurs, winning 108-95, while the Denver Nuggets downed the Phoenix Suns 118-98.
The Miami Heat defeated the Orlando Magic 105-93, the New York Knicks saw off the Atlanta Hawks 98-92 and the Chicago Bulls edged the Washington Nationals 95-92.