BBL: Surrey United win again while Durham defeated Plymouth Raiders
Surrey United made it four wins in six games with a 104-92 victory over Birmingham Knights.
Last Updated: 23/02/14 8:57pm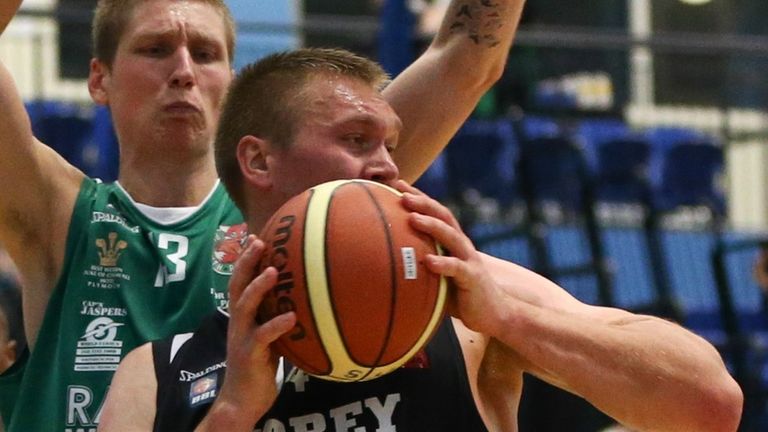 After a lethargic start of the season, United have finally found some momentum in the BBL Championship.
Brandon McGill and Isaiah Tate paced the winners with 71 points between the two of them, while the rest of the team scored only 33.
Surrey looked like they might run away with it in the first quarter, storming into a 27-10 lead, but Birmingham had a perfect response, cutting the deficit to a single point halfway through the second period.
Despite wasting a 17-point advantage, the hosts managed to finish the first half with a 49-41 edge, before restoring a double-digit lead in the third quarter.
Having taken a 78-62 advantage into the last period, Surrey had no troubles sealing the deal, as they cruised to a convincing win, as McGill scored 39 points and Tate added 32.
For Knights, Brent Benson scored a team-high 30 points, with fellow guard Mike Gayle adding 15 points in a losing effort.
Durham Wildcats didn't lead by more than six points throughout the first three quarters, but a class performance in the final period allowed them to celebrate a convincing 89-66 victory against the visiting Plymouth University Raiders.
It was the Plymouth club who made the first move in the game, as Louis Sayers and Paul Pressey knocked down a three-pointer each to give the guests an early 8-2 cushion.
However, it didn't take long for the game to even out, as the sides got into a see-saw battle, changing leads constantly throughout the first half, which finished 42-42.
Although Nick George had put Raiders ahead by a pair midway through the third period, Wildcats got themselves into a 58-54 lead before the start of the final quarter.
Ralph Bucci started the fourth period with a bang, hitting a three-pointer, as Durham stunned their opponents with a 9-0 run to take a 67-54 lead.
The gap continued growing, as 30 minutes of toe-to-toe battle quickly turned into a lopsided affair, as Wildcats celebrated the win.
Bucci double-doubled in the victory, finishing the game with 22 points, 17 rebounds and five assists, missing only two shots all game.
Kirk Crecco had a solid 16 points off the bench, while RJ Evans added 15 points and six boards.
Glasgow Rocks advanced to the BBL Trophy semi final in the expense of Manchester Giants, taking a 73-71 victory on the road at the Wright Robinson College on Sunday after Gareth Murray's game-winner.
Cheered on by the home crowd, Giants got off to a powerful start, taking a 12-2 lead within a couple of minutes from tip-off, hinting at a possibility of a very different outcome than two days in Glasgow.
However, the visiting Rocks had other ideas. A 16-3 run, which included a pair of three-pointers by Sterling Davies allowed the guests to turn the double-digit deficit into a 22-19 edge after the first quarter.
By the end of the half, the gap had increased to 46-36, with Rocks taking advantage of opponent's turnovers and scoring well in transition.
A spectacular scoring display by David Aliu in the third quarter saw the script flip again, as the 32-year-old forward scored 15 points in the period to give Giants a 62-58 advantage before the last quarter.
Rocks retook the advantage in the final quarter and led 71-66 coming into the last minute of the game, but a pair of free-throws by Rob Marsden and a three-pointer by David Watts tied it all up at at 71-all with 24 seconds remaining.
However, Rocks' forward Gareth Murray had the last say, making the game-winner with 9 seconds to spare. Aliu had a chance to win it for Giants, but his three-pointer fell short.Murray had a game-high 24 points for Rocks, with Fran Urli adding a double-double of 14 points and 10 rebounds.
Aliu led Giants with 23 points, while James Jones and Rob Marsden added 16 points apiece.
Raiders were led by 18 points from Donald Robinson, Paul Pressey added 13 points and five assists, with William Hines scoring 15 points and grabbing nine rebounds.