NBA: Indiana Pacers defeat lowly LA Lakers
The Indian Pacers bagged a first home win over the LA Lakers since 2008 to extend their lead in the Eastern Conference.
Last Updated: 26/02/14 8:03am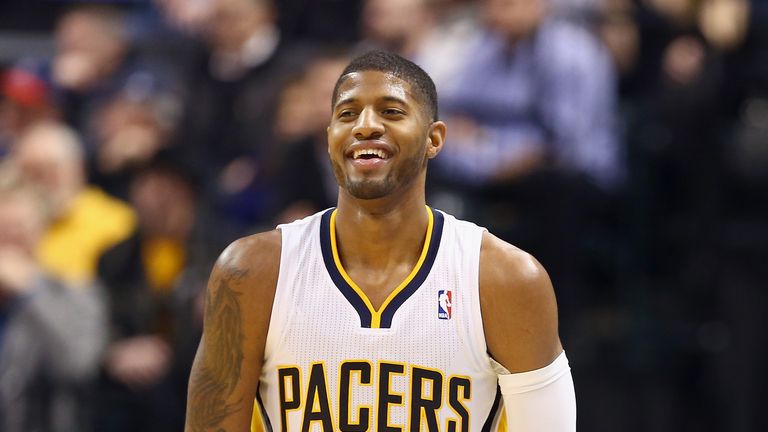 Central Division leaders Indiana improved to 43-13 thanks to a league-leading 27th home win of the season on the back of 20 points from Paul George and 14 from George Hill in a 118-98 victory.
George, who became only the third All-Star Game starter in Pacers history this year, turned up the heat in the third quarter with 12 points as the Pacers blow open a gap the Lakers could not get near to closing.
The Toronto Raptors made it three wins in a row and second over Cleveland in five days with a 99-93 success over the Cavaliers to improve to 32-25 for the season. The Cavs have now lost three on the spin.
Chicago left it late to beat the Atlanta Hawks, with Kirk Hinrich making six out of seven free throws in the last minute to give the Bulls a 107-103 victory and their sixth win in seven games.
Washington Wizards are on their best roll of the season after they beat the Orlando Magic 115-106 to make it four straight victories on the back of 27 points from John Wall and 22 from Trevor Ariza.
Over in the Western Conference, James Harden scored a season's-best 43 points as the Houston Rockets enjoyed a comfortable 129-103 victory over the Sacramento Kings.
Dwight Howard kicked in with 20 points and 11 rebounds to help move Houston on to 39-18 for the season with a ninth win in ten outings.
Minnesota's Kevin Love had 33 points and 13 rebounds but narrowly missed out on a second triple-double in a week with nine assists as the Timberwolves beat the Phoenix Suns 110-101.
Love did manage a sixth straight game with 30-plus points to extend his own team record, while it was also his 11th double-double in a row.
Guard Damian Lillard starred for the Portland Trail Blazers with 31 points and nine assists as they beat the Denver Nuggets 100-95.