NBA: Kevin Durant strikes down Houston Rockets as Oklahoma City Thunder rumble on
Kevin Durant starred as Oklahoma City Thunder claimed a 106-98 victory to end Houston Rockets' five-game winning streak.
Last Updated: 12/03/14 11:03am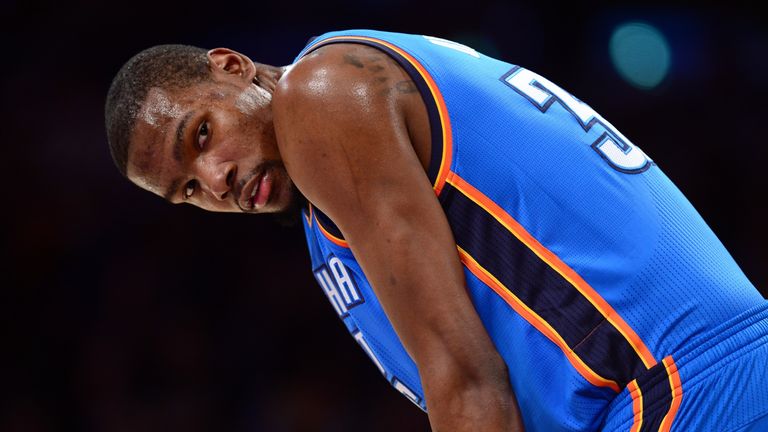 Russell Westbrook added 24 points while Serge Ibaka scored 12 points and 16 rebounds as the Thunder won their first in three.
James Harden paced the Rockets with 28 points against his former side.
Manu Ginobili led San Antonio with 22 points as the NBA-leading Spurs overcame the Chicago Bulls 104-96 for their seventh straight victory.
Tony Parker chipped in with 20 points, while DJ Augustin's 24 points for the Bulls were in vain.
Golden State Warriors stretched their winning run to five with a 108-85 win against the Dallas Mavericks with Jordan Crawford leading with 19 points for the Warriors, while Andrew Bogut contributed 15 points and 10 rebounds.
David West's 24 points helped the Indiana Pacers to their first win in five as they beat the Boston Celtics 94-83.
Detroit Pistons held out to claim a 99-89 victory over the Sacramento Kings, with 24 points from Josh Smith, while Rodney Stuckey also contributed 23 points.
Kevin Love starred with 27 points, 10 rebounds and six assists as the Minnesota Timberwolves claimed a 112-101 win over the Milwaukee Bucks.
Memphis Grizzlies registered a 109-99 victory over the Portland Trail Blazers to extend their winning run to a franchise-record of five matches.