NBA: San Antonio secure top spot in Western Conference with victory over Phoenix Suns
San Antonio will finish top of the NBA Western Conference's regular-season standings after beating Phoenix 112-104.
Last Updated: 13/04/14 1:19pm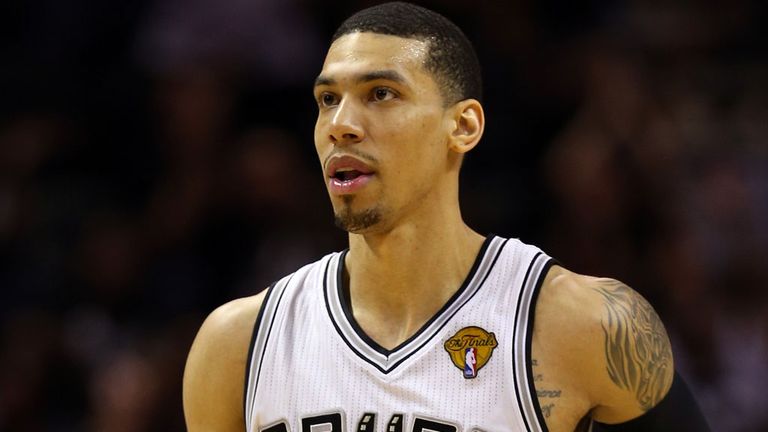 Danny Green led the charge with a career-high 33 points.
In the Eastern Conference, Miami leapfrogged Indiana back to the top of the standings by beating the Pacers.
The outstanding individual performance of Friday night came from Minnesota's Corey Brewer who led the Timberwolves to victory over playoff-bound Houston. And on a busy evening in the NBA Oklahoma City ensured they will have at least the No 2 seed in the Western Conference by beating New Orleans.
San Antonio's Green was 7 for 10 on 3-pointers in leading the Spurs to victory without Tim Duncan and Manu Ginobili, who were both rested for the second of back-to-back games.
Their absence was offset by the return of French superstar Tony Parker from a back injury, and he finished with 18 points and three assists.
Eric Bledsoe chalked up 30 points, 11 rebounds and nine assists to lead Phoenix, who fell into a tie with Memphis for the West's eighth seed.
Miami's LeBron James scored 36 points in the Heat's crucial 98-86 win over Indiana.
Mario Chalmers added 13 points for the Heat, who scored the first 16 points of the second half and never looked back, taking a half-game lead over the Pacers.
Paul George scored 22 for Indiana, who now need the Heat to lose at least one of their remaining three games against Atlanta, Washington and Philadelphia.
Minnesota's Corey Brewer scored a career-high 51 points yet the Timberwolves still needed a Gorgui Dieng jump shot with 4.6 seconds left to snatch a 112-110 win over Houston.
Brewer made 19 of 30 shots, easily surpassing his previous career high of 29 points. He became the fifth player this season to score 50 in a game, and the Wolves scored a staggering 39 points in transition against Houston's woeful defence.
James Harden scored 33 points, 10 assists and eight rebounds for the Rockets, including the tying 3-pointer with 17 seconds left, but there was still time for Dieng to calmly slot the game-winner.
Oklahoma City stars Kevin Durant and Russell Westbrook scored 27 points and 24 points respectively to lead the Thunder to a 116-94 win over New Orleans.
The Thunder shot 54 from the field, made 23 of 27 free throws and committed just 11 turnovers. Oklahoma City led by 25 points at the end of the third quarter, so Durant and Westbrook were rested in the fourth.
Darius Miller scored a career-high 18 points for the Pelicans, who struggled without injured starters Anthony Davis and Eric Gordon.
New York kept their flagging playoff hopes alive with a 108-100 win at Toronto.
Carmelo Anthony scored 30 points and Amare Stoudemire returned 24 points and 11 rebounds for the Knicks.
DeMar DeRozan scored 26 points for the Raptors, who let down the fans who had come to see them clinch the Atlantic Division title for only the second time in franchise history, but the Canadian club did take that prize later in the night when nearest rivals Brooklyn lost.
The Nets went down 93-88 to Atlanta, who are on the verge of a playoff spot.
Chicago came from 18 points down to beat Detroit 106-98 and notch a seventh-straight win. They moved a game ahead of Toronto for third in the Eastern Conference and clinched home-court advantage in the first round of the playoffs with Brooklyn falling to Atlanta.
Portland stayed in the race to host a first-round playoff series by winning 111-99 at Utah, with Wesley Matthews scoring 21 points.
Golden State clinched a playoff berth with a 112-95 win over the Los Angeles .
Stephen Curry was the star with 30 points, 12 assists and 10 rebounds.
Milwaukee preserved their slim hopes of avoiding last place in the standings by downing Cleveland 119-116, with Brandon Knight scoring 24 points.