NHL season begins as four-month lock-out ends with defeat for Los Angeles
NHL fans finally had some action to cheer as the four-month lock-out ended on Saturday night.
Last Updated: 20/01/13 9:28am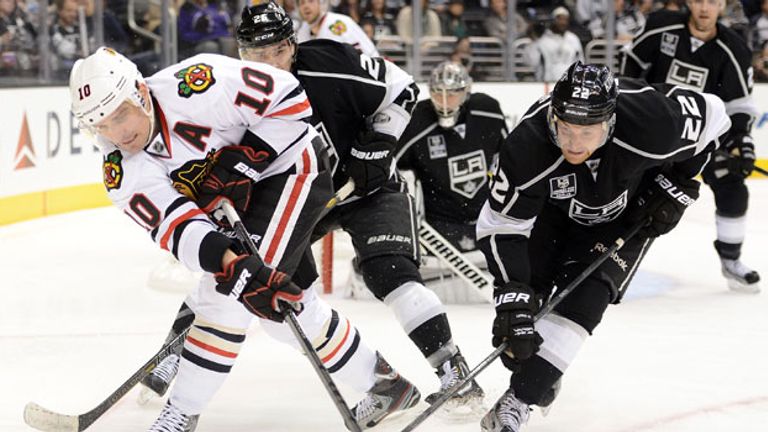 The National Hockey League reached an agreement earlier this month with the players following a dispute over how to split $3.3bn (£2.1bn) in revenue.
It was though a lacklustre start for Los Angeles Kings, reigning Stanley Cup champions, who lost 5-2 to Chicago Blackhawks with Marian Hossa scoring twice and providing an assist and Corey Crawford weighing in with 19 saves.
Captain Jonathan Toews and Patrick Kane each had a goal and an assist as the Blackhawks ruined the party shortly after the Kings raised their first championship banner.
The Kings skipper Dustin Brown said: "I know everyone is going to look at that ceremony and say that's why we lost. They played a better game, they outworked us, and that's why they won."
And on playing again, Brown added: "It's a pretty proud moment for the team. But as players we just wanted to get it up there and start playing."
Tyler Kennedy and James Neal both scored goals to lead the Pittsburgh Penguins past the Philadelphia Flyers 3-1.
Claude Giroux was on target for the Flyers, while Chris Kunitz wrapped up the contest with an empty-netter in the final seconds.
Nazem Kadri and Tyler Bozak scored power-play goals as the Toronto Maple Leafs opened their campaign with a 2-1 triumph over the Montreal Canadiens.
Teemu Selanne had two goals and two assists to help make Cory Schneider's first season-opening start a short one as Anaheim Ducks thumped Vancouver Canucks 7-3.
Schneider, who signed a three-year, $12m contract last summer, allowed five goals on 14 shots and was pulled in the second period that capped a trio of Anaheim goals.