NHL: New York hold off Tampa fightback for first win of season
New York held off a superb fightback from Tampa Bay Lightning to win 4-3 on Monday night.
Last Updated: 22/01/13 8:09am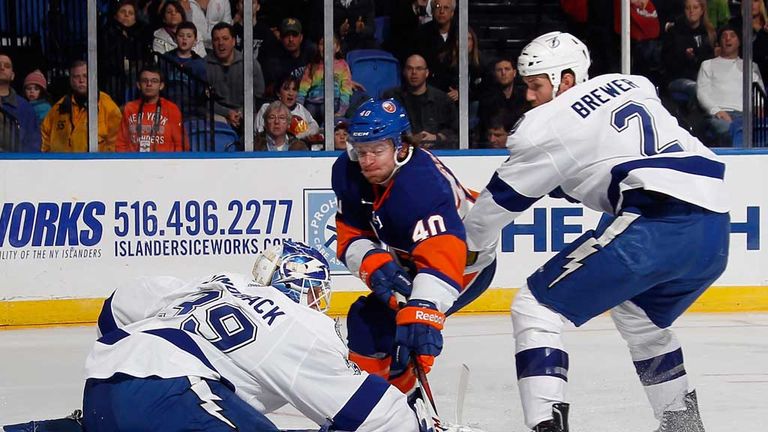 It was the Islanders' first win of the season under returning coach Jack Capuano, who returned after missing the season-opener whilst he underwent an operation to have a kidney stone removed.
Michael Grabner, Matt Martin and Kyle Okposo scored in a 12-minute spell of the second period to put the Islanders 3-0 ahead.
David Ullstrom then scored early in the third period before Lightning stuck back.
Martin St. Louis, Benoit Pouliot and Steven Stamkos scored in a sensational five-minute stretch, pulling Tampa Bay within a goal with 12 minutes left.
But the Lightning could get nothing more past Evgeni Nabokov, who stopped 23 of 26 shots.
Thriller
Anders Lindback allowed all four of New York's goals on 44 shots.
Elsewhere Kyle Turris scored twice and Craig Anderson made 31 saves as the Ottawa Senators shut out the Florida Panthers 4-0 in their home opener.
There was a thriller at Nashville as TJ Oshie and Alexander Steen scored in the shootout to help St Louis Blues edge out the Predators 4-3.
There was another shootout at Boston where Tyler Seguin and Patrice Bergeron scored to lift the Bruins to a 2-1 win over the Winnipeg Jets.
Over in Ohio Swiss rookie Damien Brunner scored in the fourth round of the shootout to lead the Detroit Red Wings past Columbus 4-3 in front of 19,206 - the largest regular-season crowd at Nationwide Arena in the Blue Jackets' 11-plus seasons.
Ryan Miller stopped 34 shots to lead the Buffalo Sabres past the Toronto Maple Leafs 2-1 and Daniel Winnik and Ryan Getzlaf each scored two goals as the Anaheim Ducks edged the Calgary Flames 5-4.