NHL: San Jose Sharks six wins out of six by beating Anaheim Ducks
The San Jose Sharks made it six wins out of six by beating the Anaheim Ducks 3-2.
Last Updated: 30/01/13 10:44am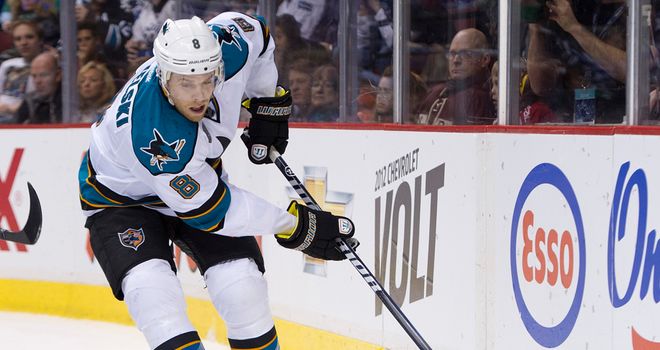 In the first period, Joe Pavelski put San Jose ahead, however Matt Beleskey and Francois Beauchemin scored in the second to turn the game around.
In the third, Couture scored with 2:45 left to play, then Handzus struck in the shootout to ensure the Sharks kept rolling.
Meanwhile, Nathan Horton scored with just over four minutes to play to take the game into overtime and the Boston Bruins beat the New Jersey Devils 2-1 after a shootout, maintaining their strong start to the season.
In the second period, David Clarkson put the Devils ahead, however Horton intervened just as it looked like the Bruins would suffer their first loss in regulation this year.
Brad Marchand then went on to score what proved to be the decisive shootout goal and the Eastern Conference leaders improved their record to 5-0-1.
Elsewhere, Michael Del Zotto had a goal and an assist as the New York Rangers beat the Philadelphia Flyers 2-1. Ryan Callahan scored the other Rangers goal yet he then had to leave the game with what looked like an arm injury.
The Islanders, the Rangers' New York neighbours, also won, with Matt Moulson registering a goal and an assist in a 4-1 victory over the Pittsburgh Penguins.
The Detroit Red Wings beat the Dallas Stars by the same scoreline, and it was Valtteri Filppula who netted twice.
The Tampa Bay Lightning continued their solid start to the year as they beat the Florida Panthers 5-2 for their fifth win in six games.
Also in action was Matt Frantin who scored two, including a last-gasp winner in overtime, as the Toronto Maple Leafs beat the Buffalo Sabres 4-3.
The Minnesota Wild got their first win in four with a 3-2 victory over the Columbus Blue Jackets, the Montreal Canadiens were also 4-3 winners against the Winnipeg Jets, and the Ottawa Senators saw off the Washington Capitals 3-2.