Stephen Murphy ruled out of Great Britain's squad for Olympic final qualifiers
Belfast Giants' Stephen Murphy has been ruled out of Great Britain's squad for this week's Olympic final qualifiers.
Last Updated: 04/02/13 11:11am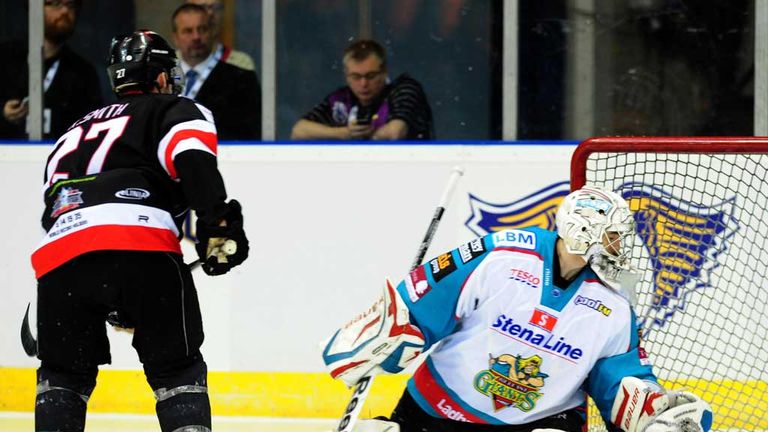 Despite Murphy not having played since mid-January, due to a groin strain, coach Tony Hand included the 31-year-old in the original team in the hope he would be fit.
But Basingstoke Bison netminder Stevie Lyle, who last played for GB three years ago, has now been called to replace Murphy.
The side are also without injured Nottingham Panthers defenceman Jonathan Weaver who has been replaced by team-mate Steve Lee.
"We knew it was always going to be touch and go with Stephen Murphy and sadly he has not made it," said Hand.
"He is a tremendous netminder and is he really disappointed not to be going but we have a fantastic replacement in Stevie Lyle.
"Stevie is in terrific form this season with Basingstoke and he is an experienced performer in major international tournaments.
"We have also had to make a change in defence and we will miss the talents of Jon Weaver. But going in his place is a very capable replacement in Steve Lee.
"Steve is a great talent and already has experience at this level. I always said we had a very strong squad and a very strong list of replacements.
"It speaks volumes of how good our British talent is at the moment in that we lose two players so close to the tournament but are able to bring in two quality players to replace them."
GB commence the tournament in Riga against the hosts on Thursday before facing France and Kazakhstan on Friday and Sunday respectively.
The winner of the group advances to the 2014 Winter Olympics in Sochi, Russia.